Creamy Crock Pot Scalloped Potatoes are a great side to any meal. You only need a few ingredients and the slow cooker!
We love Scalloped Potatoes, and they're especially great for holidays!! Crock Pot Scalloped Potatoes are perfect for those busy days, along with Slow Cooker Mashed Potatoes, Slow Cooker Mac and Cheese, and Slow Cooker Green Beans.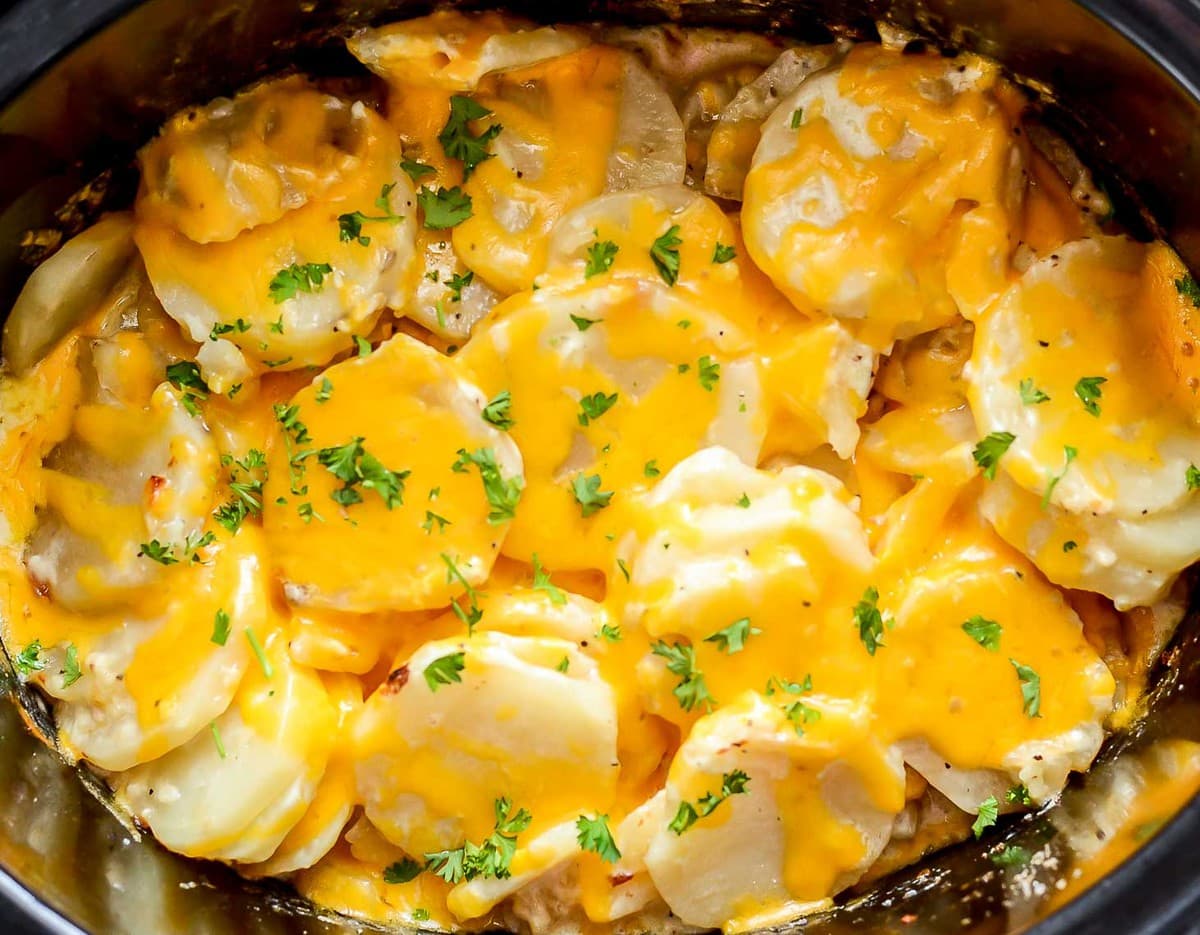 Slow Cooker for the win!
Potatoes are a favorite side dish at my house. They go well with just about any main dish, and my family loves them. But really – who DOESN'T love potatoes?!
One of our favorite are Scalloped Potatoes – they're cheesy, delicious and so simple.
To make them even more simple, throw them in the slow cooker – Crock Pot Scalloped Potatoes! You need just a few ingredients, and the slow cooker does all the work to make creamy, delicious potatoes.
These potatoes are sure to be a family favorite. And since you don't have to heat up the oven, you can even make them in the heat of summer.
Wouldn't they be delicious served with grilled chicken or steak?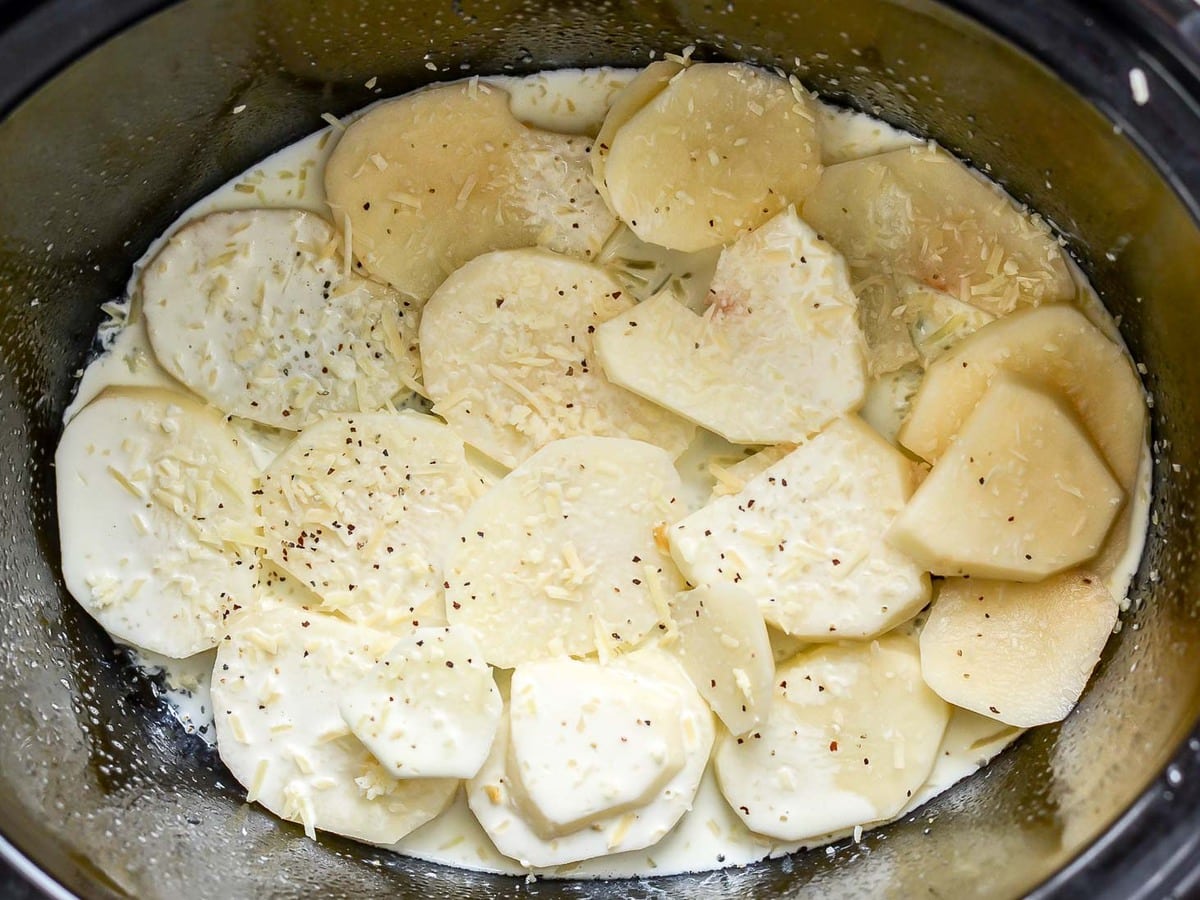 How to make crockpot Scalloped Potatoes
As mentioned – today's recipe is simple!
PREP POTATOES. Start by peeling and slicing your potatoes about an ⅛ of an inch thick. Spread about ⅓ of the sliced potatoes in the bottom of a greased crock pot.
SEASON + LAYER. Sprinkle with ⅓ of the seasonings, then ⅓ of the cream. Repeat two more times.
SLOW COOK. Place the lid on your crock pot and cook on high for 4-5 hours, or until the potatoes are tender.
I stirred mine once after a couple hours, but that's not mandatory.
CHEESE. If desired, sprinkle cheddar cheese on top of cooked potatoes and cook for about 5 more minutes, until the cheese melts.
The result is a delicious, cheesy side that requires very little work!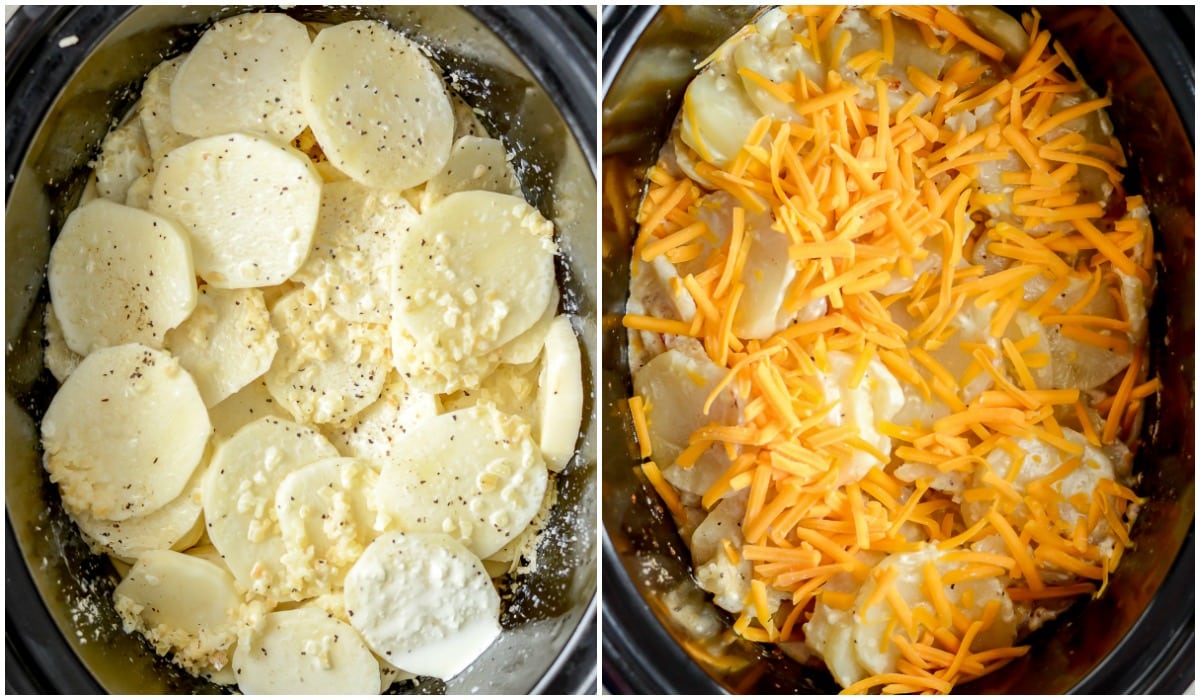 Recipe Tips
Season generously. Potatoes tend to absorb flavors, so be generous in the amount of seasoning added. Black pepper, salt, onion and garlic can all be adjusted to taste. You can also add thyme, rosemary, parsley, or even nutmeg.
Let it rest. After you have removed the dish from the oven, allow it time to rest. It will thicken as it cools. If your dish still turns out watery, mix in some dry instant potatoes to help soak up the moisture. 
Make them cheesy. Traditional scalloped potatoes don't have cheese on top. These potatoes are actually plenty delicious just as they are, the onions and garlic give them great flavor! Since my family loves sharp cheddar cheese, I added some to the top of my mine.
Doneness. When you think the dish is done, test a couple different areas by stabbing the potato with a fork. If it slides through without resistance, the dish is done. If the top is browning, but it still needs more time to bake, tent a piece of tin foil over the dish to keep it from burning.
Scalloped v Au Gratin. You can omit the cheddar cheese, or substitute another cheese if you prefer (like Italian cheese or even shredded Parmesan cheese). Since I added cheese, they could technically be classified as au gratin potatoes. Potato – patato, this dish is amazing either way.
Ingredients
Potatoes. We used Russet for our Crock Pot Scalloped Potatoes, but these have to be peeled first. If you are looking for potatoes that don't need peeling, we recommend Yukon Gold potatoes.
Other types, like red potatoes, are too waxy and can leak too much moisture into the dish, causing it to be watery.
Purple potato slices. When exposed to air for a long period of time, potatoes become oxidized, and take on a purple hue. This is not harmful to eat, it simply looks a little off. If you have sliced your potatoes in advance:
Put them in a bowl of cold water.
Keep them in the fridge. This will keep them from coloring.
Drain and pat dry before finishing the recipe.  
Ham. Add cubed ham pieces in between the layers. It adds a great flavor to this recipe. You can also add chopped bacon.
Avoid low fat dairy. The cream sauce needs the structure that fat provides, otherwise it may split. Stick to heavy cream or whole milk, and other full fat ingredients.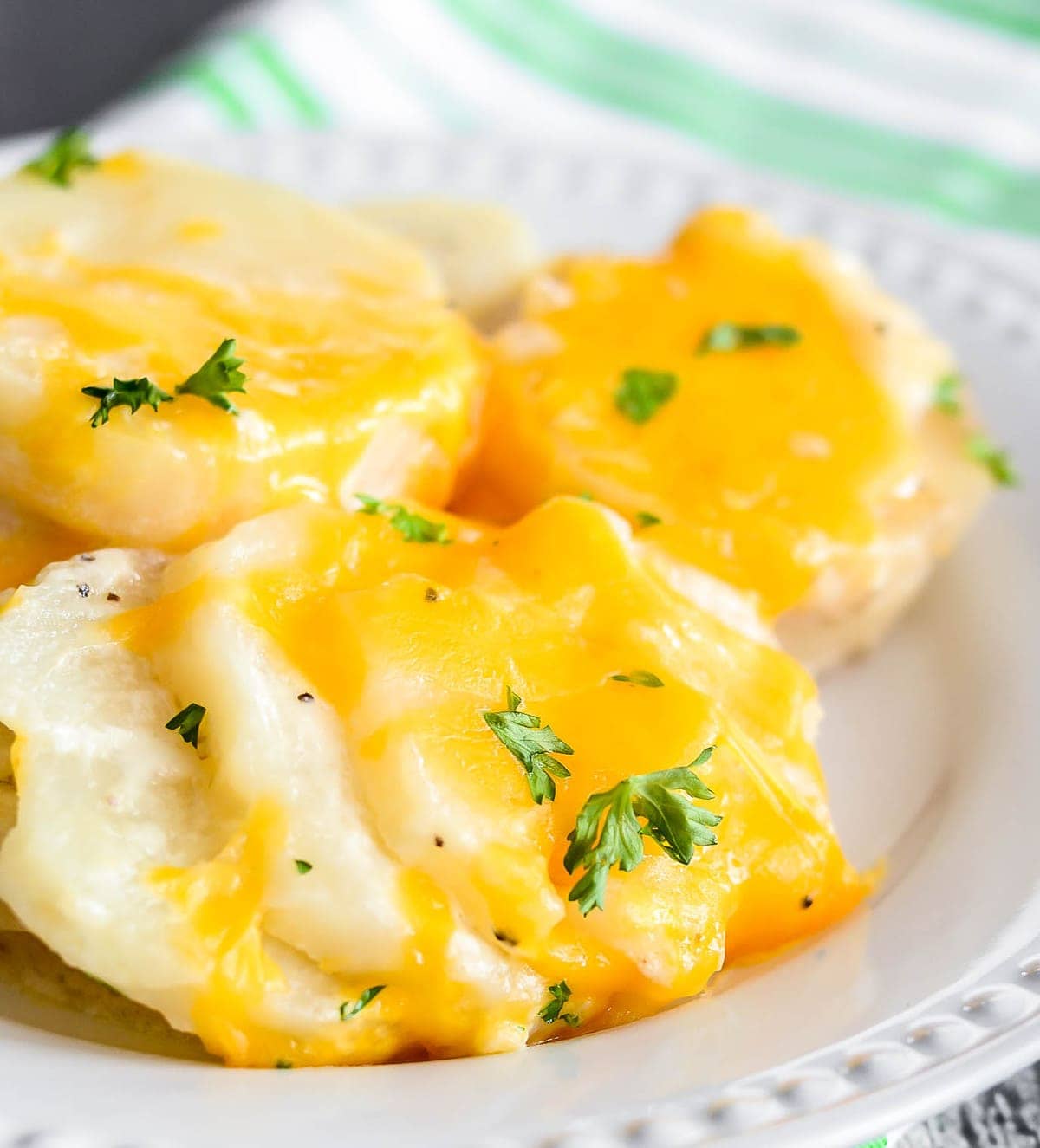 Storing info
STORE. Place in an air-tight container in the fridge for 3-4 days.
To reheat, place in the microwave. Serve them with a salad for a tasty lunch!
FREEZE baked potatoes. To bake and freeze for later, allow the dish to completely cool. Cover with plastic wrap, and again with foil. Keep it in the freezer for up to 3 months.
To reheat. Thaw in the fridge and reheat, covered, in the oven. Remove the foil during the last minutes of the bake time to crisp up the top. 
for more potato dishes, check out:
Peel potatoes and slice 1/8″ thick. Arrange a third of the potatoes in the bottom of a crock pot that has been sprayed with non-stick spray.

Drizzle about a third of the cream evenly over the potatoes. Sprinkle a third of the garlic, minced onion, Parmesan, salt, and pepper over the potatoes. Repeat two more times.

Cover slow cooker. Cook potatoes on HIGH for 4-5 hours or until tender. 

Sprinkle cheese on top of potatoes. Cook for about 5 more minutes or until cheese is melted. Serve hot.