Upgrade your sugar cookies with a swirl of warming spices in this recipe for Cinnamon Roll Cookies, complete with a drizzle of quick-fix icing.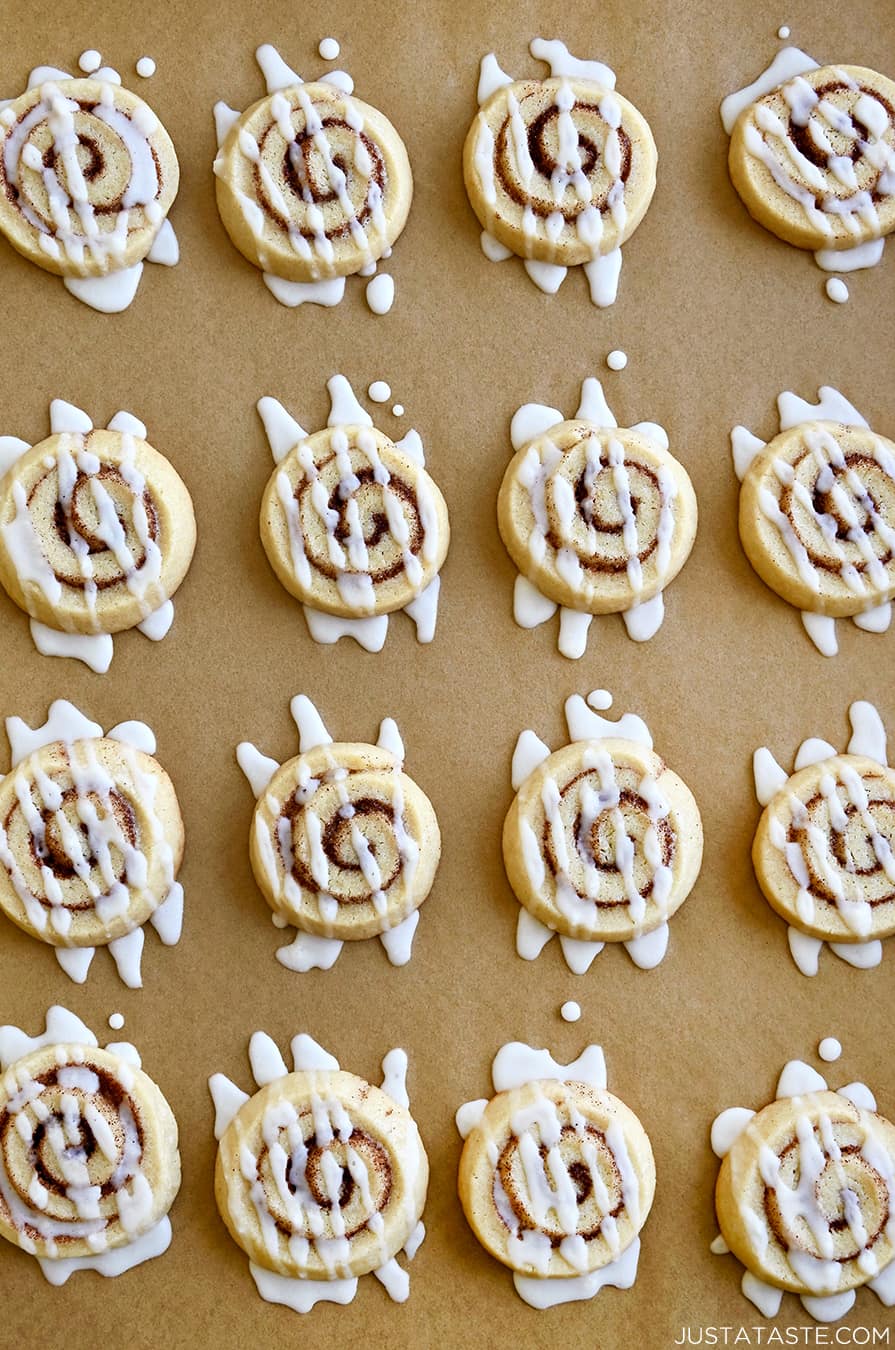 I love a pan of warm homemade cinnamon rolls, whether it's around the holidays or any ordinary day of the week. Now you can get the classic cinnamon roll flavor in cookie form!
Best of all, there's no yeast and no proofing required. Simply mix up a batch of buttery sugar cookie dough then give it the good ol' cinnamon-sugar treatment. Intrigued about the secret to making perfect pinwheels? Read on for the recipe!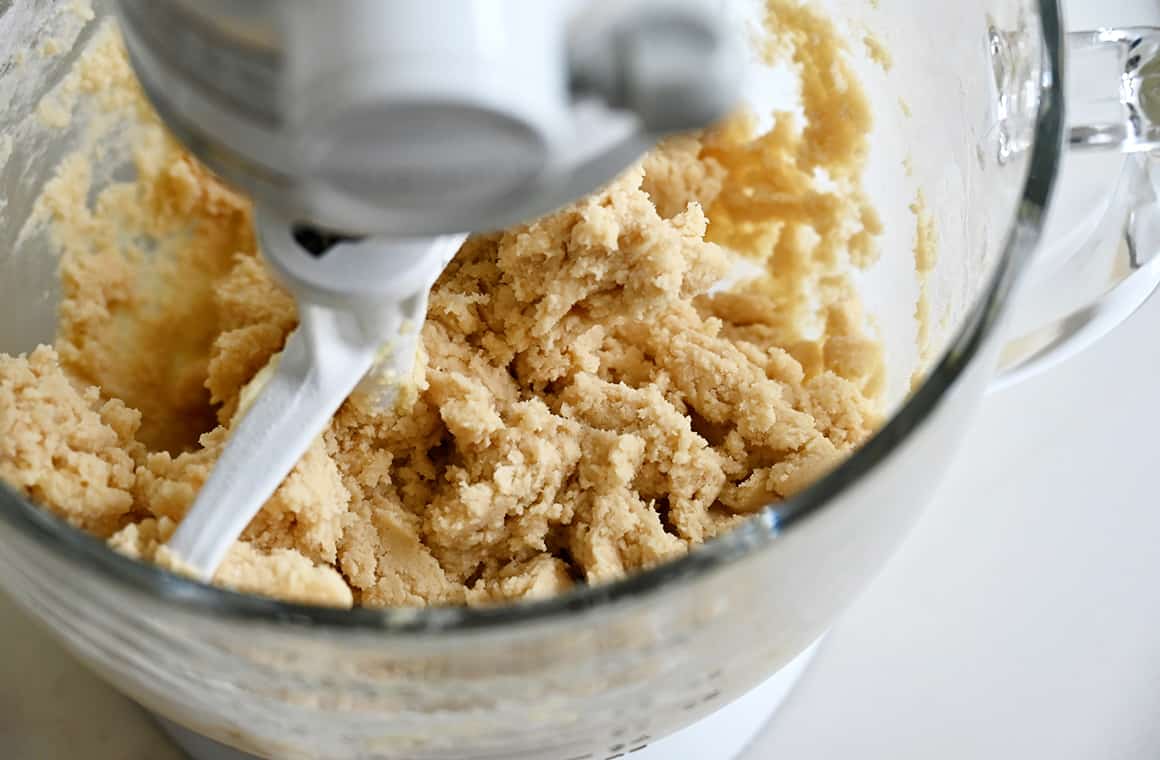 Tips for Making Cinnamon Roll Cookies
Parchment paper and plastic wrap will make your life so much easier when making these cookies. Rolling out the dough between two sheets of parchment paper will prevent it from sticking to your rolling pin and will also help you avoid flouring your countertop. If you've got a silicone baking mat, feel free to use one of those as well!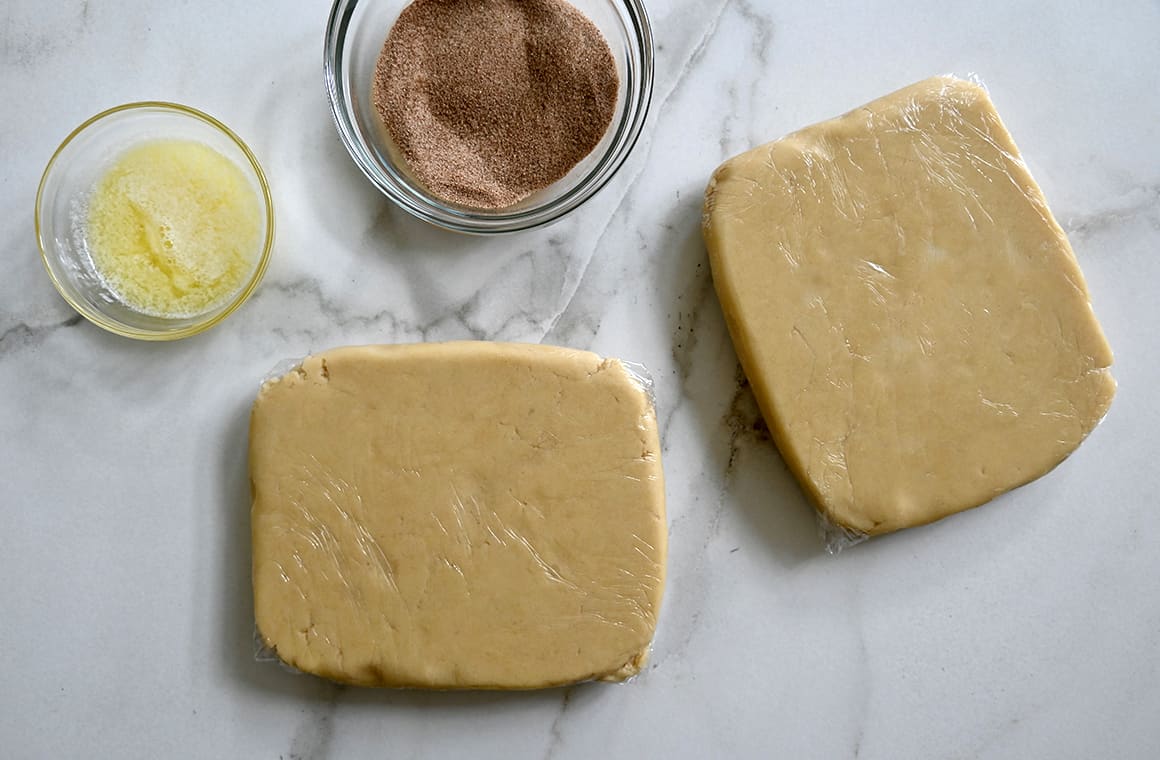 Chilling the dough in two stages may seem unnecessary but it's actually very important to getting cookies with that well-shaped swirl. You'll chill the dough once prior to rolling it out and then again after rolling it into logs. If you don't have all night to chill, two hours is perfectly adequate and will help prevent your cookies from spreading.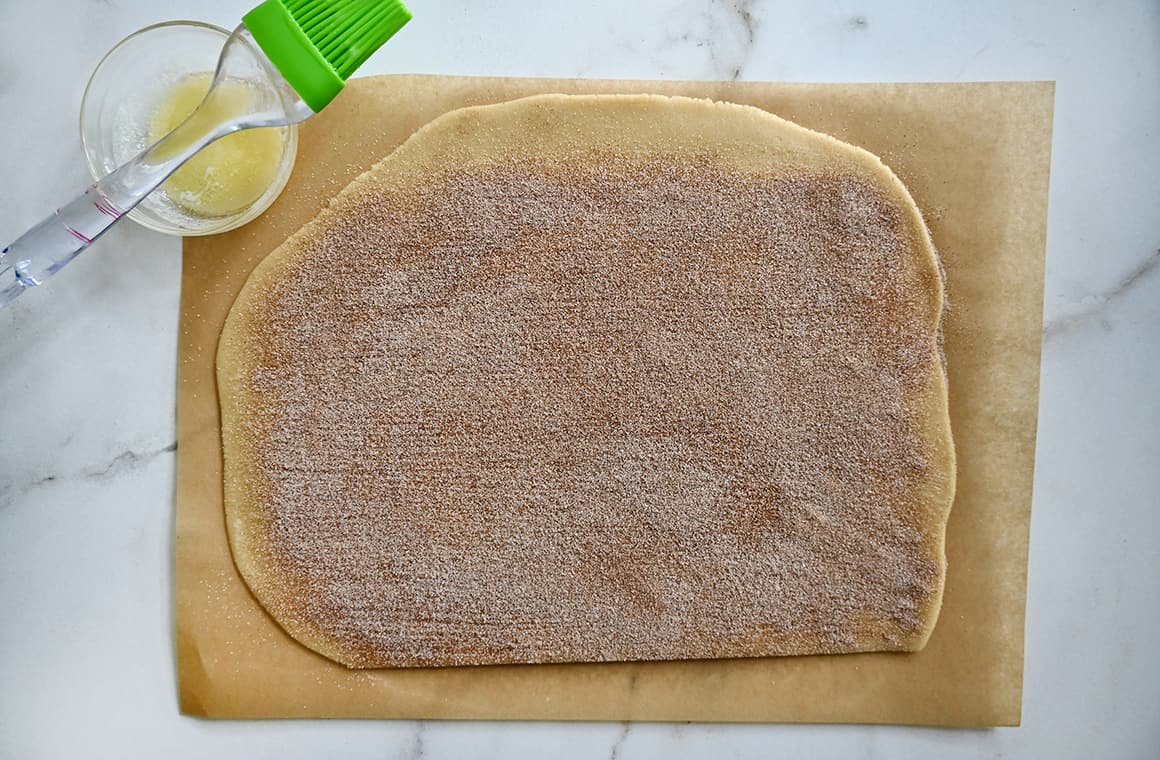 In order to avoid a flat side as the dough logs rest in the fridge, I like to stand them up in a drinking glass. You can also roll the logs every 30 minutes to ensure they stay perfectly rounded on all sides during the chilling process.
Make-Ahead Instructions
Since these are a slice-and-bake style of cookie (rather than a cut-out or a chunky dough you might scoop), you can freeze these cookies in log form prior to cutting them. Once rolled, you can keep your cookie dough sealed in a plastic bag (in addition to the plastic wrap) for up to three days in the fridge.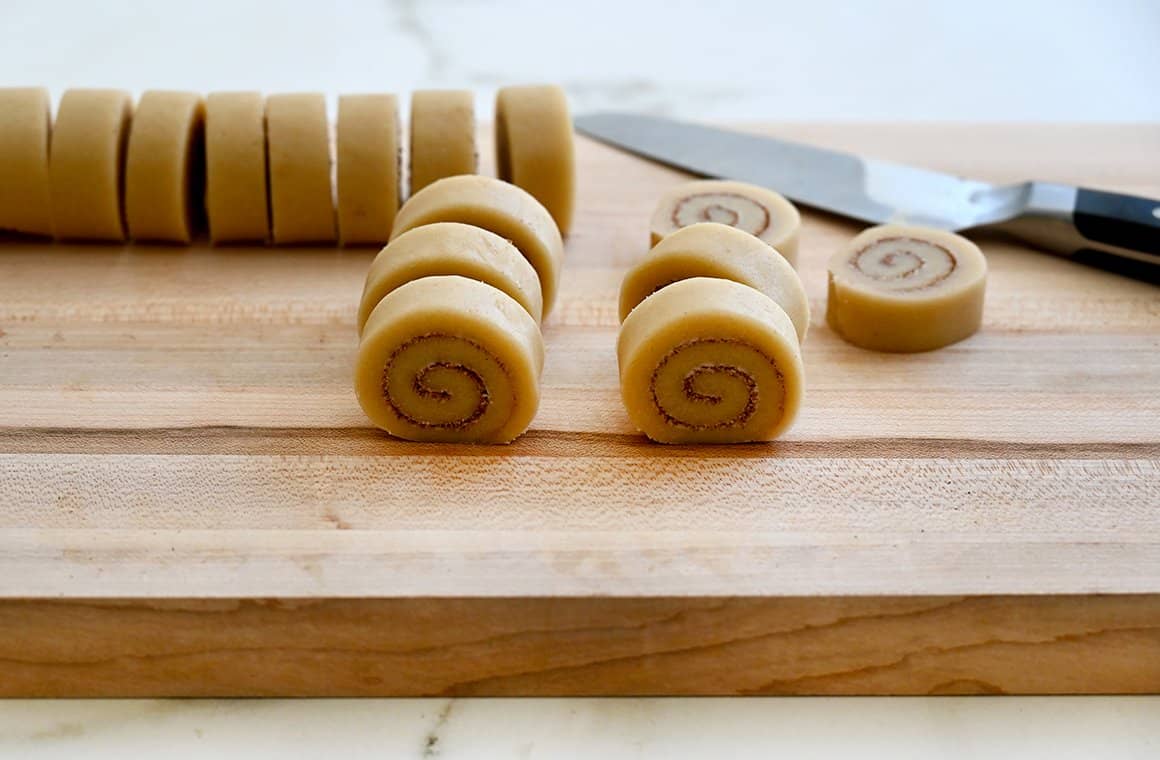 Need a bit more time? You can store these in the freezer (using the same plastic wrap and plastic bag storage method) for up to three months. Once you're ready, just thaw your dough overnight in the fridge, and then slice and bake as usual.
If you want to freeze already-baked cookies, freeze them in a single layer on a sheet-pan but skip any icing or glazes until you're ready to serve. The icing adds moisture that will change the texture of your cookie in the frozen state. Once fully cooled, seal them in a plastic bag and they'll keep in the freezer for up to three months. To bake frozen cookies, heat them up in the oven at 350°F for 4 to 5 minutes for a freshly baked cookie whenever you want!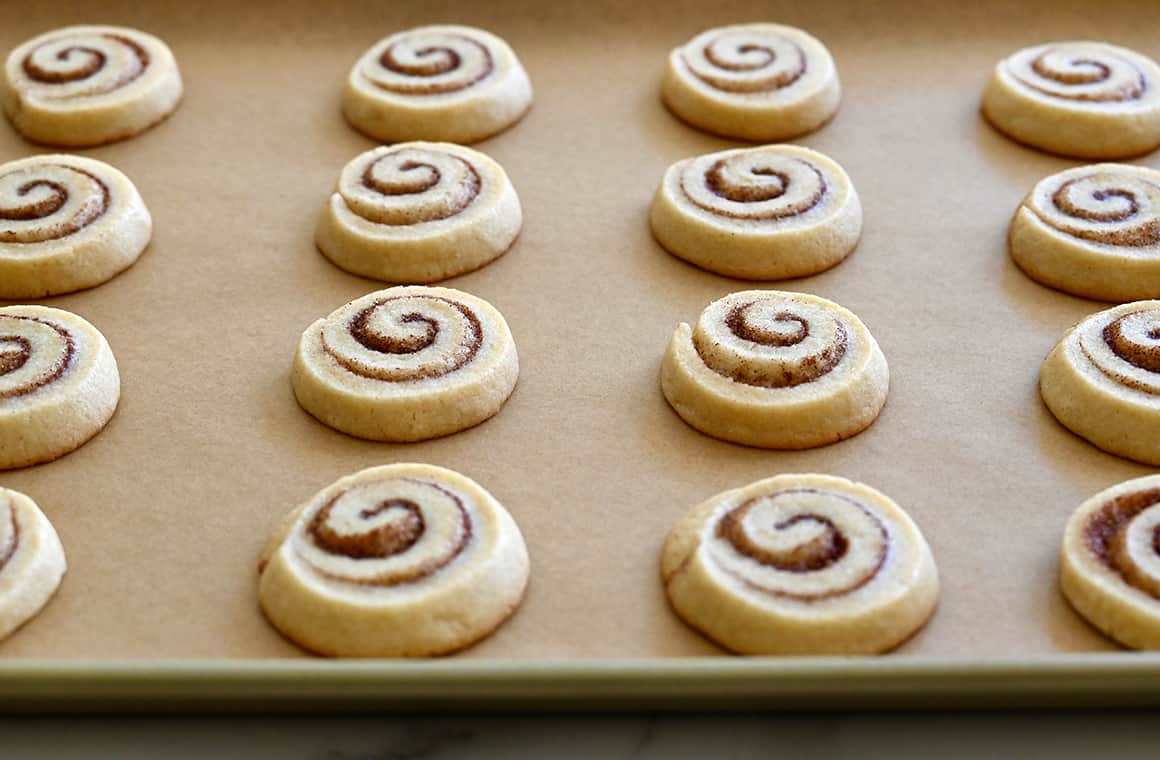 How to Make Icing for Cookies
Making icing for these cookies couldn't be easier and requires only a few pantry staples. Just be sure your cookies are completely cooled before drizzling with icing so that it can properly set.
In a medium bowl, whisk together the confectioners' sugar, melted butter and milk until smooth and no lumps remain. Drizzle the icing over the cookies and let them set for 10 minutes. The bit of butter in the icing will allow it to set and make it less transluscent.
Feeling fancy? Add a splash of extract (vanilla, orange or almond are my favorite) and a bit of fresh citrus zest for a fruity punch of flavor in each soft and chewy bite.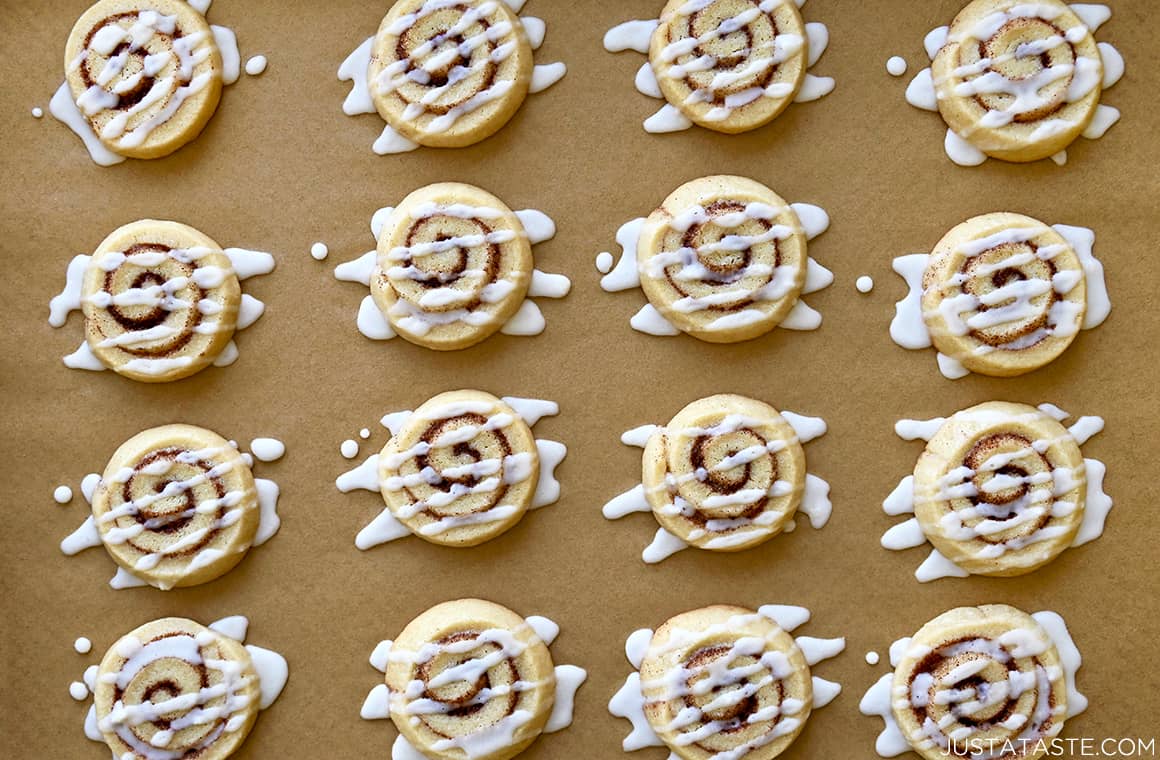 Craving more? Subscribe to Just a Taste to get new recipes, meal plans and a newsletter delivered straight to your inbox! And stay in touch on Facebook, Twitter, Pinterest and Instagram for all of the latest updates.
Make the cookies:
In the bowl of a stand mixer fitted with a paddle attachment, cream the butter until smooth, about 2 minutes. Add the sugar and continue creaming until light and fluffy, an additional 2 minutes. Add the eggs, one at a time, beating between each addition, then beat in the vanilla extract, scraping down the sides as needed.

Add the flour, baking powder and salt and beat just until combined.

Remove the dough from the mixer, divide it in half and shape each piece of dough into a flat square. Wrap each square securely in plastic wrap and refrigerate them for 1 hour.

Place each piece of dough between two sheets of parchment paper. Using a rolling pin, roll each piece of dough until it is a rectangle measuring roughly 14×11 inches. Square off the bottom edge.
Make the filling:
In a small bowl, stir together the sugar and cinnamon.

Brush each of the pieces of dough with half of the melted butter then sprinkle evenly with the cinnamon-sugar mixture.

Starting at the longer end of the rectangle, roll up each piece of dough into a tight log. Wrap each log securely with plastic wrap and refrigerate them for a minimum of 2 hours and up to 2 days.

Preheat the oven to 350°F. Line two baking sheets with parchment paper. 

Slice the dough logs into 1/4-inch-thick rounds. Arrange the rounds on the baking sheets, spacing them at least 2 inches apart.

Bake the cookies until they are pale golden, 9 to 11 minutes. Remove them from the oven and let them cool for 5 minutes on the baking sheets before transferring them to a rack to cool completely. While the cookies cool, make the icing.
Make the icing:
In a medium bowl, whisk together the confectioners' sugar, melted butter and milk until smooth.

Drizzle the icing over the completely cooled cookies and let them set for 10 minutes before serving.

★ Did you make this recipe? Don't forget to give it a star rating below!