These caramel pecan sticky buns (nuts optional!) are decadent and delicious with the soft dough, buttery cinnamon filling, and drizzly caramel.
I've been working on a perfected, tried-and-true caramel pecan sticky bun recipe for a long time, and these amazing caramel buns do not disappoint!
Lots of foolproof tips, pictures, and details below!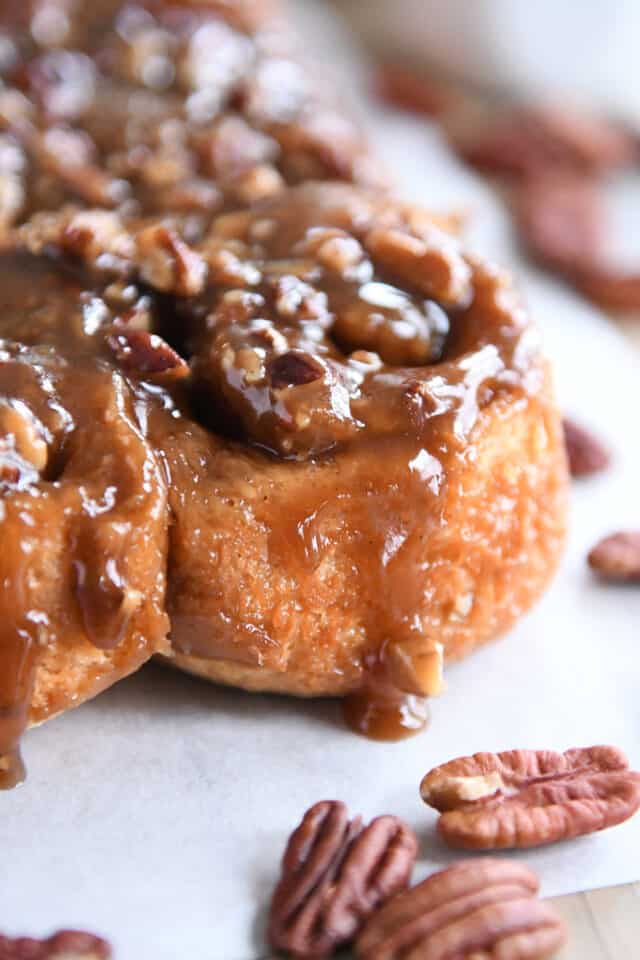 Caramel Pecan Layer
There are three main components to this recipe:
caramel pecan layer
dough
dough filling
For the caramel, rest easy, we aren't going for a homemade caramel that needs tested with a candy thermometer or anything like that.
Instead, butter, brown sugar, salt, and corn syrup are heated until melted and smooth (no bubbling or simmering!). Cream and vanilla are stirred in and the whole mixture gets spread into the bottom of a 9X13-inch pan.
Sprinkle the coarsely chopped pecans on top and set this aside so the caramel can cool to room temp.
For a regular caramel sticky bun recipe, the pecans can be left out.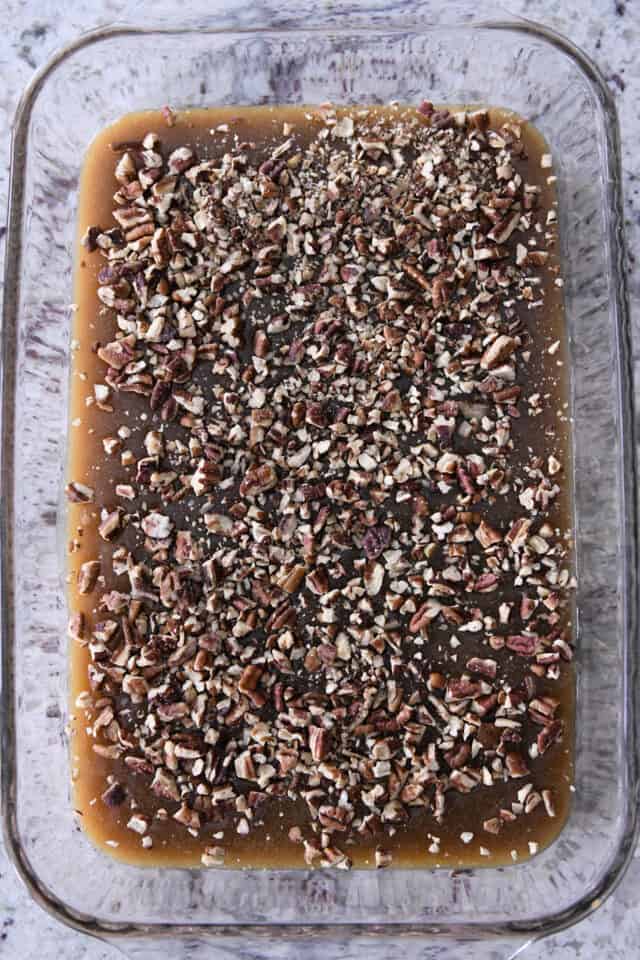 Perfect Soft Dough
While the caramel cools a bit, make the dough for the sticky buns.
It's the same dough as this small batch cinnamon roll recipe, and it's super easy to make and an absolute joy to work with! Not only that, it produces delightfully soft and fluffy baked cinnamon rolls/sticky buns.
As long as you don't over flour the dough (or add the yeast when the milk is too hot), you'll be well on your way to the most perfect caramel pecan sticky buns of your life.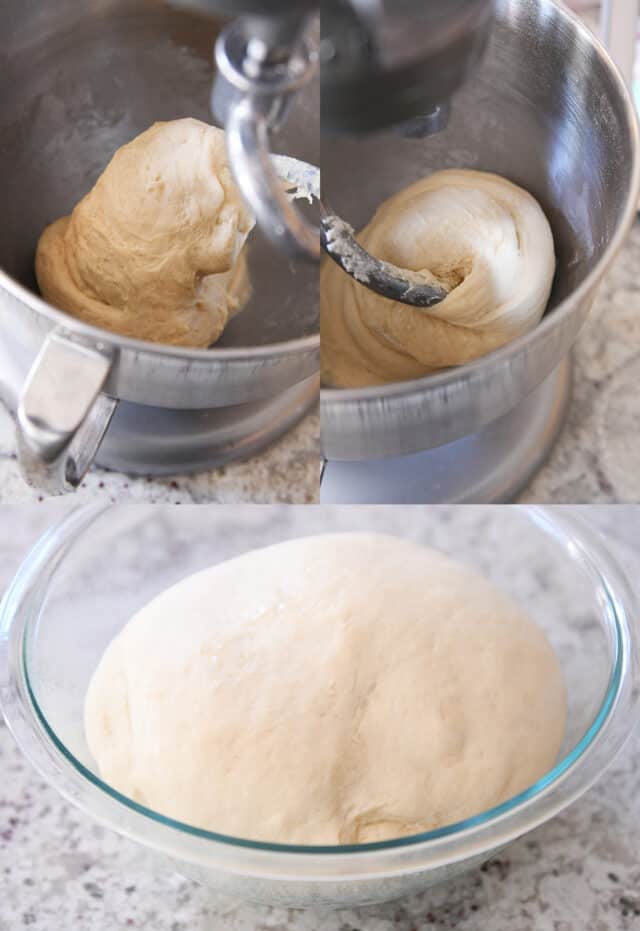 Once the dough has risen, pat it into a rectangle, spread with butter and sprinkle with cinnamon and sugar and roll up like a traditional cinnamon roll.
Cut the dough log into 12 equal pieces.
Place the rolls on top of the caramel pecan mixture in four rows of three buns each.
Let the buns rise until puffy and the sides are touching.
Bake until lightly golden on top (and that caramel will be buzzy and bubbling, too – get excited!).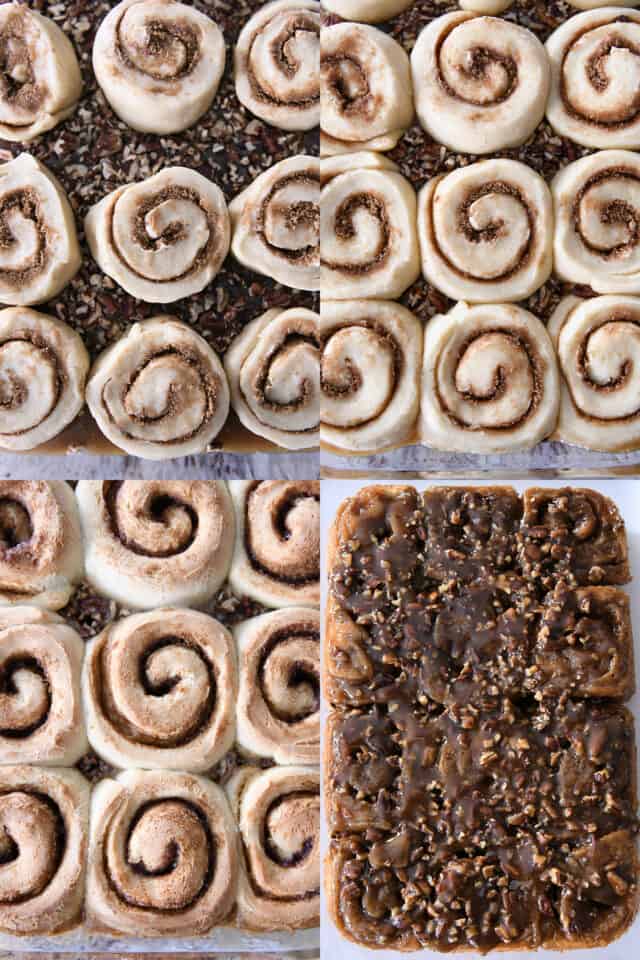 How to Turn Out Caramel Sticky Buns
One important key to this recipe is knowing exactly when to turn out the caramel buns.
If you wait too long, the caramel will have hardened, making it really hard to get the buns out without tremendous carnage. (If this is the case, simply return the pan to a warm oven and let the buns/caramel warm up a bit before attempting the flip over again.)
If you don't wait long enough, the caramel will be thin and the tops of the buns will be soggy.
I recommend waiting 10-15 minutes after the buns come out of the oven. This gives time for the caramel to thicken without becoming too hard.
The process: place a parchment lined baking sheet (or serving tray) upside down on top of the pan of buns and grabbing the edges of both the baking sheet and 9X13-inch pan, flip over, giving a light tap on the counter, so the rolls pop out onto the baking sheet. Use a rubber spatula to scrape any excess caramel/pecans out of the pan and across the top of the sticky buns.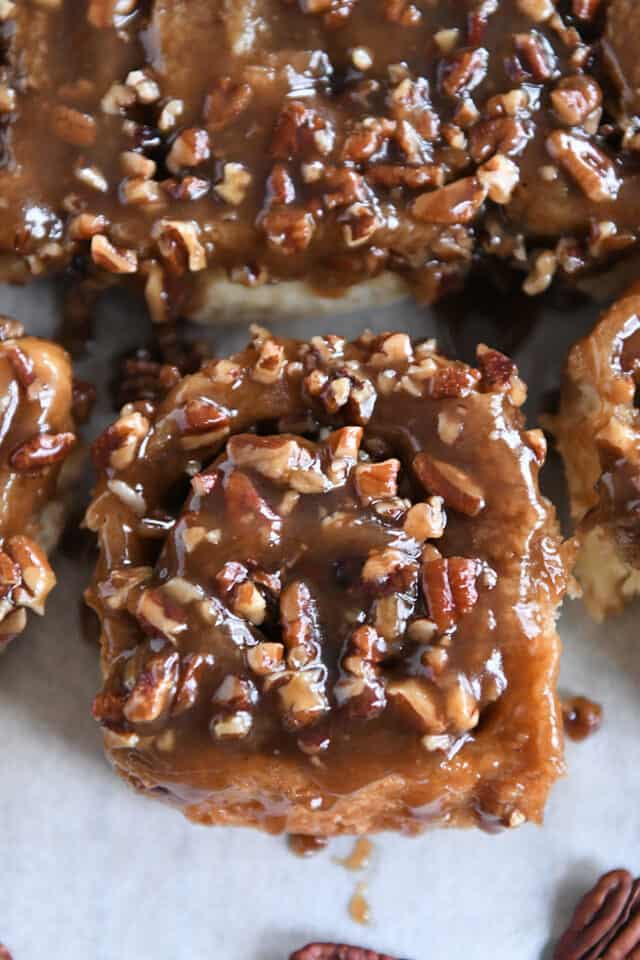 Perfect Caramel Pecan Sticky Buns
These sticky buns are GLORIOUS.
The ratio of caramel to buns is just right (I know, I know, I'm almost done with the overuse of the term "buns" here – makes me giggle each time I type it, which I know says more about my overall maturity than anything else #anyway #movingon).
And the pecans give the best hint of toasty crunch without overwhelming the soft, fluffy buns.
The sticky buns are *obviously* amazing served warm for that ultimate caramel perfection experience. But, they are also mighty tasty if you dig into them at room temperature.
AND. They warm up just right if popped in the microwave for 12 1/2 seconds. So many options here! Which basically means there's no wrong time to make them.
This recipe has been a longtime in coming (so many of you have requested a go-to sticky buns recipe over the years), and I'm excited to finally get it in front of you!
Making these caramel pecan sticky buns will make you feel like a rock star in the kitchen (and eating them will bring lots of joy and happiness). I hope you love them!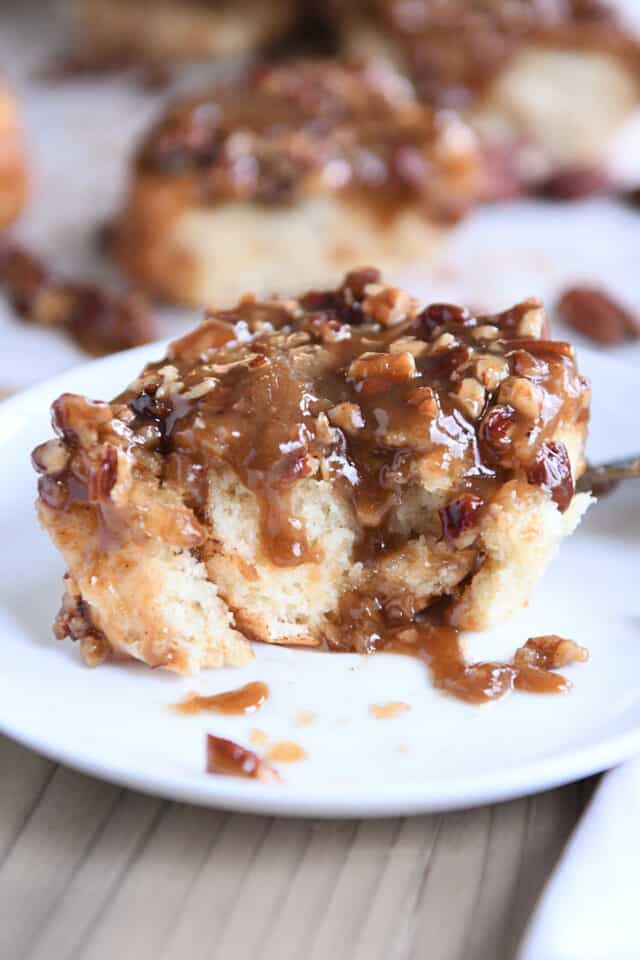 One Year Ago: Raspberry White Chocolate Blondie Bars
Two Years Ago: Cranberry-Jalapeno Cream Cheese Dip
Three Years Ago: Chocolate Peanut Butter Buckeye Cookies 
Four Years Ago: Easy Cinnamon and Sugar Candied Pecans
Five Years Ago: Easiest Ever Fudge Tons of Add-In Options
Six Years Ago: Perfect Vanilla Bean Caramels Step-by-Step
Seven Years Ago: Overnight Cinnamon and Sugar Sweet Rolls
Eight Years Ago: Soft and Chewy Ginger Molasses Cookies 
Nine Years Ago: Homemade Peppermint Patties
Ten Years Ago: White Chocolate Cherry Shortbread Cookies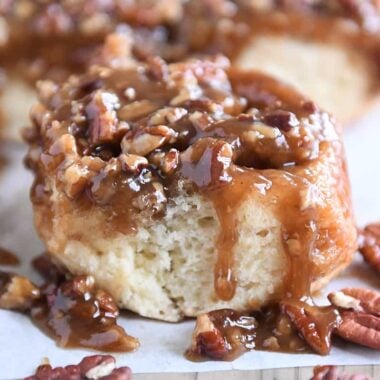 Caramel Pecan Sticky Buns
Dough:
1

cup

milk (not skim milk – 2% or whole milk is preferred)

¼

cup

(

57

g

)

(4 tablespoons) butter (I use salted butter)

¼

cup

(

53

g

)

granulated sugar

½

teaspoon

salt

1

tablespoon

instant or active dry yeast

1

large

egg

3 to 4

cups

(

426-568

g

)

all-purpose flour
Caramel:
10

tablespoons

(

142

g

)

butter (I use salted)

1 ¼ cup

cups

(

265

g

)

packed light brown sugar

⅓

cup

light corn syrup

¼

teaspoon

salt

¼

cup

heavy cream

1

teaspoon

pure vanilla extract

1 to 1 ½

cups

(

120-180

g

)

coarsely chopped pecans
Filling:
4

tablespoons

(

57

g

)

butter, softened

½

cup

(

106

g

)

packed light brown sugar

2

teaspoons

ground cinnamon
For the dough, heat the milk in a medium saucepan or in a microwave-safe bowl or liquid measuring cup until the milk is scalded (which is basically heating it until right before it simmers – it will start steaming and little bubbles will form around the edges).

Pour the milk into the bowl of an electric stand mixer fitted with the dough hook (or you can do this by hand with a large bowl and wooden spoon).

Add the butter, sugar and salt. Mix until the butter is melted, and let the mixture cool until warm (if you dip a finger in, it should feel like a warm bath – not too hot, not too cold, just right).

Stir in the yeast and let rest for 5-7 minutes until the yeast is foamy (technically, you don't need to let the yeast activate before adding the flour, but I find in yeast bread recipes with milk, the dough rises quicker/better if I let the yeast activate first).

With the mixer running, add the egg and then gradually add the flour until the dough clears the sides of the bowl. The exact amount will depend on the temperature, humidity and how you measure flour. The dough should be soft and just slightly sticky without leaving a lot of residue on your fingers. Don't over flour!

Knead the dough for 2-3 minutes until soft and smooth.

Transfer the dough to a lightly greased bowl. Cover with lightly greased plastic wrap or a kitchen towel and let it rise until doubled, about an hour.

While the dough rises, prep the caramel pecan mixture. In a small saucepan, combine the butter, brown sugar, corn syrup, and salt. Heat over medium heat until butter is melted, sugar is dissolved, and mixture is well-combined (try not to let it simmer). Off the heat, whisk in the cream and the vanilla until well-combined.

Lightly grease a 9X13-inch baking pan. Spread the caramel mixture evenly in the bottom of the pan. Sprinkle pecans over the top. Set aside until the caramel mixture has cooled to room temperature or just slightly warm.

Roll or press the dough into a 10X16-inch rectangle. Spread the 4 tablespoons butter over the top. Combine the brown sugar and cinnamon and sprinkle over the top of the butter.

Starting with one long end, roll up the dough into a semi-tight log (without stretching or pulling the dough!). Using a serrated knife or unflavored dental floss or thread, cut the log into 12 equal pieces.

Place the rolls in the pan (3 across, 4 down). Cover with a lightly greased plastic wrap or a clean kitchen towel and let rise until noticeably puffy and the sides of the rolls are touching.

Preheat the oven to 350 degrees F. Bake for 20-25 minutes until rolls are lightly golden on top.

Remove from the oven and let cool for 10-15 minutes (too long and the caramel will harden and make the buns hard to turn out – too short and the caramel will be too runny).

Loosen the edges of the rolls with a butter knife. Place a parchment lined baking sheet (or serving tray) upside down on top of the pan of buns and grabbing the edges of both the baking sheet and 9X13-inch pan, flip over, giving a light tap on the counter, so the rolls turn out onto the baking sheet.

Scrape any additional caramel and pecans over the buns. Serve warm or at room temperature.
Nuts: the pecans can be omitted for a nut-free version of caramel sticky buns.
Corn Syrup: I haven't tried it, but honey may make a good substitute for the corn syrup if you don't have it/don't want to use it.
Serving: 1 bun, Calories: 556kcal, Carbohydrates: 70g, Protein: 6g, Fat: 30g, Saturated Fat: 13g, Cholesterol: 67mg, Sodium: 310mg, Fiber: 2g, Sugar: 44g
Follow @MelsKitchenCafe on Instagram and show me the recipes you are making from my blog using the hashtag #melskitchencafe. I love seeing all the goodness you are whipping up in your kitchens!
Recipe Source: from Mel's Kitchen Cafe (dough from small batch cinnamon rolls)
Disclaimer: I am a participant in the Amazon Services LLC Associates Program, an affiliate advertising program designed to provide a means for me to earn fees by linking to Amazon.com and affiliated sites. As an Amazon Associate I earn from qualifying purchases.