This one pot creamy tuscan pasta is so easy and so delicious! White beans lend a surprising creaminess to this easy weeknight meal.
One pot meals are the best way to renew hope and love for weeknight meal execution.
This creamy pasta is incredible! So many yummy flavors. It comes together fast!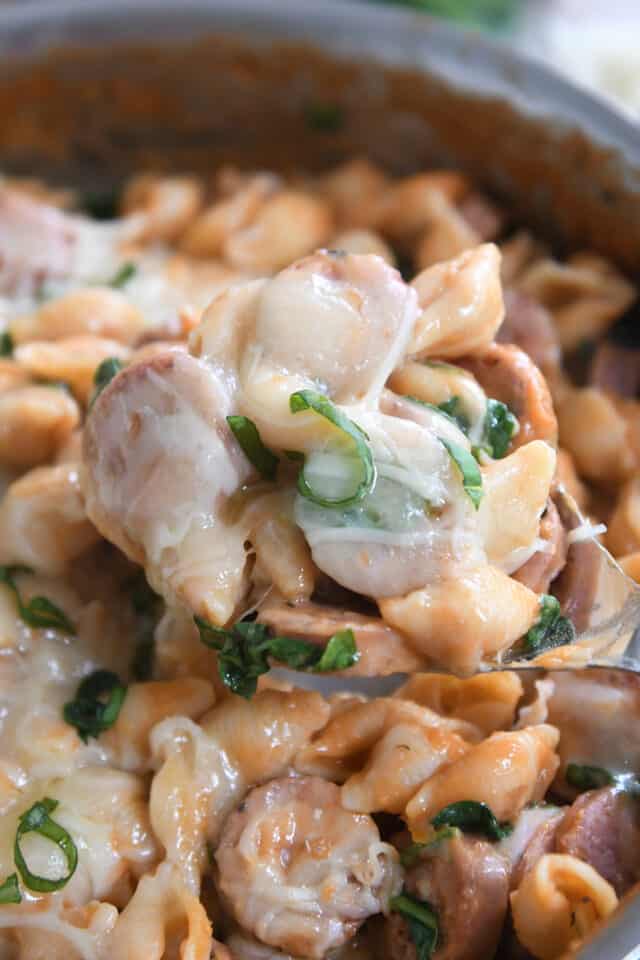 Tuscan-Style Pasta
While this pasta isn't anything close to a traditional Italian dish (meaning: you don't need to let me know that in the comments 😉), it does have some Tuscan-inspired flavors.
The surprise ingredient is the white beans (a common ingredient in some Italian dishes)!
Blended with the tomatoes, it's the beans, not cream or milk, that lend a wonderful creaminess to this pasta.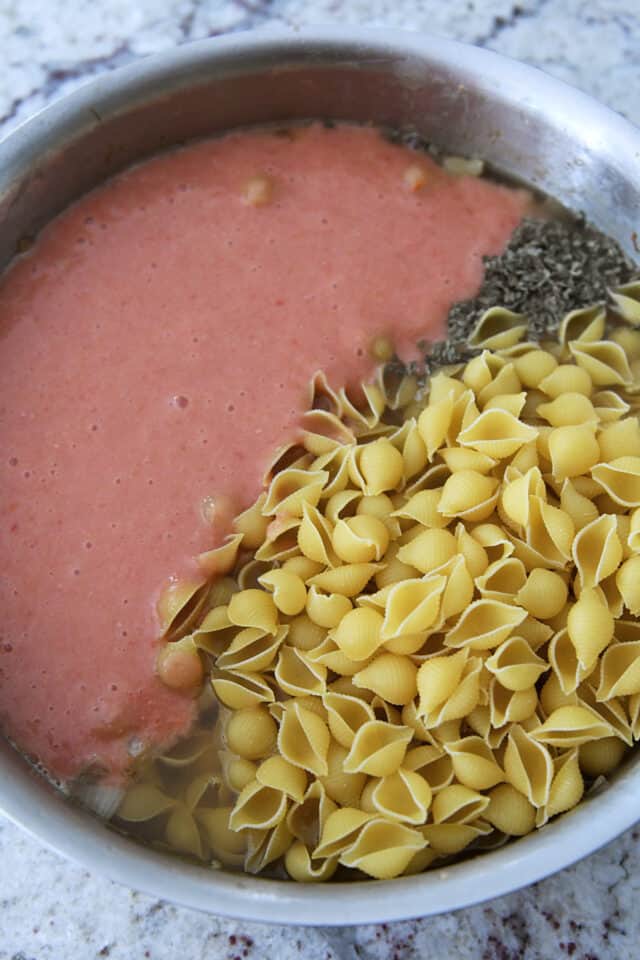 Pasta Shells Are Preferred
This recipe works best with medium pasta shells. They cook quickly and have the perfect shape for the sauciness of this pasta.
I use a deep skillet-type pan aff. link for one pot recipes like this. If you don't have a deep skillet, you can use a 4- or 5-quart pot.
For this recipe, the pasta simmers until it is al dente. There will still be a fair amount of thick liquid in the pan. This is good! It means the pasta will be perfectly saucy when it's time to eat.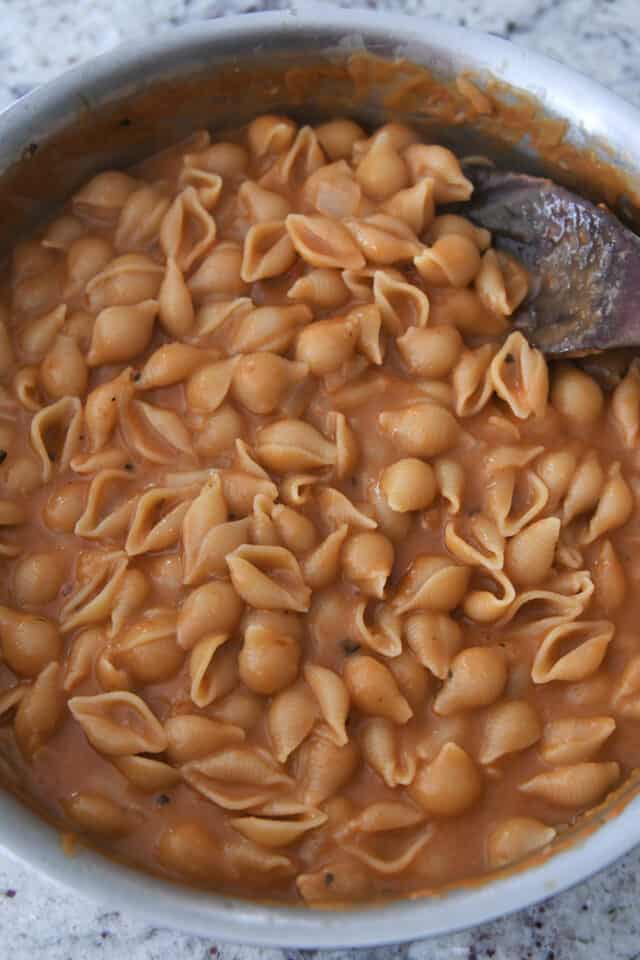 Sausage + Spinach
Fresh spinach and smoked sausage round out the ingredients for this one pot pasta.
I prefer using chicken sausage (particularly the Aidells roasted garlic…yum!), but almost any flavor or type of fully cooked smoked sausage will work.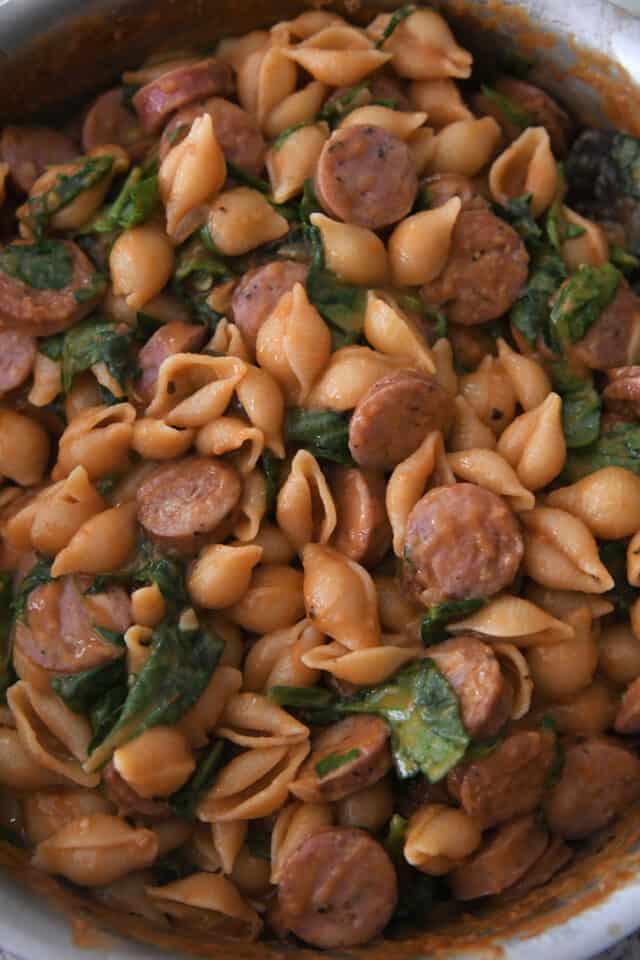 Don't Skip the Cheese
This creamy tuscan pasta is finished off by one of the world's greatest inventions: cheese.
You can ultimately decide how much and what kind to use, but a healthy dose of freshly grated Monterey Jack and sprinkle of Parmesan is my first choice.
So creamy. So cheesy. So yummy.
I pop the lid on the skillet and let the cheese melt over low heat, but if your pan is oven-safe, you can pop it under the broiler for some toasty cheese action.
A Weeknight Wonder
Served warm, this pasta is perfectly saucy and incredibly delicious.
But the leftovers, heated up a bit or eaten cold – yes, that is who I am, and I am not ashamed, hold their own as well.
The subtle flavor of the beans with the other simple, hearty ingredients is so good! We love this meal, and not just because it's a one pot wonder that makes me very happy.
It's a hit with everyone! Add it to your menu plan ASAP!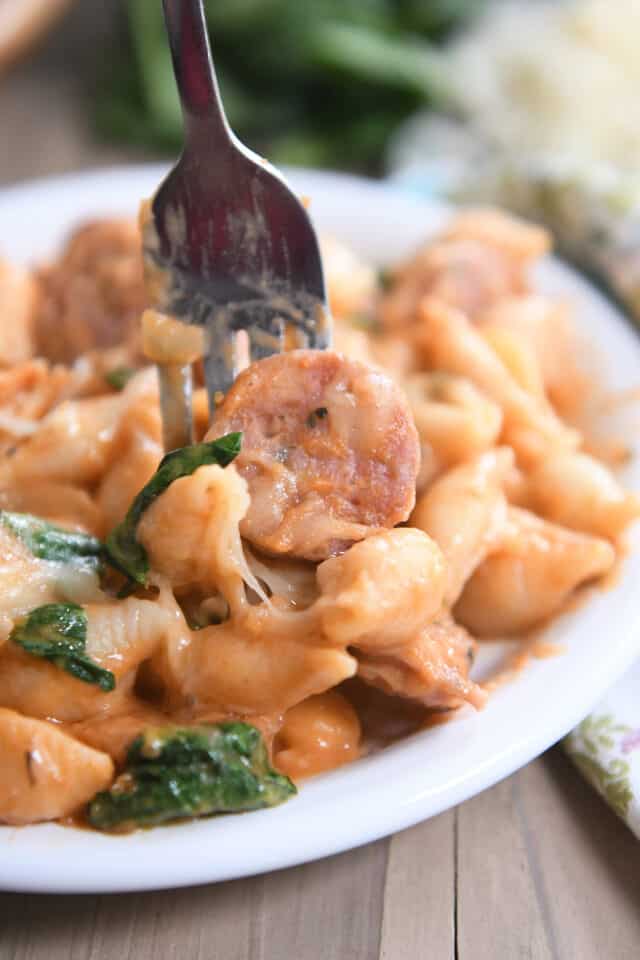 One Year Ago: Easy Instant Pot Pasta Alfredo 
Two Years Ago: Easy Pumpkin Snickerdoodle Bars 
Three Years Ago: The Best Taco Soup Stovetop or Slow Cooker 
Four Years Ago: Soft Banana Bread Cookies
Five Years Ago: Sour Cream Banana Bread One-Bowl! 
Six Years Ago: Perfect Pot Roast and Gravy
Seven Years Ago: Quick and Easy Quinoa Enchilada Skillet Meal 
Eight Years Ago: Slow Cooker Applesauce No Sugar Added 
Nine Years Ago: Chocolate Chip Cookie Dough Ice Cream Sandwiches 
Ten Years Ago: Pumpkin Blondies with Chocolate Chips
One Pot Creamy Tuscan Pasta
1

tablespoon

olive oil

12 to 16

ounces

pork or chicken smoked sausage, sliced

½

cup

diced onion

2

cloves

garlic, finely minced (see note)

14.5-ounce

can

diced tomatoes

15-ounce

can

white beans, like Great Northern, drained

12

ounces

medium pasta shells

2 ½

cups

chicken broth

½

teaspoon

salt

½

teaspoon

dried basil

2 to 3

cups

coarsely chopped fresh spinach (about 3 ounces)

1 to 2

cups

shredded Monterey Jack or mozzarella cheese

½

cup

freshly grated Parmesan

Fresh basil and/or chopped green onions, for garnish (optional)
In a deep skillet or pot, heat the olive oil over medium heat. Add the sliced sausage and brown on each side until golden, 2-3 minutes. Remove to a plate (keep as much oil in the pan as possible).

Add the onions and garlic, and cook until the onions turn translucent, stirring often, 3-4 minutes.

To a blender, add the drained beans and the diced tomatoes (undrained). Process until mostly smooth.

To the skillet, add the blended tomato/bean mixture, shells, broth, salt and basil.

Bring the mixture to a simmer over medium heat. Continue to simmer, stirring often to prevent sticking (moderate heat as needed), until the pasta is al dente, 12-14 minutes. There will still be a fair amount of thick, syrupy liquid in the pan. If it's really dry, add bit more broth.

Stir in the cooked sausage and spinach. Taste and add additional salt and pepper, if needed (different brands of sausage will vary in seasonings and saltiness)!

Sprinkle the cheeses over the pasta. Cover with a lid and let sit until melted (or if the pan is oven-safe, broil in the oven until the cheese is melted and bubbly).

Garnish with fresh basil or chopped green onions (optional), and serve.
Garlic: can use dehydrated garlic (I use the Litehouse brand all the time – use about 1 teaspoon for 1 clove of garlic) or garlic powder (about 1/4 teaspoon for every clove).
Instant Pot: I haven't tried this in the Instant Pot, but if I did, I'd probably brown the sausage and remove to a plate. Then cook the onions and garlic and add the broth, scraping the bottom of the pan very well, and add the pasta, basil, and salt. Stir. And then pour in the tomato/bean mixture (don't stir). Cover and cook for half of the al dente cooking time on the package MINUS another 1-2 minutes. Quick release the pressure (if liquid spurts from the valve, close and try again after a minute or two). Stir in the sausage, spinach, and cheese and heat through. Some version of those directions is a good start. 🙂
Serving: 1 serving, Calories: 491kcal, Carbohydrates: 62g, Protein: 30g, Fat: 14g, Saturated Fat: 4g, Cholesterol: 53mg, Sodium: 1535mg, Fiber: 6g, Sugar: 5g
Follow @MelsKitchenCafe on Instagram and show me the recipes you are making from my blog using the hashtag #melskitchencafe. I love seeing all the goodness you are whipping up in your kitchens!
Disclaimer: I am a participant in the Amazon Services LLC Associates Program, an affiliate advertising program designed to provide a means for me to earn fees by linking to Amazon.com and affiliated sites. As an Amazon Associate I earn from qualifying purchases.