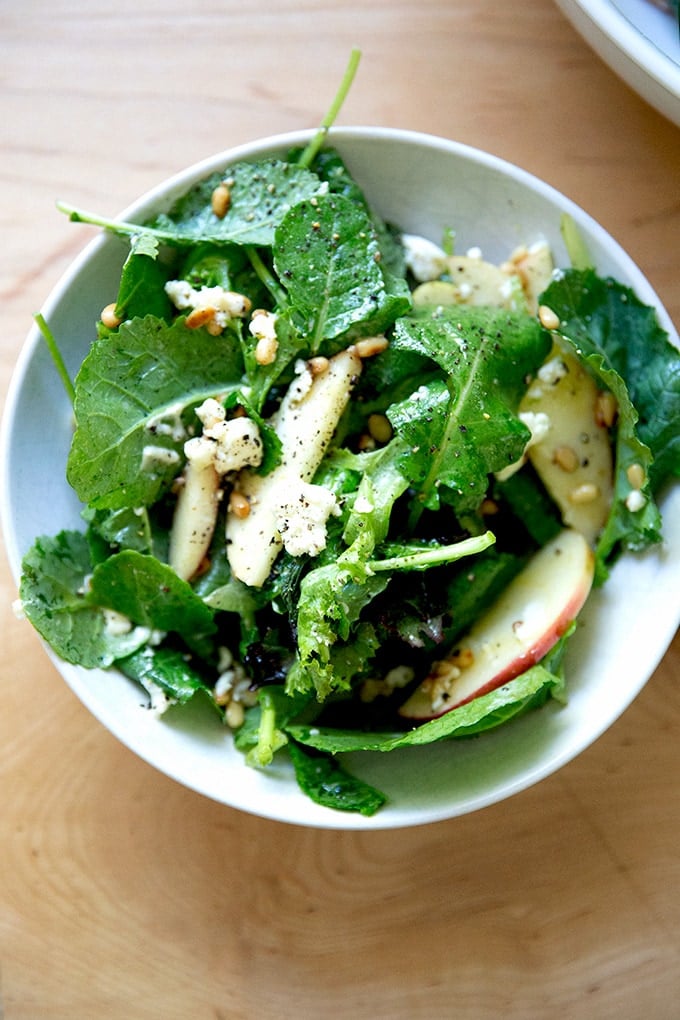 Last week in my farm share newsletter, I shared a recipe for an apple cider vinaigrette recipe, the dressing I've been loving these past few weeks for salads, which I've been loading with sliced apples, goat cheese, and any nuts I have on hand.
I thought I should share it here, too. It's simple: a mix of honey, apple cider vinegar, fresh lemon juice, salt, and extra-virgin olive oil. And it's sharp: roughly equal parts acid and olive oil.
The bite, however, is tempered by honey, the amount of which you can adjust to taste. I find two tablespoons to be about right, and if this sounds like a lot to you, know that it sounded like a lot to me, too. But the vinaigrette, I assure you, does not taste too sweet — it tastes balanced and bright.
As noted, I've been loving it, and best of all, my children, who historically are not the best salad eaters — they're more like rabbits, favoring undressed raw vegetables — have taken to it, too: they gobble up these apple cider vinaigrette-dressed salads.
Friends: I'm finding this dressing to be perfect for all of my fall salad needs. I hope you'll agree.
PS: All-Purpose Lemon Vinaigrette
Apple Cider Vinaigrette, Step by Step
Gather your ingredients: lemon, honey, extra-virgin olive oil, apple cider vinegar, and salt.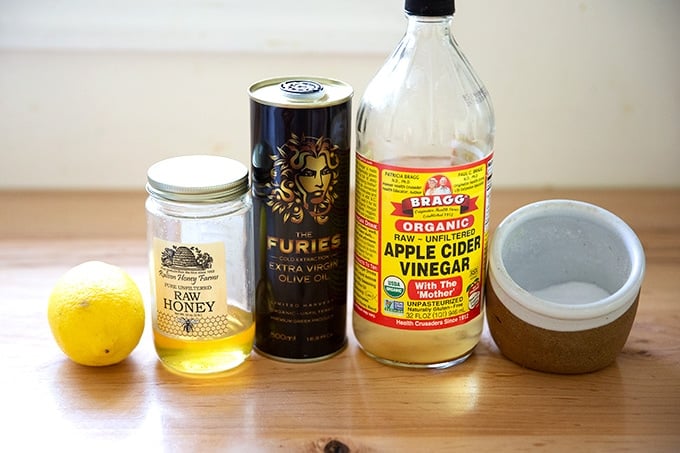 Whisk together the honey, salt, lemon juice, and vinegar first.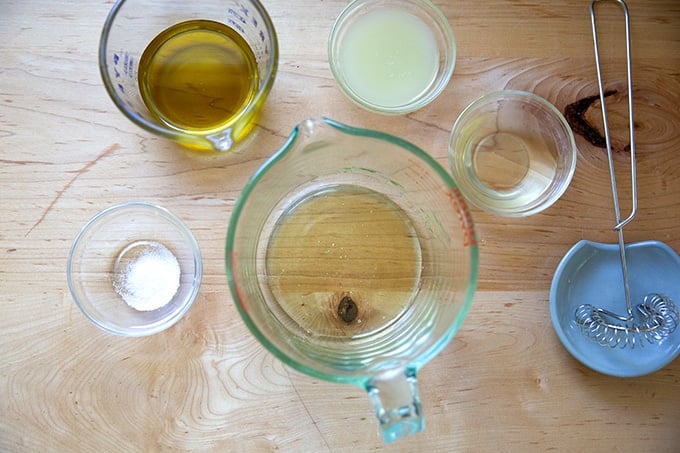 Then stream in the olive oil. Store in the fridge for two weeks (or longer).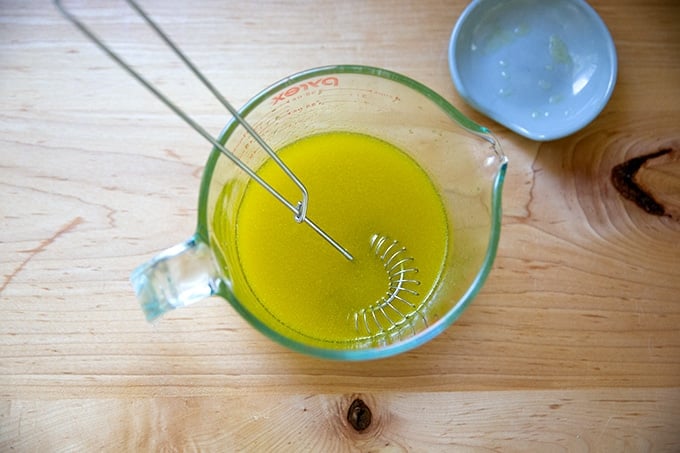 This is a classic combo: greens, apples, goat cheese, toasted pine nuts (or other) nut.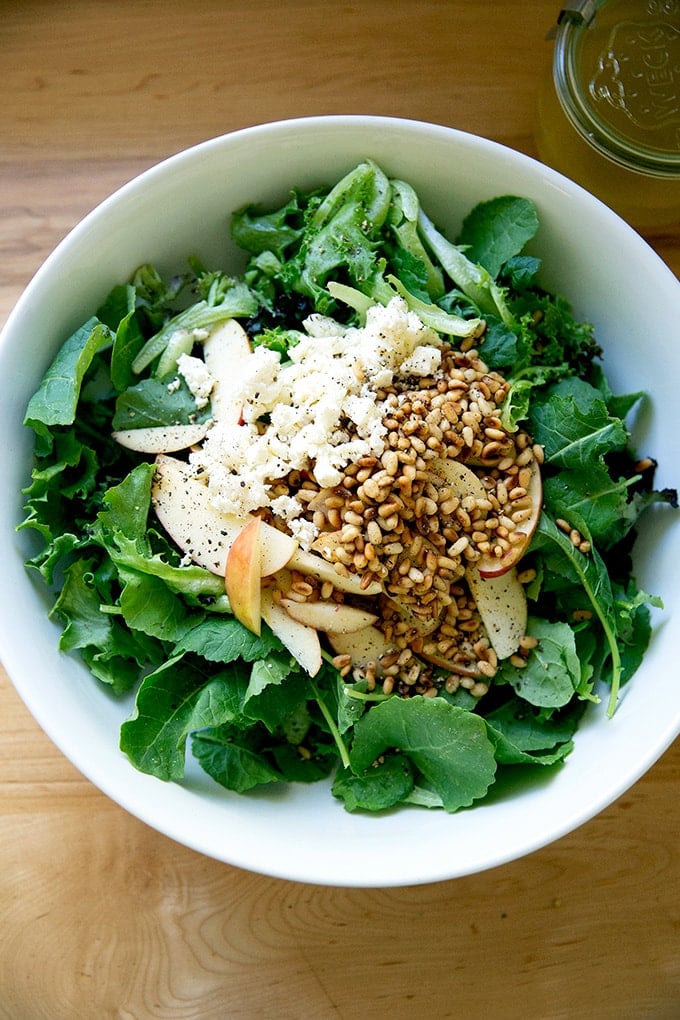 Find the recipe for this specific fall salad here.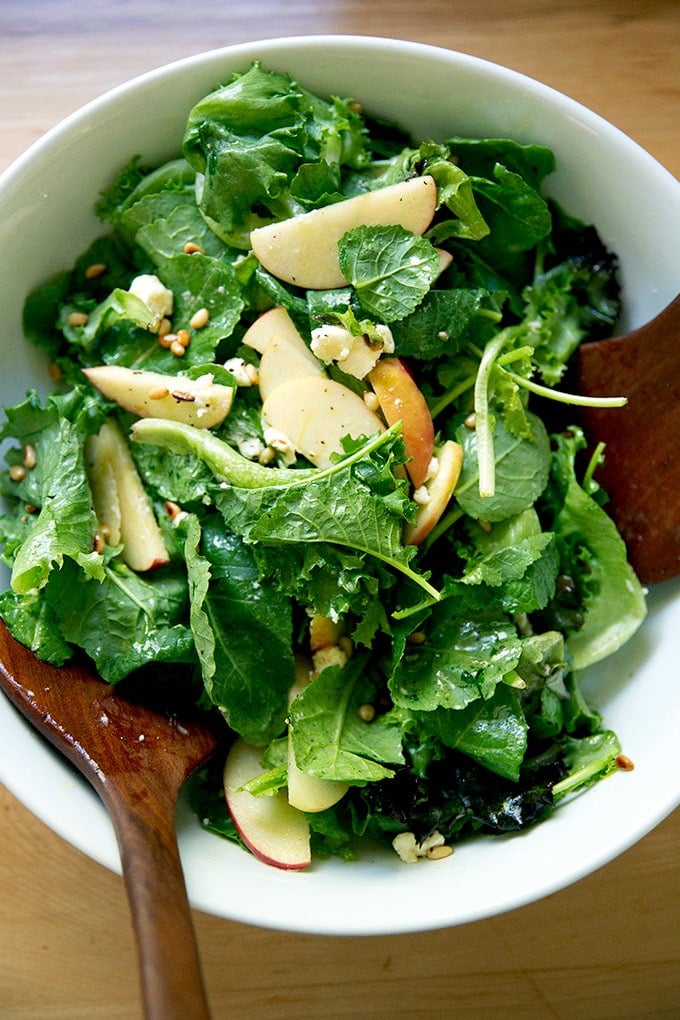 Print
Description
Made with 5 ingredients, this apple cider vinaigrette is a snap to throw together and perfect for all of your fall salad needs.
Notes:
Honey: As noted in the post above, I do not find this dressing to taste too sweet. That said, adjust to taste. If 2 tablespoons of honey gives you pause, start with 1 or less, then adjust to taste with more. 
Olive Oil: If 1/3 cup of olive oil makes a dressing that is too sharp for you, increase to 1/2 cup. Also: if you are coming here via my newsletter, I made a mistake in the quantities … sorry for any confusion! The below recipe is correct. 
---
3 tablespoons

fresh lemon juice

3 tablespoons

apple cider vinegar

2 tablespoons

honey, see notes above

½ teaspoon

kosher salt

⅓ cup

olive oil, plus more to taste
---
In a small bowl, whisk together the lemon, vinegar, honey, and salt. Stream in the olive oil while whisking constantly. Taste. Add more olive oil by the tablespoon if the dressing tastes too tart and adjust to taste with salt.
Store in the fridge for 2 weeks (or longer).
Prep Time:

5 minutes

Category:

Dressing

Method:

Whisk

Cuisine:

American
Keywords: apple cider vinegar, olive oil, lemon juice, honey, salt