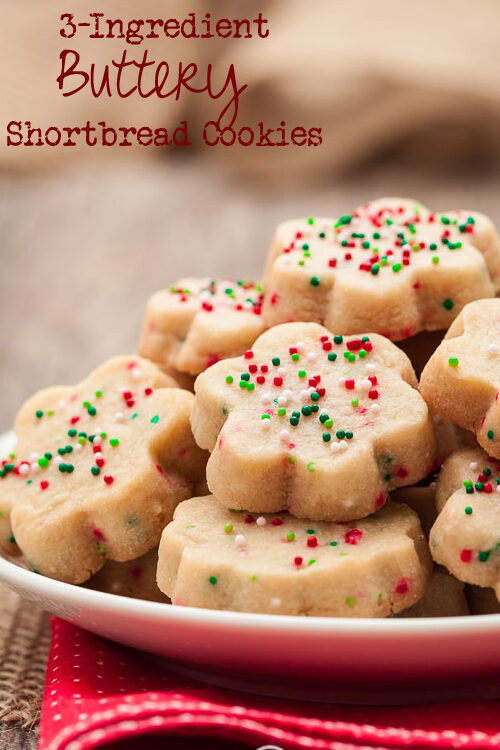 The Best Shortbread Cookies Everyone Loves
We're neck deep in cookies all over our kitchen and will hopefully continue the trend in the next couple of days.  When there are Littles at home and they have friends, sometimes they all come swarming…and cookies disappear in nanoseconds.
We had such fun over the weekend celebrating the holidays early with some family and friends.  Dozens of kids included, half of which were unapologetically hungry teens.
Translation: tables full of food and counters teeming with treats to satisfy those not-so-little-anymore Littles. Enter these butter shortbread cookies.
See this recipe in action: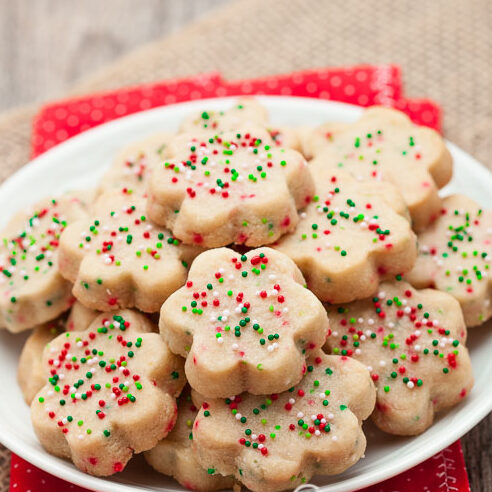 What are Shortbread Cookies?
Shortbread cookies are just about the most simple cookies you can make during holiday season and beyond. They're actually called "short" because of the traditional ratio of the 1:2 ratio of sugar to butter, providing a higher fat content to the dough. This ratio is what yields a soft, buttery crumb that is literally melt-in-your-mouth amazing.
Shortbread cookies are famous for their ultra-buttery, tender texture as well as their extraordinary flavor. With just 3 little ingredients, it's surprising how big in flavor these shortbread cookies are. They're the perfect canvas for rolling and slicing, shaping with cookie cutters, and decorating any which way you'd like.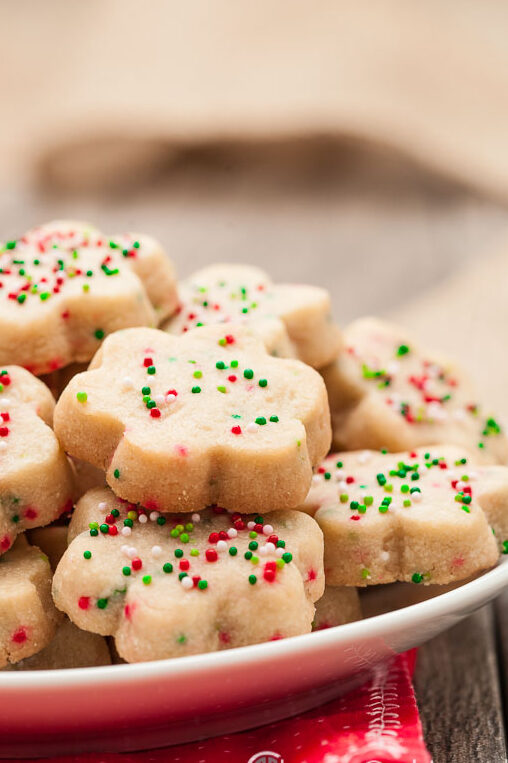 3-Ingredients For ShortBread Cookies
These buttery, melt-in-your-mouth shortbread cookies contain only 3 simple, pure ingredients and nothing else. No fillers, no additives, nothing artificial at all.
You'll only need:
Salted Butter – you'll want to keep the butter cold. No need to soften or melt the butter. No extra salt is needed in the recipe, since you'll be using salted butter. However, if you use unsalted butter, you'll want to add 1/4 tsp table salt.
Light Brown Sugar – the tip for brown sugar is to use fresh brown sugar that has not lost any of its moisture from sitting in the pantry too long. Many shortbread recipes use white sugar or powdered sugar, but light brown sugar is the secret to a deliciously caramelized flavor.
Flour – simple, all-purpose flour will do just fine for this easy recipe.
Sprinkles are optional and lend a boost of colorful fun!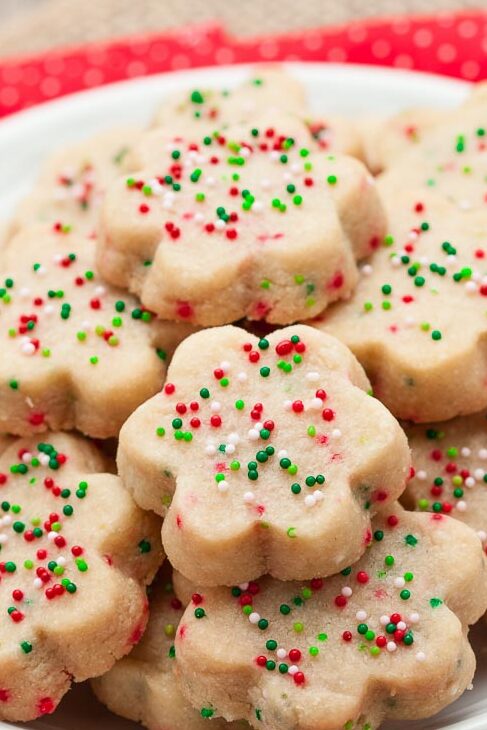 Shortbread cookies to bake, gift, freeze
These 3-ingredient buttery shortbread cookies make my top 3 favorite holiday cookies every single year. They're easy, no-frills, and 120% mouthwatering.
Bonus: they keep nicely for days, making them a tasty edible gift. The dough and baked cookies both freeze beautifully for at least a week or two. Once I make a batch of this cookie dough, I often use half and freeze the other half for all those seasonal cookie emergencies that inevitably pop up during busy holiday season and beyond.
Shortbread Cookies
Commonly Asked Questions
Are butter cookies and shortbread cookies the same?
The main difference in the two types of cookies is the amount of sugar to butter ratio. Butter cookies generally contain more sugar and are baked a higher temperatures. Shortbread cookies contain a higher fat content, which yields a melt-in-your-mouth texture.
Are shortbread cookies soft or crisp?
Shortbread is a wonderful balance of tender and slightly crisp textures when you bite into it. At first, there will be a light crunch, followed by a melt-in-your-mouth sensation.
Can shortbread be made with margarine?
It's important that shortbread be made with 100% pure, quality butter. It's the high butter content that makes these shortbread cookies so incredible.
Why does shortbread dough need to be chilled before using?
Chilled dough allows butter to re-solidify and helps the cookies keep their shape during baking, preventing them from spreading too much.
More to Bake and Eat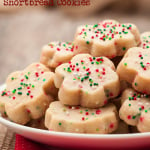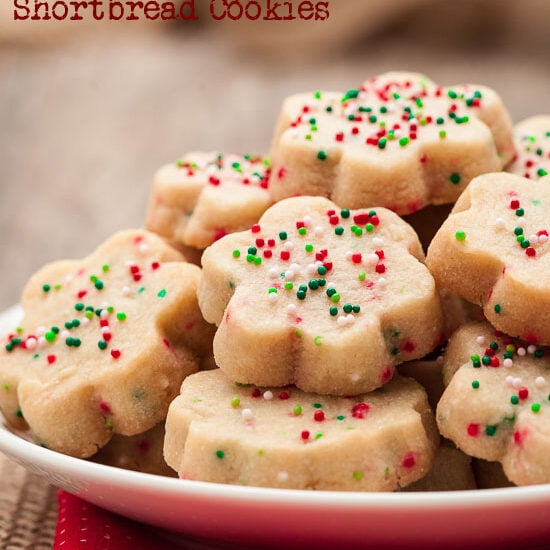 3-Ingredient Buttery Shortbread Cookies
These buttery shortbread cookies are simply divine. They are melt-in-your-mouth amazing, bursting with the goodness of butter, and easily dressed up or down.
Servings: 3 dozen
Optional: sprinkles to suit any occasion throughout the year
In the bowl of a stand mixer, add butter and brown sugar. Using paddle attachment on medium-high speed, mix until fluffy and light, several minutes. Add only 3 1/2 cups of the flour and mix on medium-low speed until combined.

On a large board, sprinkle 1/2 cup flour to keep dough from sticking to the board. Use rubber spatula to transfer dough to the board. Knead dough by hand for 5 minutes, adding only as much of the remaining 1/2 cup flour as needed to make a soft dough, while continuing to knead by hand. The dough should end up soft and pliable, similar to play-dough, not sticky. Work in desired amount of sprinkles, if using. Important Note: You may not end up using all the flour, depending on how your dough feels; it's important to stop adding flour as soon as your dough feels like soft play dough.

Divide dough into thirds, wrap tightly, and chill for at least 30 minutes or until firm enough to roll and cut shapes.

Meanwhile, reheat oven to 325F, with rack on lower middle position. Line baking sheets with parchment paper or silicone mats; set aside.

Roll one-third of the dough out to about 1/2 inch thickness (lightly flour board if needed.) Either cut into 3×1 rectangular strips, triangles, or use cookie cutter for shapes.

Place each cookie 2 inches apart on baking sheet. Poke cookies with fork to design if not using sprinkles.

Bake 15-20 minutes, or until edges are golden brown. If your shapes are smaller, bake less time. Bake longer for bigger shapes. Repeat with the remaining dough, working in batches so dough stays chilled and workable.

Cool completely on wire rack before serving. Cookies keep very when sealed airtight, at room temp.
Many shortbread recipes use granulated or confectioner's sugar, but light brown sugar is the secret to a wonderfully caramelized flavor. 
If you need to use unsalted butter, add 1/4 tsp fine table salt to the dough.
Unbaked dough can be frozen for up to 2 months. Wrap completely airtight; defrost dough when ready to roll/cut.
If you enjoyed these cookies, please come back and give them a rating ♡
Calories: 128kcal | Carbohydrates: 13.4g | Protein: 1.3g | Fat: 7.8g | Saturated Fat: 4.9g | Trans Fat: 0.3g | Cholesterol: 20.3mg | Sodium: 62.3mg | Fiber: 0.3g | Sugar: 4.5g
Did you make this?
Leave a comment below and tag @chewoutloud on Instagram