Learn to cook a restaurant-quality steak dinner at home with any one of these 14 Easy Steak Recipes! From salads and kabobs to tacos and burrito bowls, every dish is a slam dunk.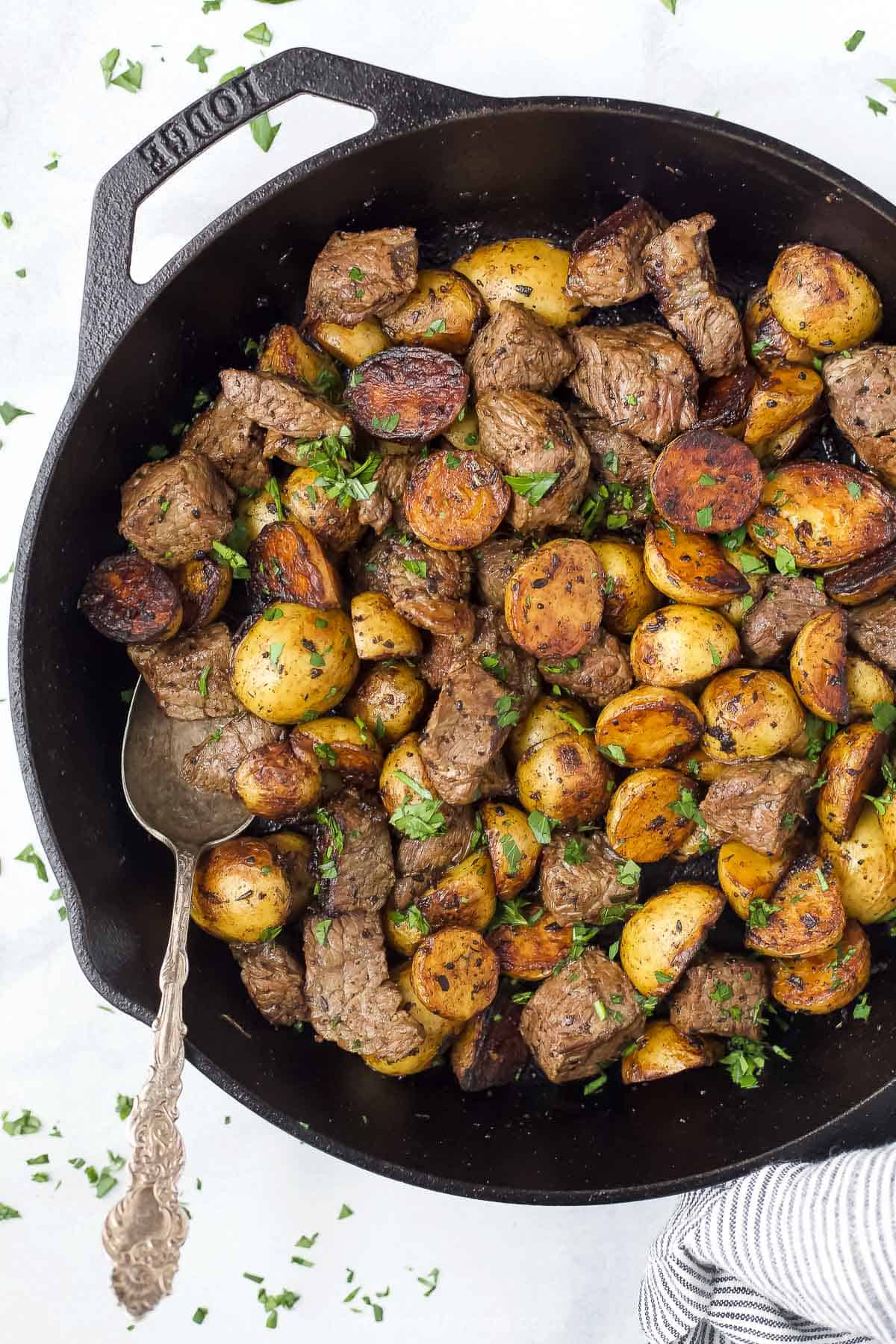 What Is the Best Way to Cook a Steak So It's Tender?
There are many easy ways to make sure your steak comes out tender and juicy. These helpful tips apply to any cooking method!
First, you have to let the steak sit out at room temperature for 30 minutes to an hour before you cook it. If you start grilling, roasting, broiling or pan-searing your steak while it's still cold, it won't heat through as evenly. Just don't leave it out at room temperature longer than necessary, or you'll risk exposing it to bacteria.
Once the steak is cooked to your liking, you'll want to let it rest for at least 5 minutes before you cut into it. This allows the juices to redistribute. If you cut it up too soon, you'll lose a lot of juices and might end up with dry, depressing beef.
Finally, you'll want to slice your steak against the grain. In other words, you should cut across the thin muscle fibers that run through the meat. Breaking up these muscle fibers ensures juiciness in every bite.
How to Tell When Steak is Done
Everyone likes their steak to reach a certain level of doneness, so to some degree, it's up to personal preference. The FDA recommends letting the internal temperature of your steak rise to 145°F before you consume it. Once your meat thermometer confirms that this temperature has been reached, you'll know your steak is good to go. If you'd like, you can remove it from the heat a degree or two sooner since it will continue to rise in temperature while it rests.
How Long Can You Keep Raw Steak in the Fridge?
Raw steak should be cooked within 3-4 days to prevent any bacteria from forming on the meat. Once it's cooked, it can be stored for another 3-4 days.
14 Flavorful Steak Recipes
Forget the steakhouse and whip up a five-star steak dinner at home. You can't go wrong with any of these easy recipes!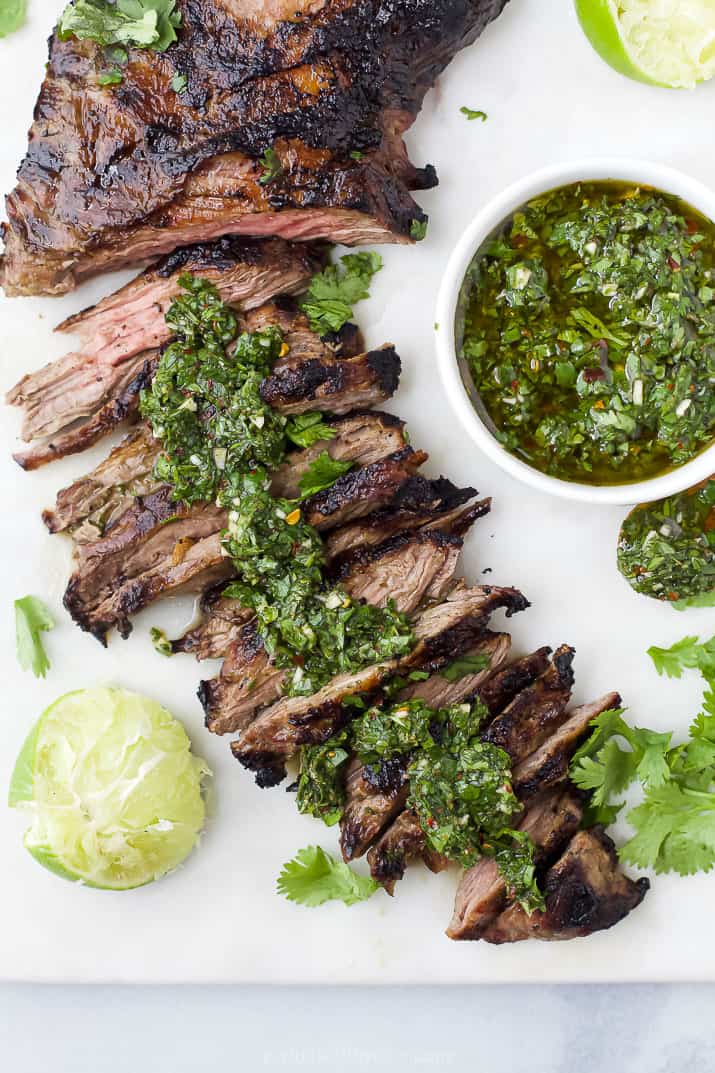 Tender Skirt Steak with Chimichurri Sauce
This 30-minute entree will have you emptying your plate like you just finished running a marathon! Every juicy bite is an explosion of savory, tangy, herby goodness.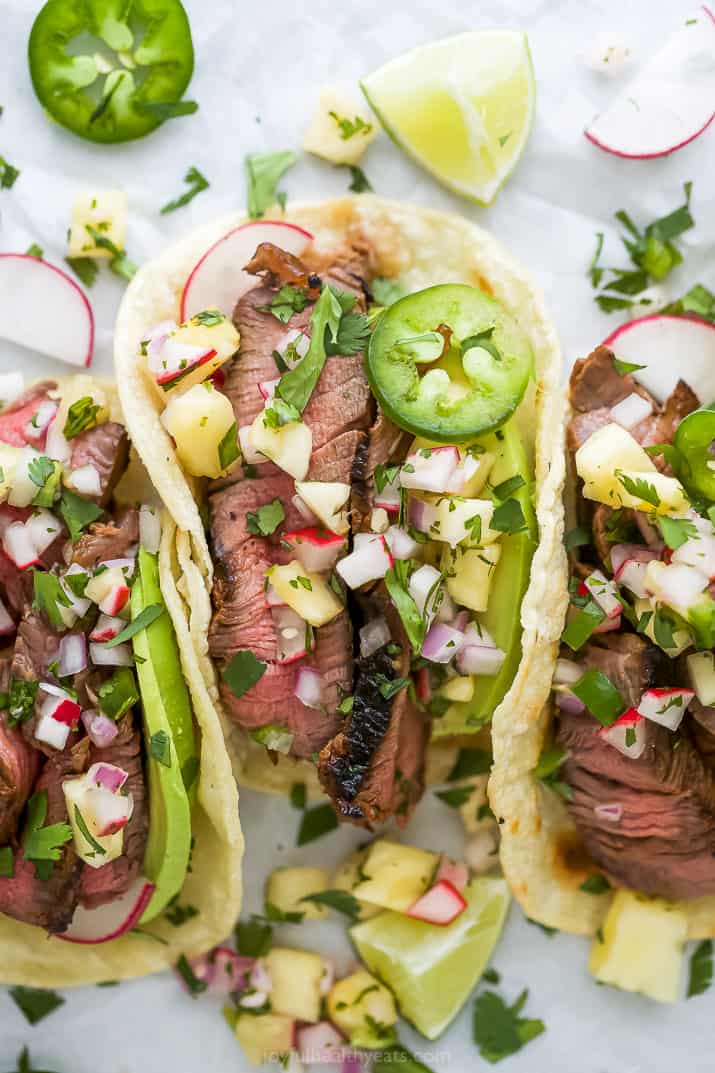 Steak Tacos with Pineapple Salsa
Creamy avocado, spicy jalapeños and sweet, juicy pineapple chunks make these hearty steak tacos completely irresistible. The steak is soaked in a sweet and salty marinade and charred to your liking on the grill.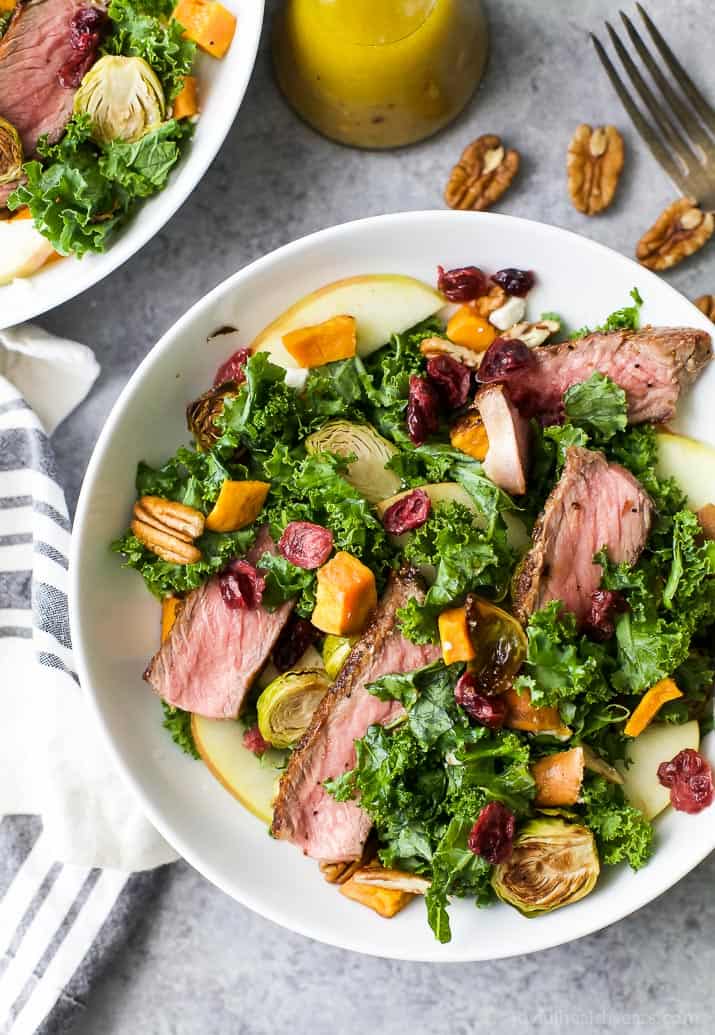 Harvest Steak Salad with Apple Cider Vinaigrette
A bright and tangy apple cider vinaigrette combines with leafy kale, tender roasted vegetables, juicy steak and more in this colorful dinner salad. You'll be whipping it up on the regular every fall!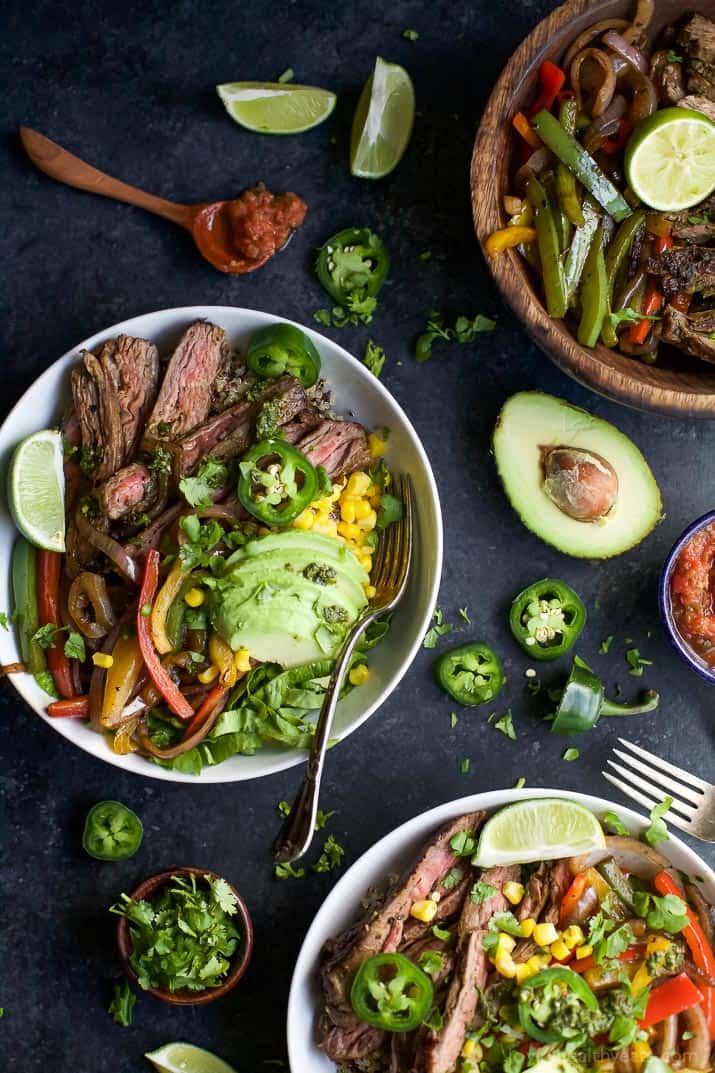 Steak Fajita Burrito Bowls
Made with corn, quinoa, peppers, avocado and much more, these flavorful burrito bowls are a Mexican-inspired masterpiece. They're served with a simple cilantro-lime chimichurri sauce that hits all the right notes.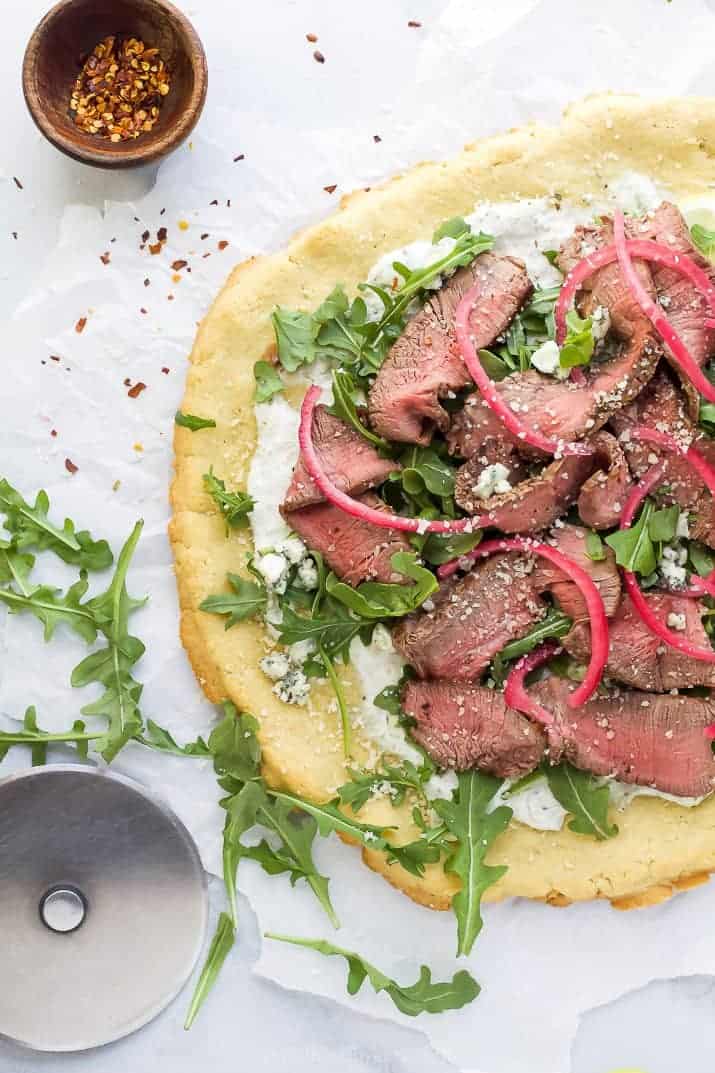 Steak Flatbread Pizza with Gorgonzola Sauce
Everyone loves a good pizza night, and this gluten-free steak flatbread takes things to a whole new level. Creamy gorgonzola sauce, fresh arugula, crunchy pickled onions and tender strips of filet mignon are loaded onto a crispy crust.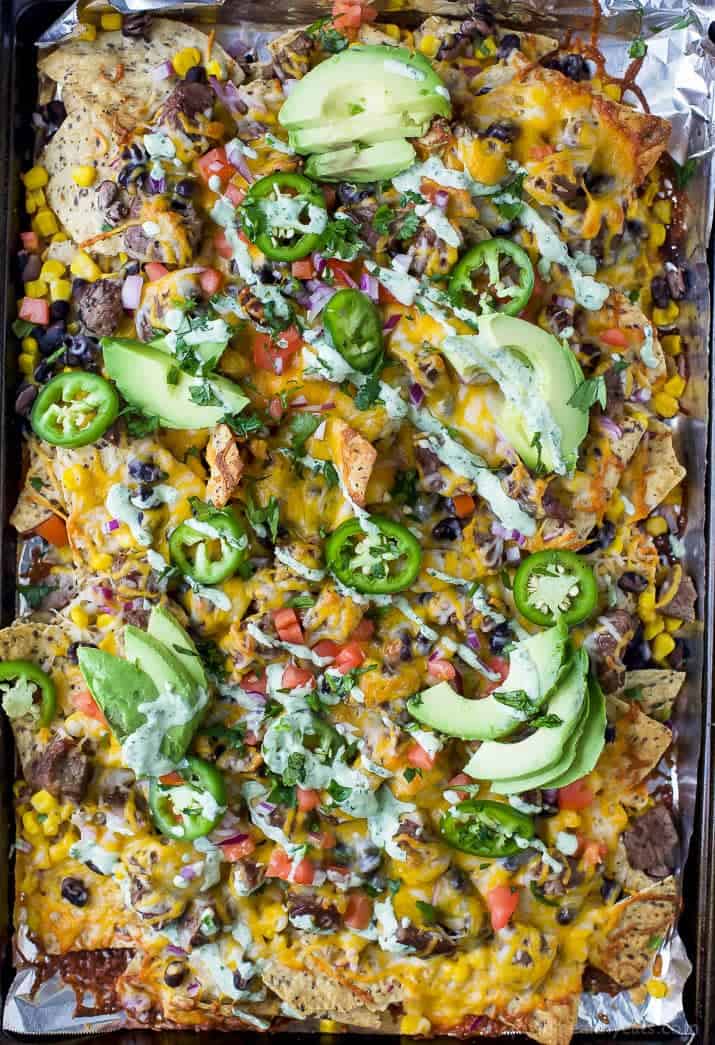 Cheesy Sheet Pan Steak Nachos
It's hard to describe the joy of devouring a cheesy plate of nachos for dinner. Made with black beans, tomato, jalapeño and more, these satisfying steak nachos never fail to hit the spot!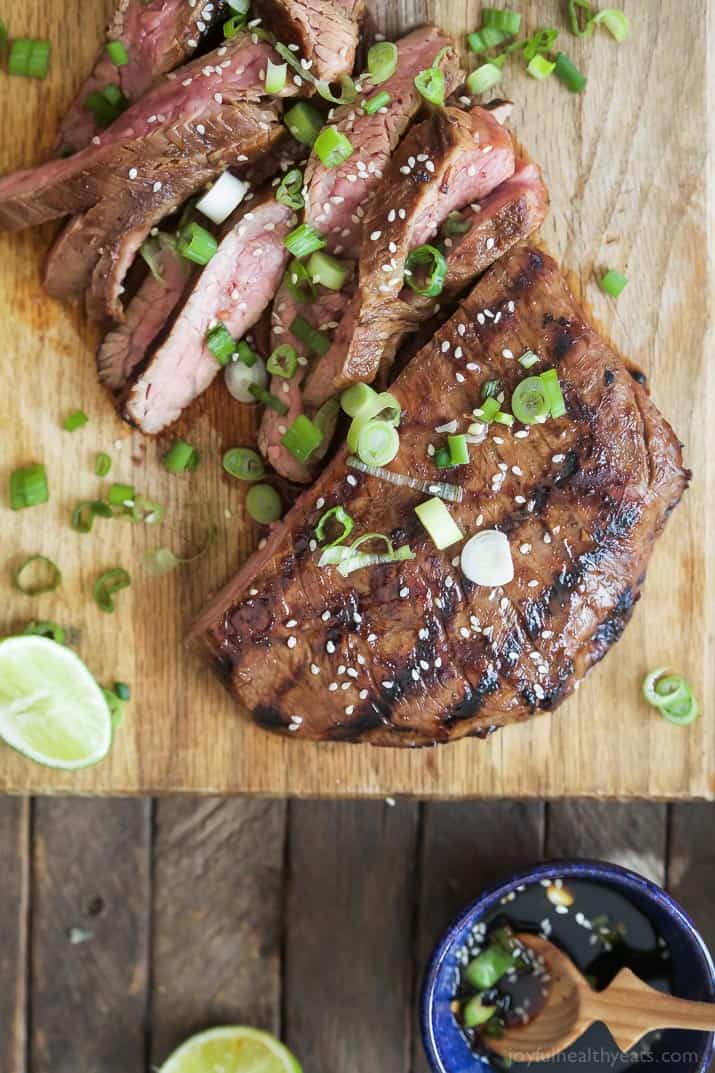 Asian Grilled Flank Steak
Soaked in a tangy, nutty, spicy Asian marinade and seared to perfection on the grill, this juicy flank steak practically melts in your mouth! It's a quick and easy main course that'll have everyone singing your praises.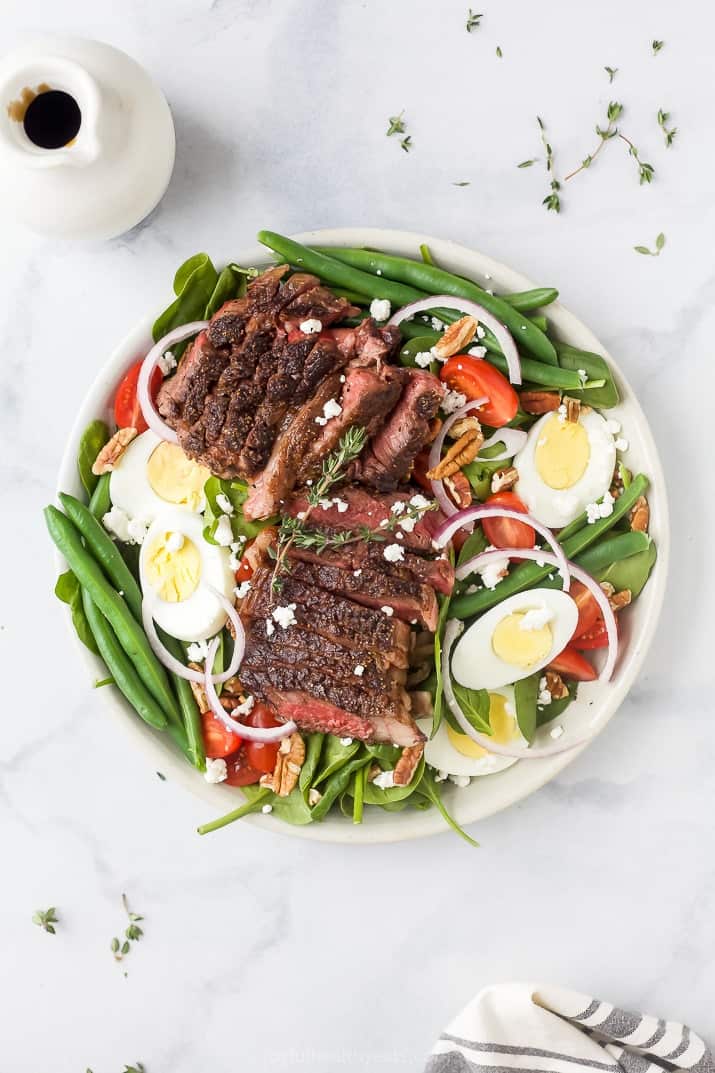 Steak Salad with Balsamic Vinaigrette
Hard-boiled eggs, fresh green beans, succulent cherry tomatoes and tangy goat cheese are just a few of the ingredients that make this salad so divine. You won't believe how quickly it comes together!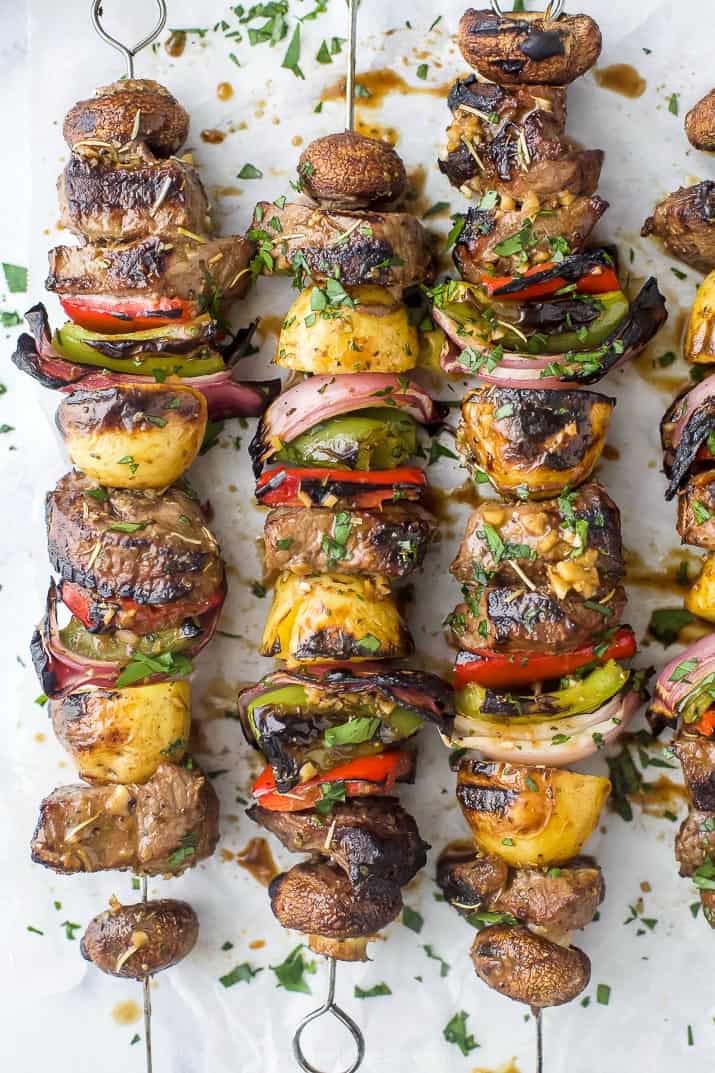 Marinated Steak Kabobs
Potatoes, onions, peppers, mushrooms and tender cubes of steak are threaded onto skewers and seared on the grill in this easy recipe. You'll adore the savory, citrusy, herby marinade that flavors the beef.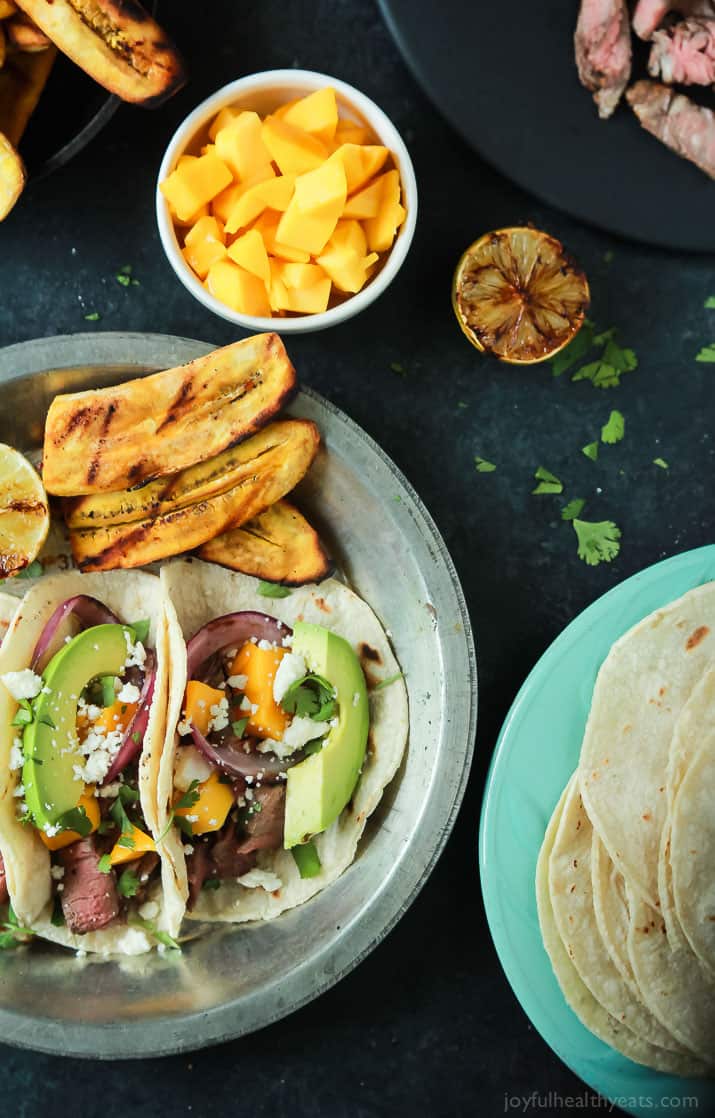 Grilled Steak Street Tacos
These vibrant filet mignon tacos are stuffed with sweet charred onions, creamy queso fresco, juicy diced mango and more. Made in less than 30 minutes, they're bound to become a family favorite.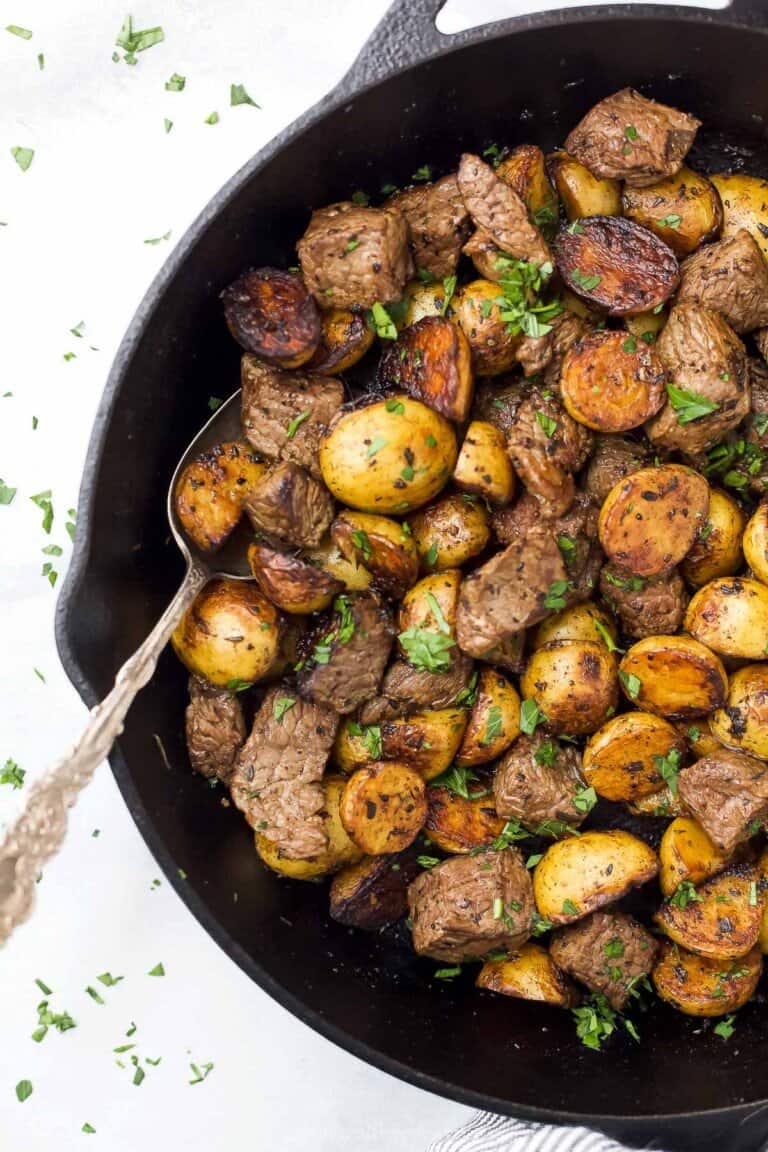 Garlic Butter Steak & Potato Skillet
Get ready for another quick and easy crowd pleaser! This Whole30 steak and potato skillet is filled with the flavors of fresh rosemary, thyme and garlic. Your mouth will start to water as soon as you smell the steak searing!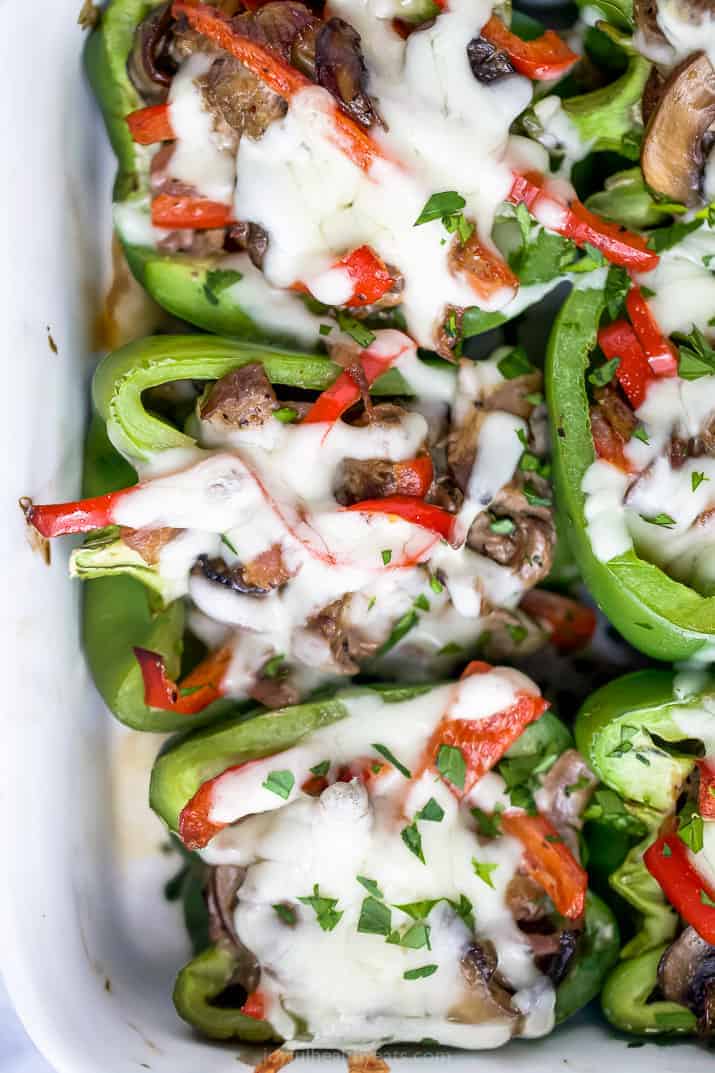 Philly Cheesesteak Stuffed Peppers
Low in carbs and high in protein, these cheesy stuffed peppers give the classic cheesesteak sandwich a run for its money! They only require 5 minutes of prep time and can easily be stuffed, refrigerated in an airtight container and baked the next day.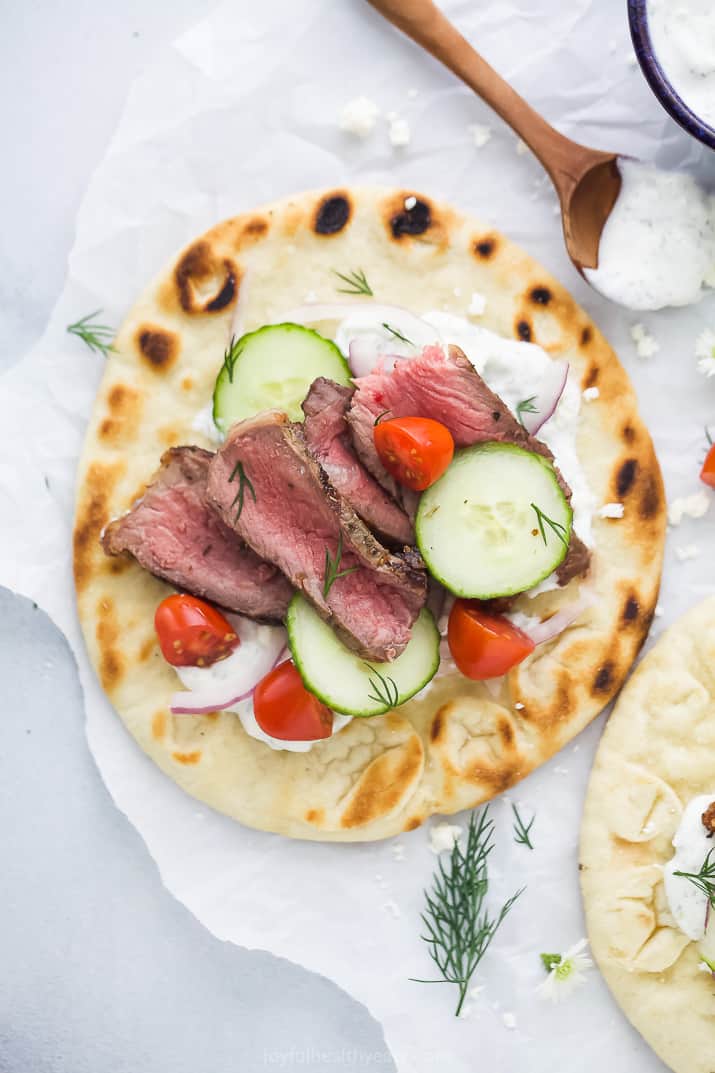 Grilled Steak Gyros with Tzatziki Sauce
Bring the drool-worthy flavors of Greek street food to the comfort of your own kitchen with this foolproof lunch or dinner. Herby, garlicky, peppery spice-rubbed steak is loaded onto flatbreads along with onion, cucumber, tomatoes and homemade tzatziki sauce.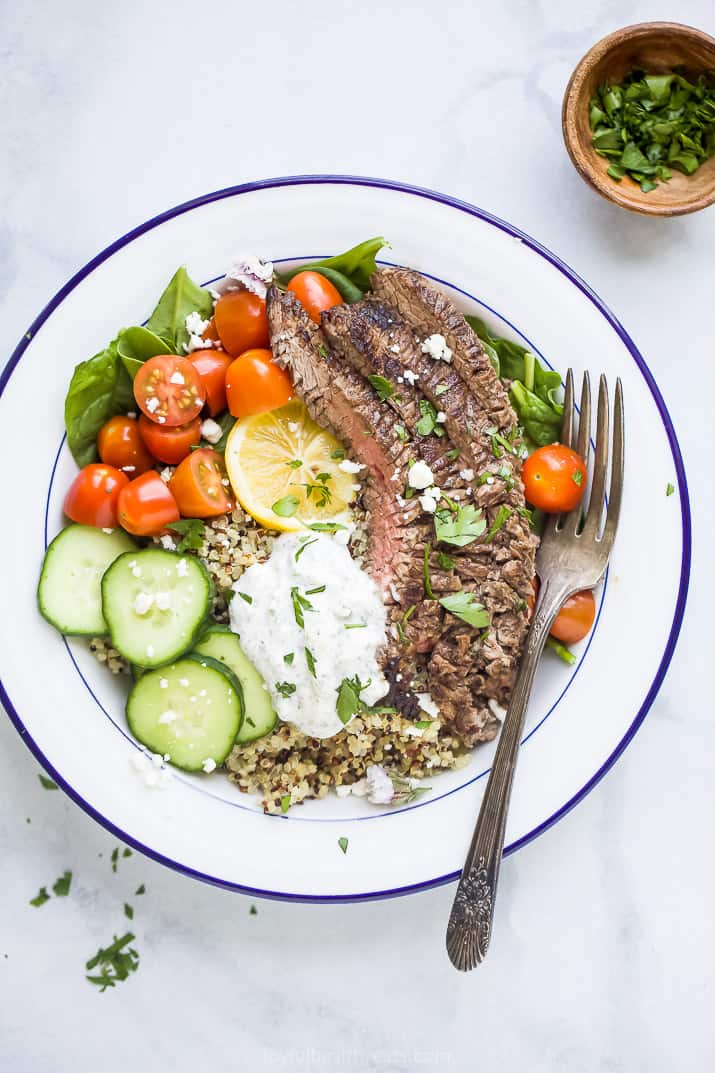 Mediterranean Steak & Quinoa Bowl
These wholesome quinoa bowls are another Mediterranean dish that you'll want to add to your regular dinner rotation. Fresh veggies, fluffy quinoa and tangy-sweet marinated beef make it a serious treat for your taste buds.