Learn how to make mochi donuts; Japanese doughnuts that are soft, sweet, and delicious. Made with simple ingredients, they take just 6 minutes to make!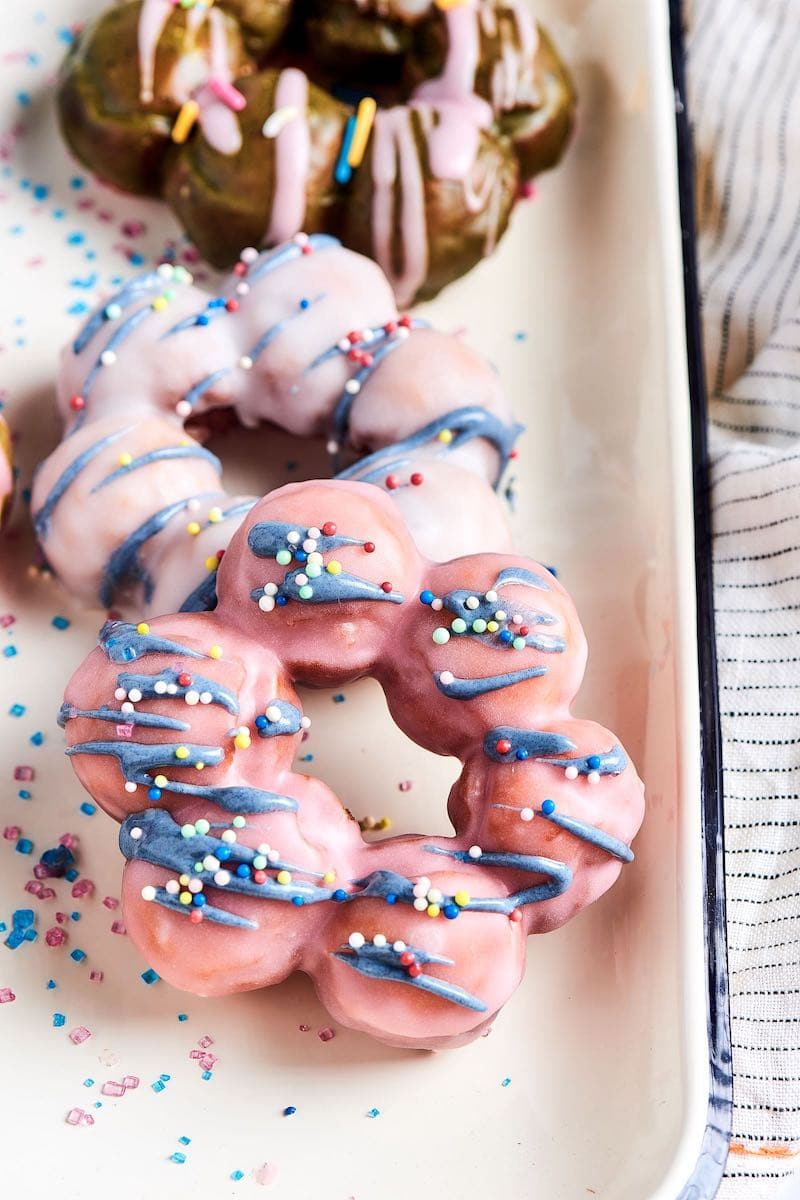 Craving donuts? Don't make your usual recipe. Try a mochi donut, and you'll be utterly obsessed. From taste to texture, they are so darn delicious. 
What are mochi donuts?
For those of you who are new to them, mochi donuts were a concept developed by the Japanese donut chain, Mister Donut. They are little balls of dough connected to one another resembling a unique shape. They also are soft, fluffy and with a sweet flavor. 
Although we may not be in Japan, this doesn't mean you must miss out! 
Also known as Pon De Ring donuts, this recipe is a keeper. They may look fancy, but they are deceptively easy to make and come together in no time.
Why this recipe works
Simple ingredients. Even though these donuts are popular in Japan, they use every day ingredients.
10 minutes to make. All you do is make the batter, fry it up, then glaze them.
Easy to customize. Like any good donut recipe, you can flavor the glaze in a plethora of ways.
What we love about this recipe is that you don't need any costly kitchen gadgets to make. You probably have everything in your kitchen as we speak!
What is a mochi donut made of? 
You'll love the simple ingredient list needed. You can find everything at your local grocery store or supermarket. Here is what you'll need:
For mochi donuts 
Sweet rice flour

– Also known as glutinous rice flour. You can easily find this in the baking or Asian aisle.
Milk
Sugar
Baking powder
Egg
Butter
For glaze
Powdered sugar

Milk

Food coloring
How to make pon de ring donuts? 
Making pon de ring donuts is quick and easy and follows a simple 5-step process, so there is no need to be intimated by them! We recommend having all your ingredients prepped first! Ready to make some donuts?
Step 1- Mix the ingredients
Start by mixing 1/4 cup of the sweet rice flour with half the milk and microwave for 20-30 seconds until a sticky dough remains. Let the mixture cool to room temperature.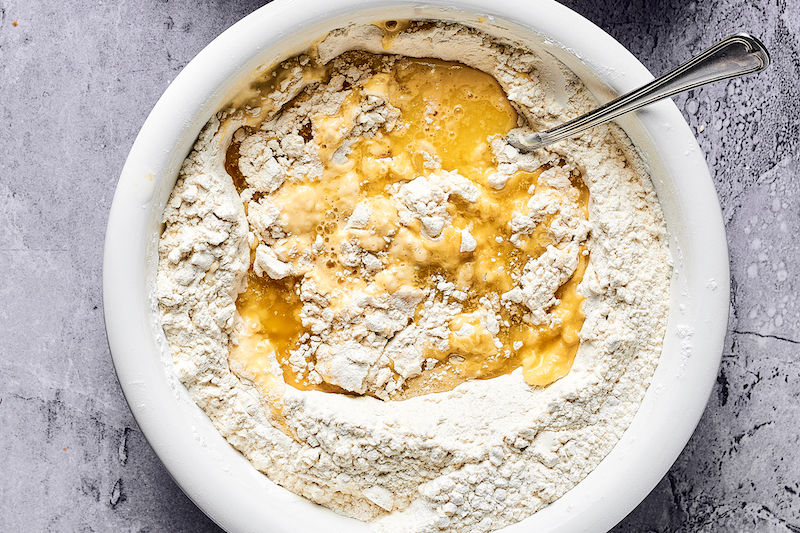 Step 2- Make dough 
Next, add the remaining dry ingredients in one bowl and the wet ingredients in another. Add both the first bowl and mix until a thick dough remains. Using your hands, gently knead together until smooth.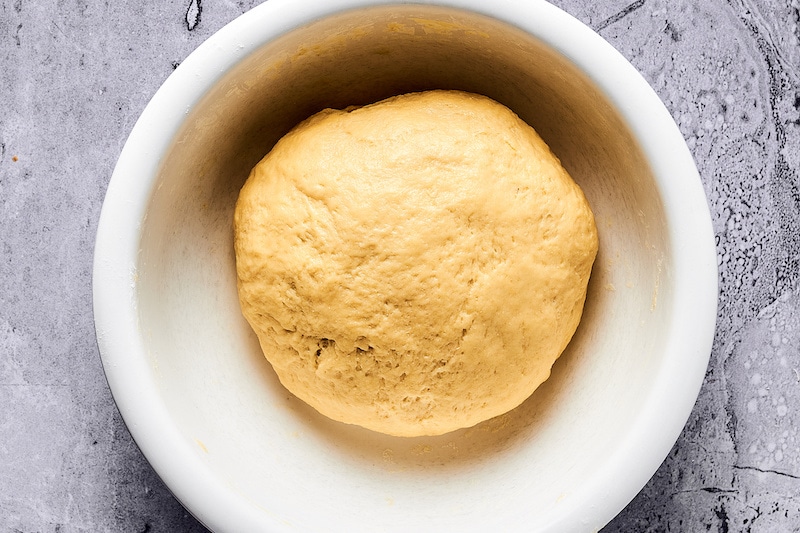 Step 3- Make dough balls 
Once you've got the ideal consistency of the dough, make dough balls. Divide the dough into 8 portions. Make dough balls by taking equal amounts of dough on your palms and rolling them out. We recommend wetting your hands to avoid the dough sticking to them. 
Step 4- Prepare donut rings 
Now, make a ring-shaped structure using 8 dough balls. Place the dough balls in a way that a circle forms when the balls are touching each other.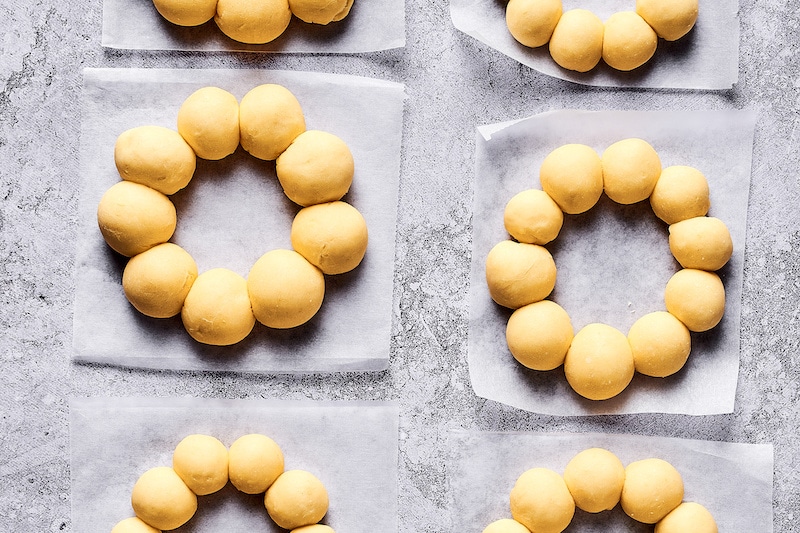 Step 5- Cook donuts
When you've made all the dough rings, heat vegetable oil in a saucepan. Once hot, add 2-3 donuts and cook for 1-2 minutes or until they are golden brown. 
Step 6- Cool then glaze 
Let the donuts cool completely before glazing them.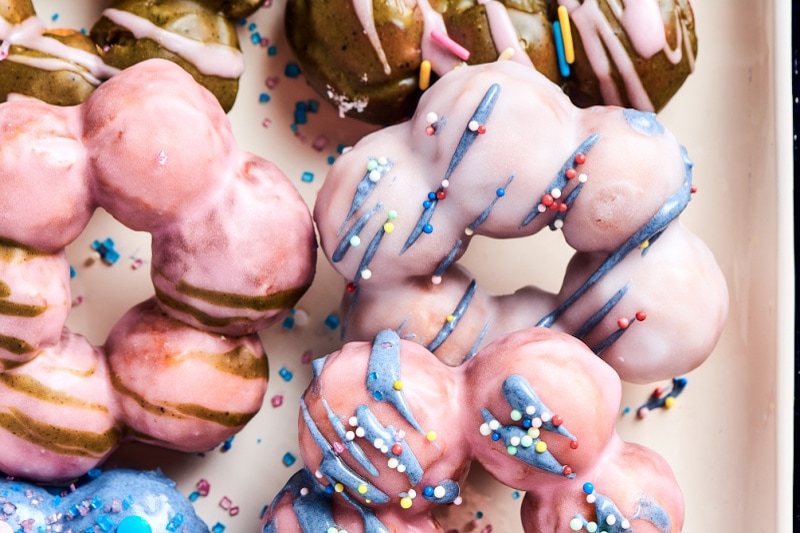 Tips to make the best recipe

 
Avoid over-cooking the donuts. You risk them becoming hard and over-browning.

Always check the oil temperature before dropping donuts in it for cooking. The ideal temperature for frying donuts is 170 to 180 degrees Celsius. 

Try to use vegetable or canola oil for this recipe.

  The neutral flavor of these oils will not impact the flavor of the donuts.
Storage information 
To store:

Use airtight containers to store in the refrigerator for 1-2 days, never more than this.

To freeze: I do not recommend freezing donuts as they become brittle and dry once thawed.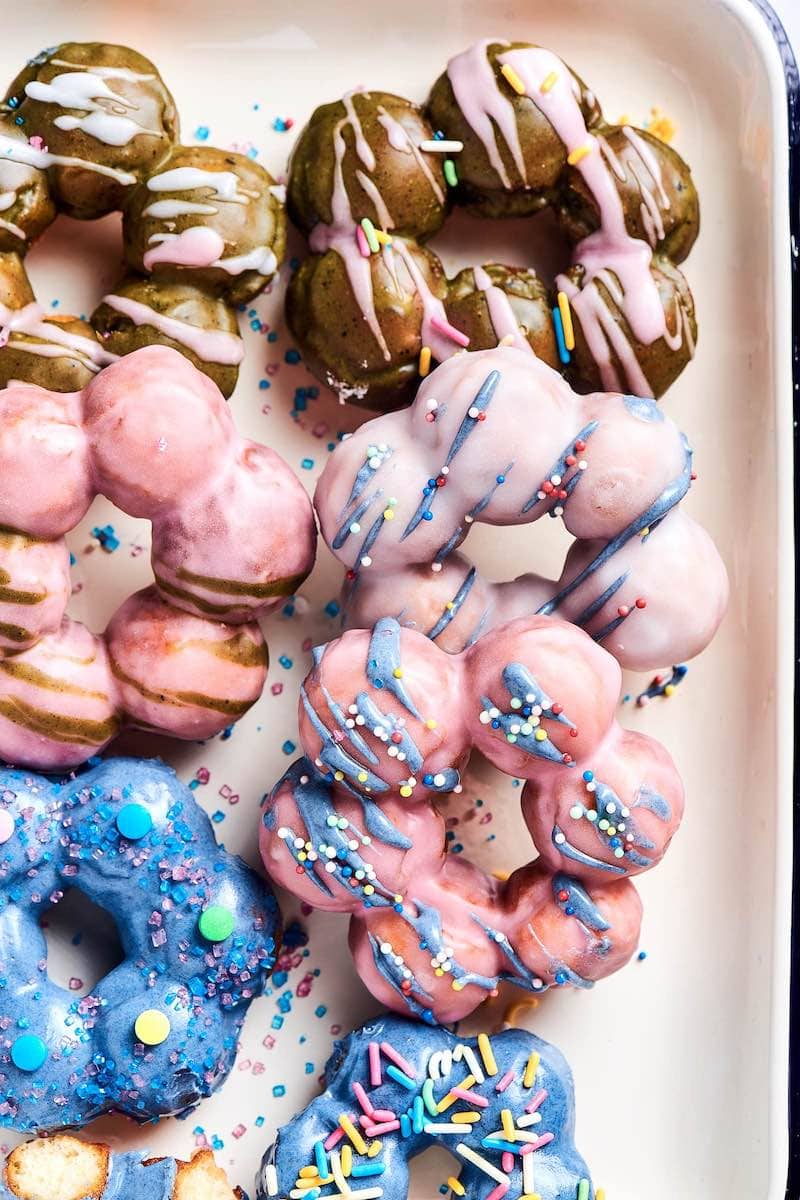 More donut recipes to try
Frequently Asked Questions
Are mochi donuts healthier than regular donuts? 
Mochi donuts are lighter and contain fewer calories than regular donuts. These specs make mochi donuts healthier than regular donuts. 
Are mochi donuts gluten-free?
When made with gluten free all purpose flour, these donuts are suitable for those who are celiacs.
What is the difference between mochi and regular donuts?
Both the taste and texture of mochi and regular donuts are different. Mochi donuts are light, chewy, and have a soft texture. Whereas, regular donuts are bready and denser.
What do mochi donuts taste like? 
Mochi donuts are sweet tasting and are crispy on the outside with a soft and chewy inside. Depending on the glaze used, they can be flavored differently, like green tea, strawberry, and blueberry. So, it's easy to customize the taste as you like.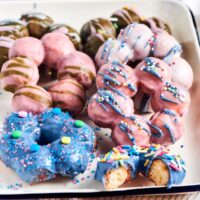 Add 1/4 cup of flour and 1/4 cup of milk into a microwave safe bowl. Microwave it for 30-40 seconds, until a sticky dough remains. Let it cool to room temperature.

In one mixing bowl, add the remaining dry ingredients. In a separate bowl, whisk together the wet ingredients. Combine these two with the sticky dough mix. Knead together until smooth.

Lightly flour your hands then divide the dough into 8 equal pieces. Divide each piece of dough into 8 portions and roll them out into balls. Stick the balls together into a donut shape.

Add oil to a large pot or skillet. Once hot, drop the donuts in and fry for 2-3 minutes, or until golden on both sides. Repeat the process until all the donuts are cooked.

Once the donuts have cooled, make the glaze by combining the powdered sugar with vanilla extract and milk. If adding color, add a few drops of food coloring.

Dip both sides of the donuts into the glaze and let it set.
TO STORE: Use airtight containers to store in the refrigerator for 1-2 days, never more than this.
TO FREEZE: Do not freeze donuts as they become brittle and dry once thawed.
Serving: 1donut | Calories: 195kcal | Carbohydrates: 38g | Protein: 4g | Fat: 5g | Sodium: 93mg | Potassium: 74mg | Fiber: 1g | Vitamin A: 158IU | Calcium: 66mg | Iron: 0.3mg | NET CARBS: 37g