Golden flaky Buttermilk Biscuits are melt-in-your-mouth delicious. Enjoy them on their own, with jam, or smothered in gravy!
We love our classic Homemade Biscuits, but these Buttermilk Biscuits are JUST as tasty and require fewer ingredients! If you're short on ingredients, try our 5 Ingredient Homemade Bread or our No Knead Bread.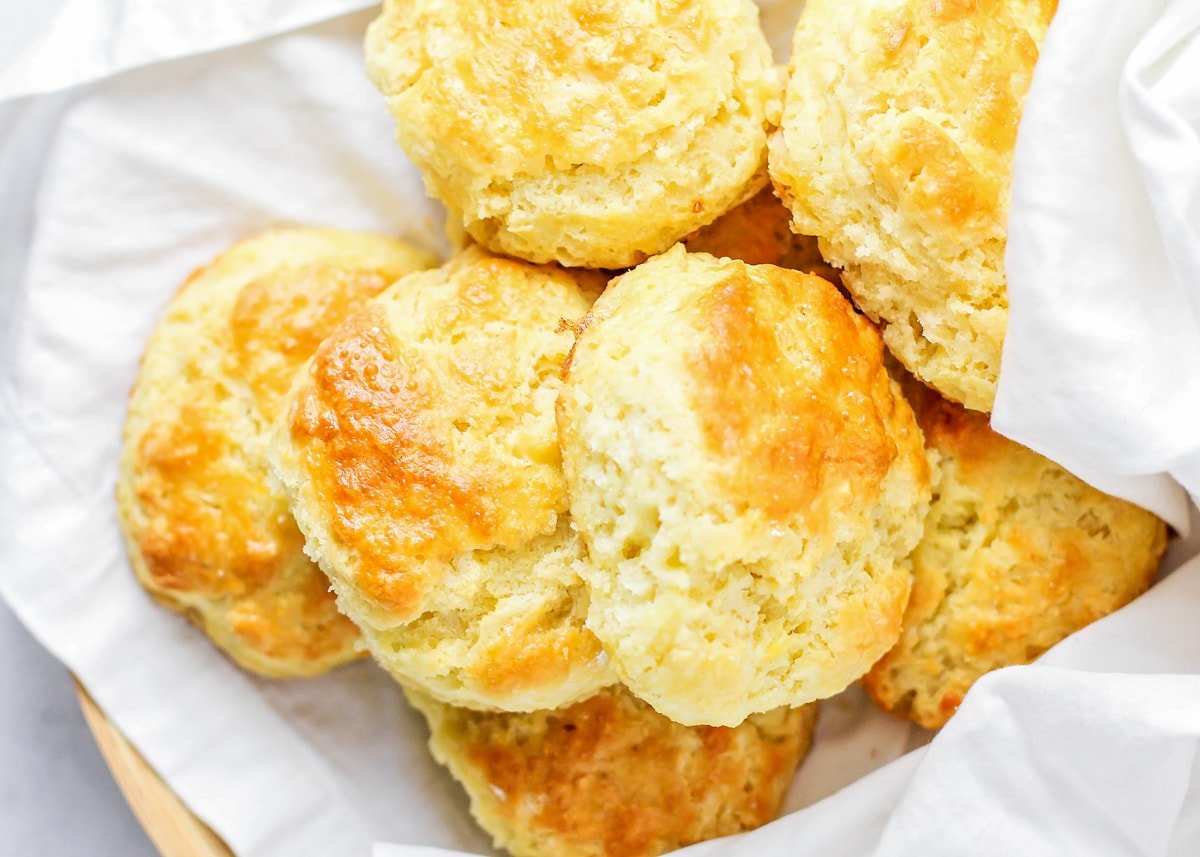 Just 4 Ingredient biscuits!
There are few things better than a warm homemade biscuit straight out of the oven! It's especially tasty when slathered in butter and a little bit of jam and served with a side of bacon.
Or how about when it's smothered in Sausage Gravy? There are so many delicious ways to enjoy homemade Buttermilk Biscuits!!
The best part about this Buttermilk Biscuit recipe is that you only need FOUR ingredients to make them. Yep, just four. This is ideal for times when you're running low on groceries and are trying to use up all of those pantry staples!
The four ingredients are:
Butter
Self Rising Flour
Buttermilk
Melted Butter
You could almost call this a 3-ingredient recipe since butter is on there twice. 😉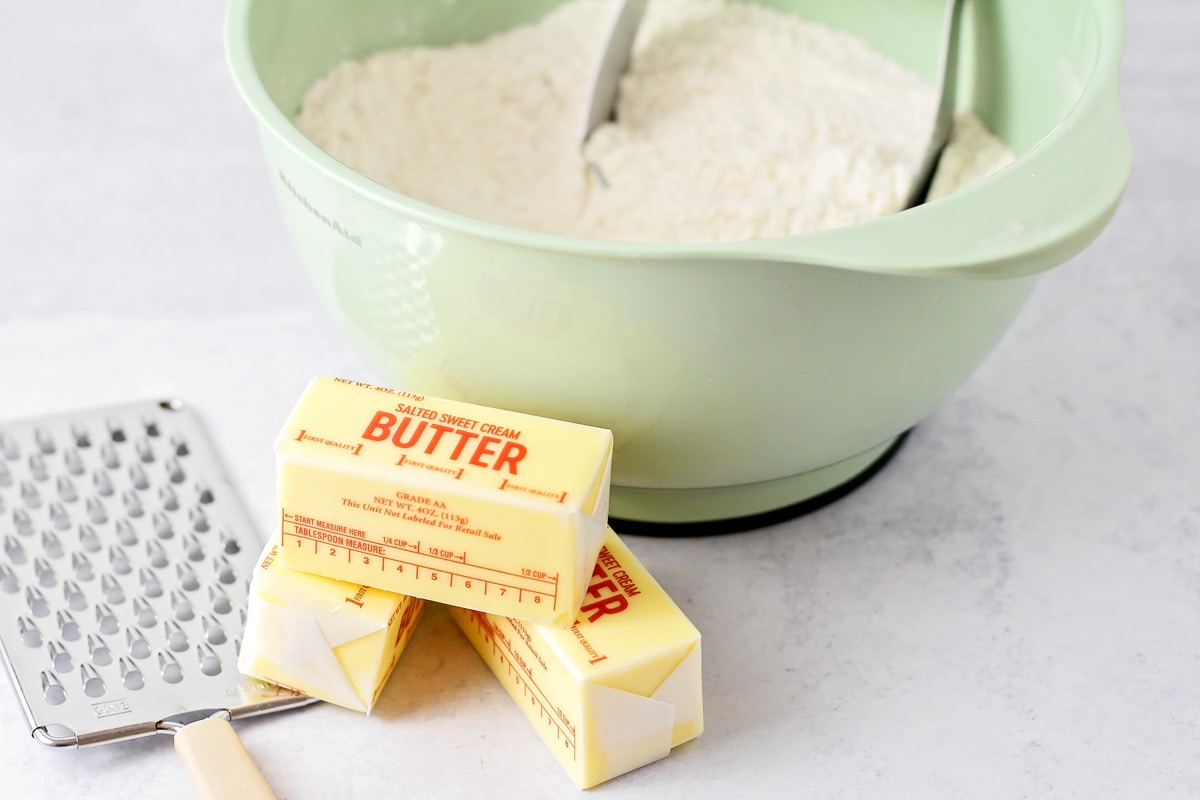 How to Make Buttermilk Biscuits
MIX. In a large bowl, cut cold butter into flour with a fork or pastry cutter until the mixture resembles coarse crumbs. Stir the buttermilk into the flour mixture with a wooden spoon just until moistened.
KNEAD + CUT. Turn dough onto a lightly floured work surface and knead 3-4 times. Pat or lightly roll to 3/4-inch thickness. Cut with a floured 2-1/2-inch biscuit cutter.
Tip: If you don't have a biscuit cutter, use the top of a cup, about the same size, to stamp out the dough. You can also use a pizza cutter and cut rectangle biscuits.
BAKE. Place biscuits on a greased baking sheet. Bake at 425°F until golden brown, about 10-12 minutes. Brush the tops with melted butter as soon as they come out of the oven. Serve warm.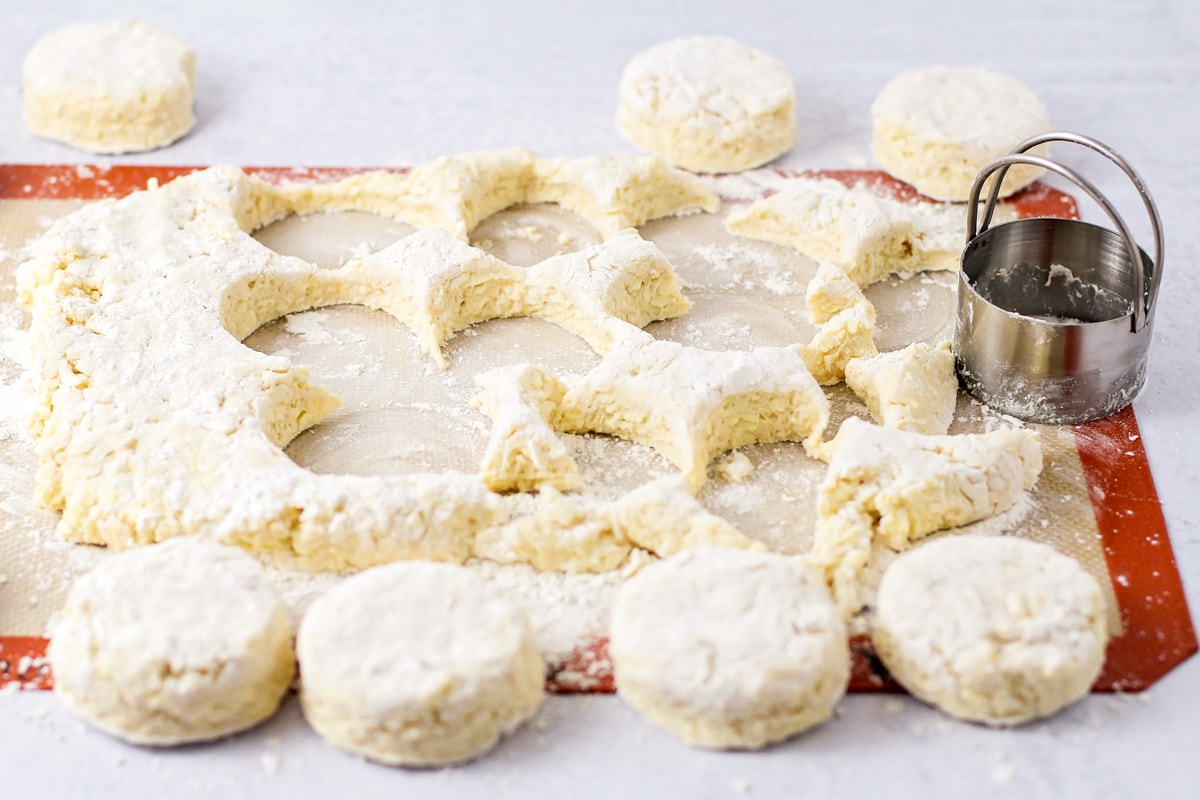 serving suggestions
In some parts of the world, particularly the UK, biscuits are what Americans would call a cookie.  American biscuits are similar to Dinner Rolls, except instead of being leavened with yeast they are leavened with baking powder.
They are typically round, about 2-3 inches in diameter, and have buttery flaky layers. Biscuits pair well with both sweet and savory toppings and make a delicious addition to any meal.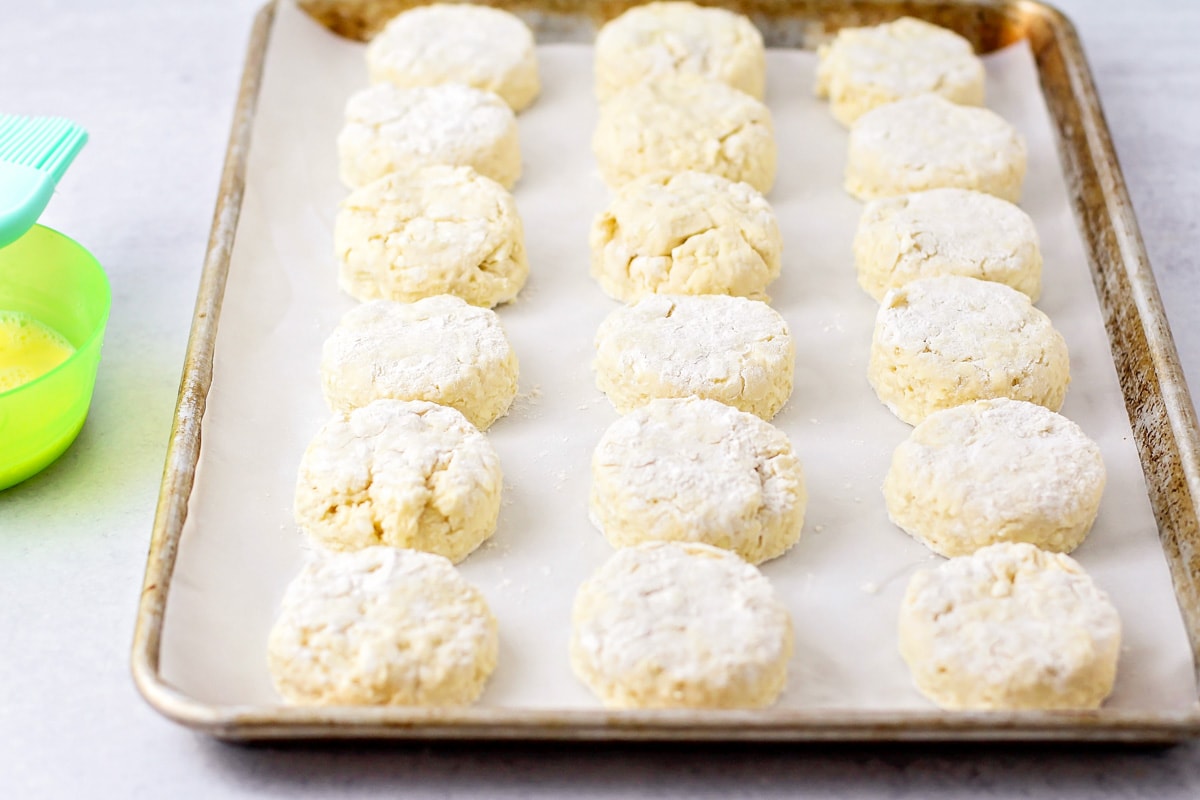 buttermilk biscuit Recipe Tips
Cold butter. The butter must be cold and stay cold! You can even use a box grater to grate a cube of frozen butter. 
No hands. Never use your hands to mix the dough—it will warm up the butter.
Do not twist the cutter when stamping out the biscuits. Twisting the cutter can cause the sides of the dough to close and they'll cook unevenly. Pull the cutter straight up and out.
Add a bit of flour if the dough is too sticky to handle.
Shaped cutters. Instead of using a circular biscuit cutter, use shaped cookie cutters. I like making heart shaped biscuits for Valentine's and Christmas tree biscuits in December. 
Pizza cutter. Toss the biscuits cutters and use a pizza cutter to cut the dough into 2-3 inch rectangles.
Getting Flaky Layers. You can tell a good biscuit when you pull it open and actually see the flaky layers. Here are a few keys factors to get those flaky layers:
Don't use an electric mixer. Go old school with a wooden spoon and a pastry cutter or fork.
Fold, roll, repeat. This will develop the flaky layers. Remember not to press the rolling pin too firmly. Also, don't overwork the dough. Folding and rolling 5-6 times should be perfect.
Use cold butter and cold milk. Chill the dough as needed to keep things cold.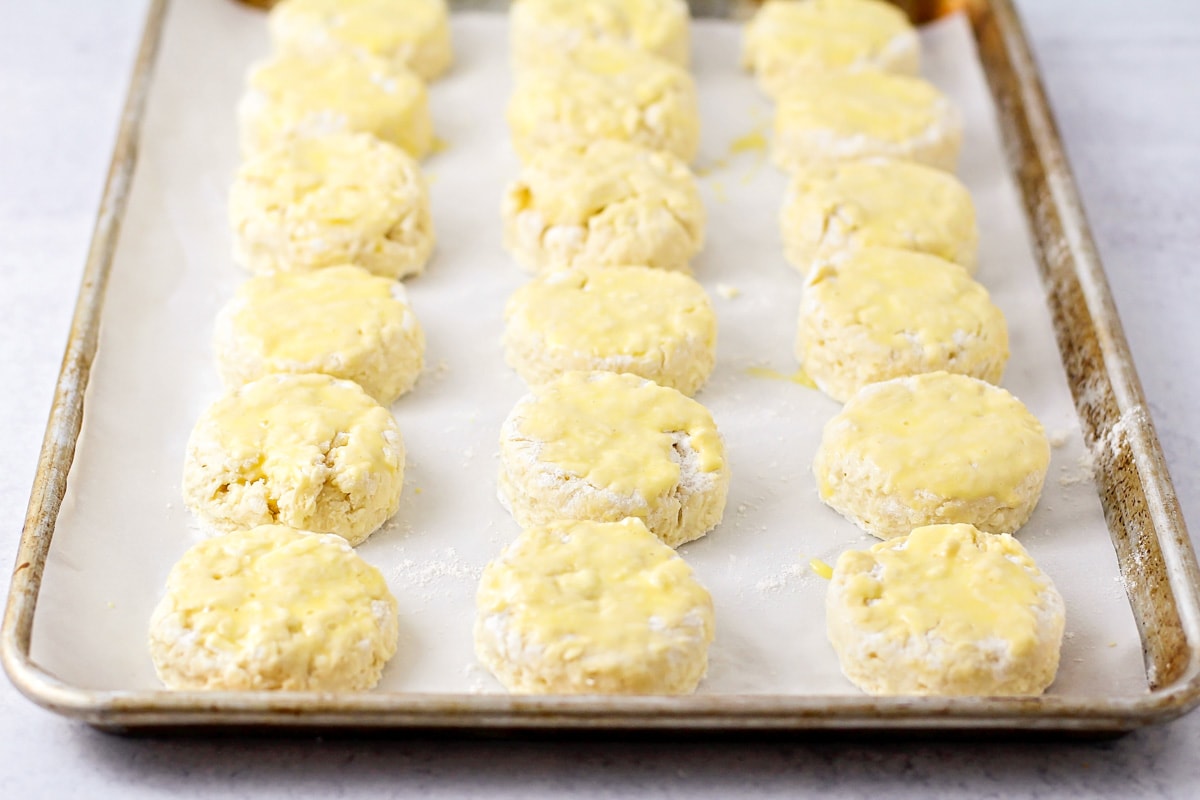 Ingredient Substitutions
Self rising flour. If you don't have self rising flour you can easily make your own at home using all purpose flour, baking powder and salt. Mix together 1 cup flour, 1 ½ tsp baking powder and ¼ tsp salt. 
Buttermilk. To make a cup of buttermilk – add 1 tbsp of vinegar to a 1 cup measuring cup. Fill it the rest of the way with milk. Finally, let it sit for 5-10 minutes before using it in your recipe. For more substitutions, check out THIS post.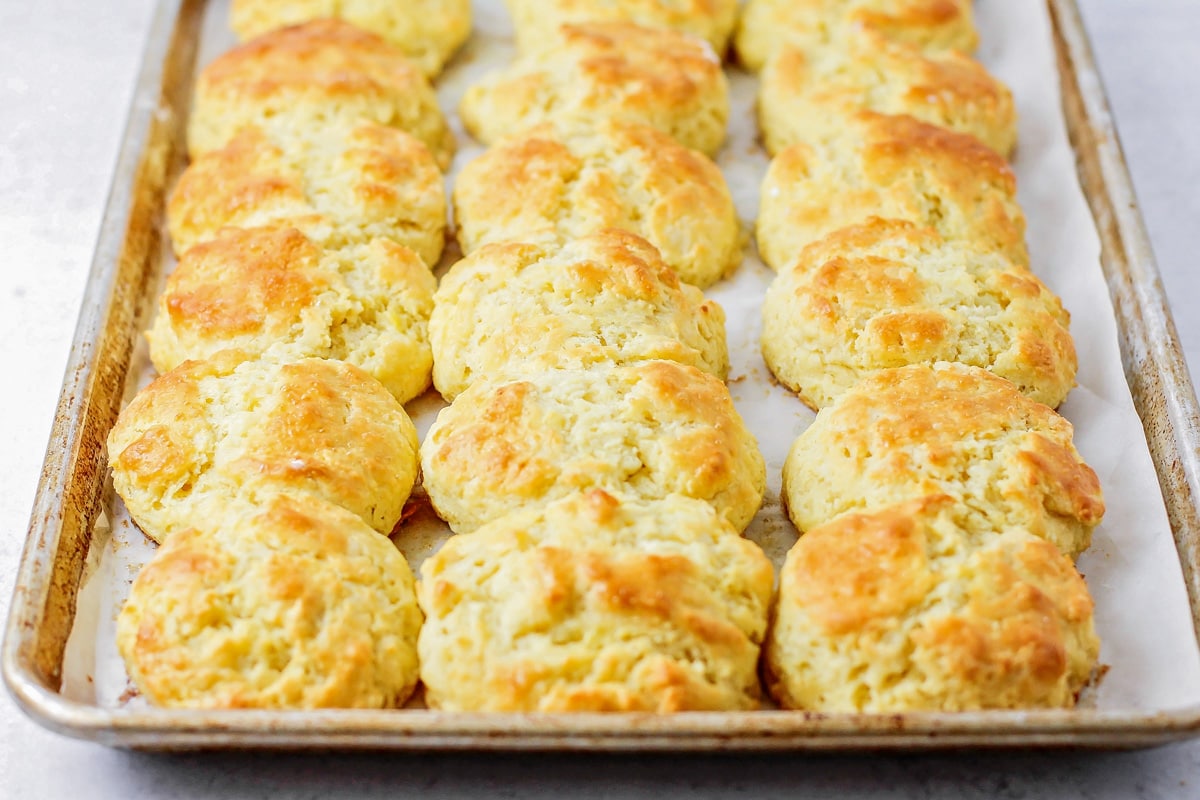 storing info
STORE. Just like other bread products, biscuits can easily be stored for later. Either store them at room temperature if you'll be using them fairly soon, or put them in the freezer to be used later. 
Room temperature: Place the cooled

biscuits in an airtight container. They'll stay fresh for 1-3 days.

Freezer:

Put the cooled biscuits on a cookie sheet, then place in the freezer. Once the biscuits are solid, put them in a freezer safe container/Ziploc bag. Freeze for up to 3 months.
FREEZE. Make these biscuits ahead of time and freeze the cut dough.
Cut out the biscuit shape, transfer to a parchment lined cookie sheet and place it in the freezer.

Once the dough is solid, transfer to a freezer safe container.

Label and freeze for up to 3 months.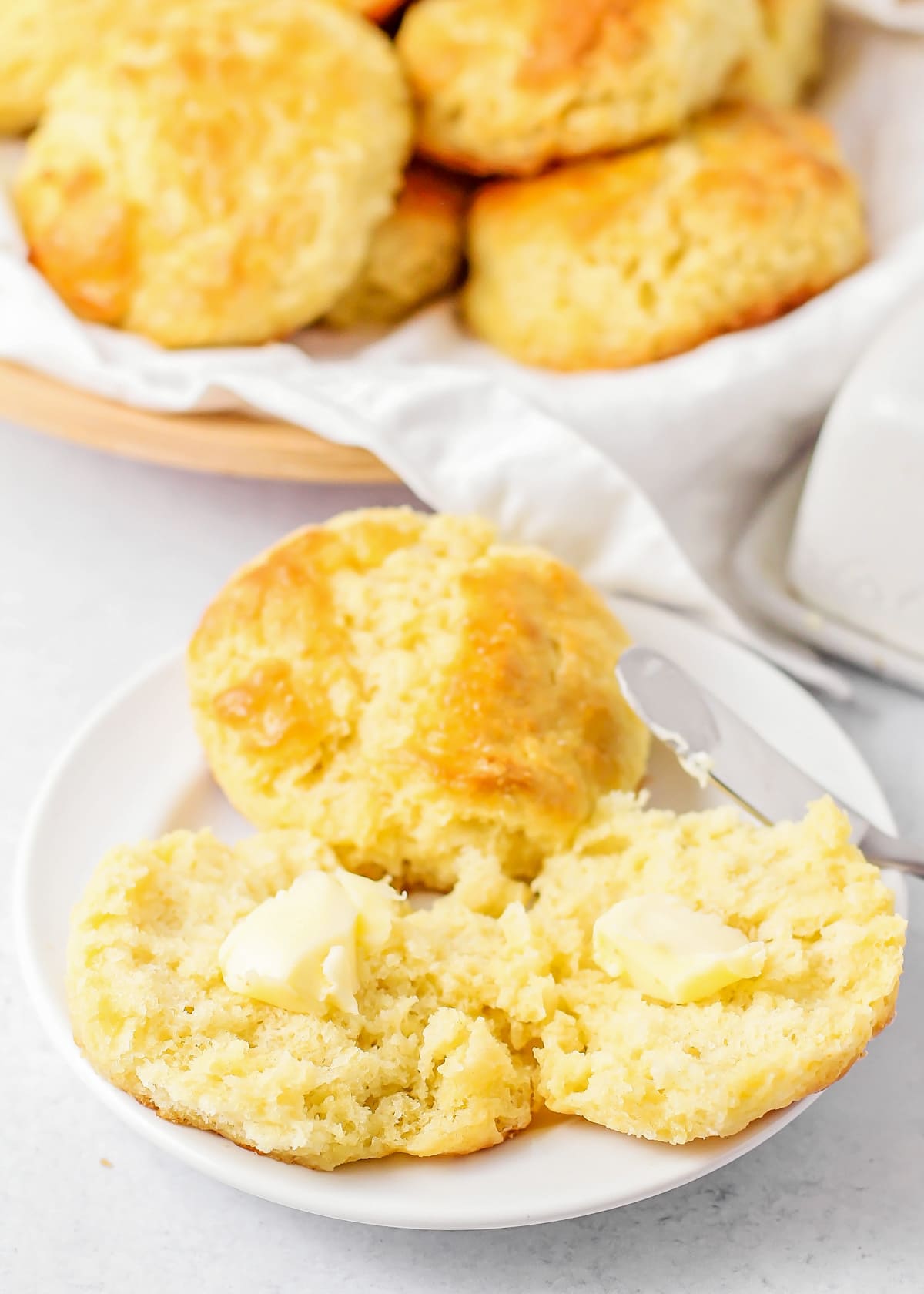 For More biscuit recipes, try:
In a large bowl, cut cold butter into flour until mixture resembles coarse crumbs. Stir in buttermilk just until moistened.

Turn onto a lightly floured surface and knead 3-4 times. Pat or lightly roll to 3/4-in. thickness. Cut with a floured 2-1/2-in. biscuit cutter.

Place on a greased baking sheet. Bake at 425° until golden brown, 10-12 minutes. Brush tops with melted butter. Serve warm.