These fun Candy Corn Cupcakes have a yellow and orange layer and are topped with a delicious white marshmallowy frosting for the perfect fall and Halloween dessert!
Love holiday desserts? Use our cream cheese sugar cookie recipe to create easy, delicious halloween cookies! Or give our snickerdoodle cookie bites a try, and decorate the tops like a mummy with our easy tips.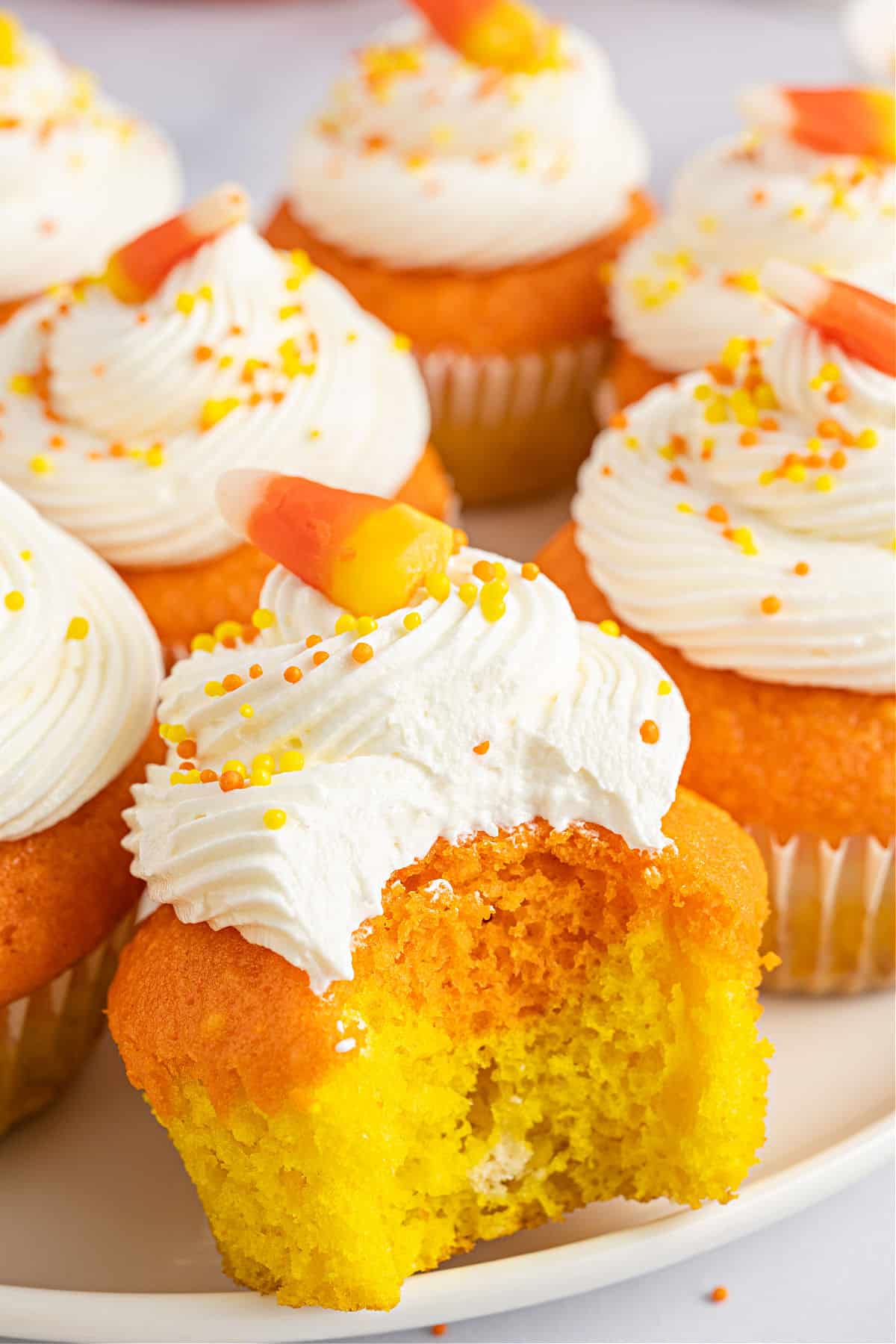 Why these Cupcakes are Best
These cute cupcakes mimic candy corn pieces with the layers of yellow, orange and white. They are colorful, moist and so tasty!
The yellow cupcake batter is split in two and dyed yellow and orange to create two separate layers in each cupcake.
The homemade marshmallow fluff frosting is so light and airy and really makes these cupcakes special.
Have fun with the decorations! Sprinkle your cupcakes with orange and yellow sprinkles and add a piece of candy corn on top.
These festive cupcakes are perfect for fall and Halloween parties! Kids and adults love them!
If you love the look of candy corn treats, be sure to try our candy corn sugar cookies next! Or give our payday cookies a try…made with realy candy corn!
Ingredient Notes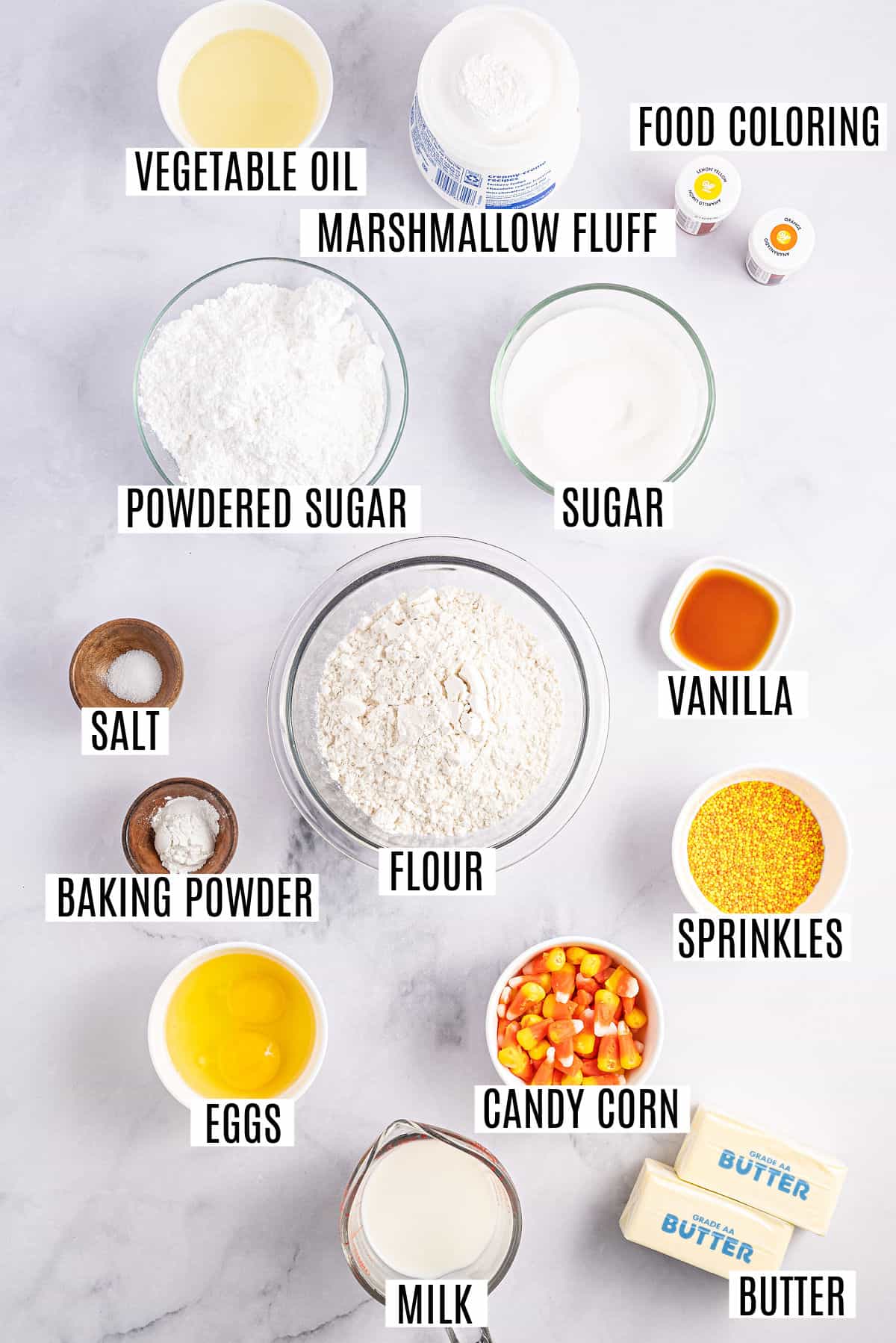 Flour – These cupcakes use regular all-purpose flour and have a great texture. Just be sure to measure the flour correctly by spooning and leveling it!
Vegetable oil – Make sure to use a mild flavored vegetable oil. (Do not use olive oil or peanut oil.) The oil keeps the cupcakes extra moist – for days!
Vanilla extract – Use a good quality pure vanilla extract (not imitation) for the best flavor. If you have the time, homemade Vanilla Extract has a rich vanilla flavor.
Food coloring – Gel food coloring has the most vibrant color, and you won't need to use as much.
Marshmallow frosting – The smooth, airy homemade marshmallow frosting is super easy to make and only 3 ingredients! You could also use a classic vanilla frosting instead.
Easy Instructions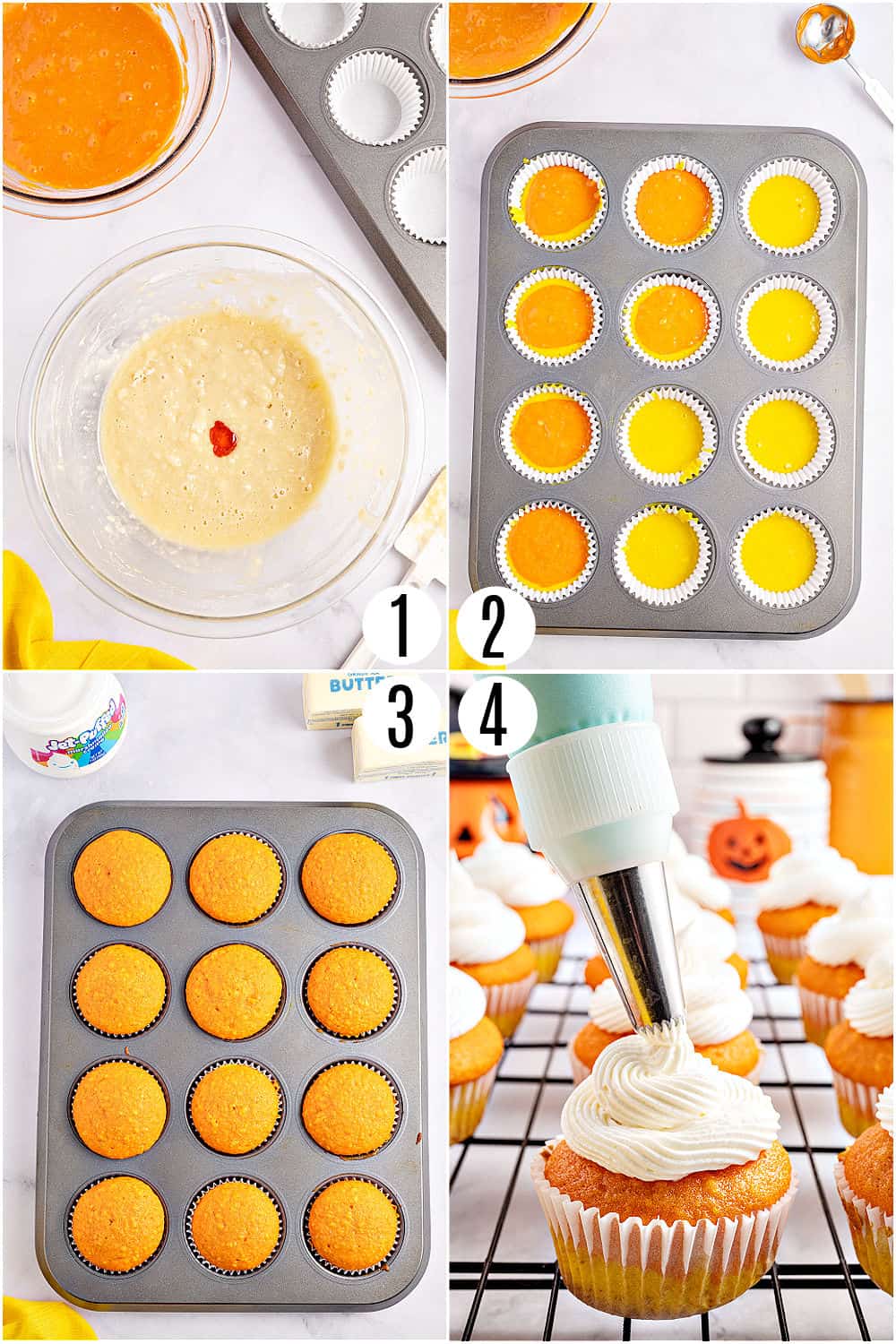 We used a from scratch cupcake recipe, however a box of yellow or white cupcakes can be used (and tinted) instead.
Make the cupcake batter. Mix together the dry ingredients in one bowl. Combine the wet ingredients in a second bowl. Mix them together until just combined.
Divide and color the batter. Divide the cupcake batter into two bowls. Use the yellow food coloring for half and the orange food coloring for the other half. Mix each until just combined.
Assemble the cupcakes. Place about 2 tablespoons of yellow batter into each cupcake liner and top with 2 tablespoons of the orange batter. Bake the cupcakes and then allow them to cool completely.
Make the marshmallow frosting. Cream the butter, then mix in the marshmallow fluff. Add the powdered sugar and stir until the frosting is smooth and thick.
Decorate the cupcakes. Use a piping bag to pipe the frosting on top of each (cooled!) cupcake. Add sprinkles and top with a piece of candy corn, if desired.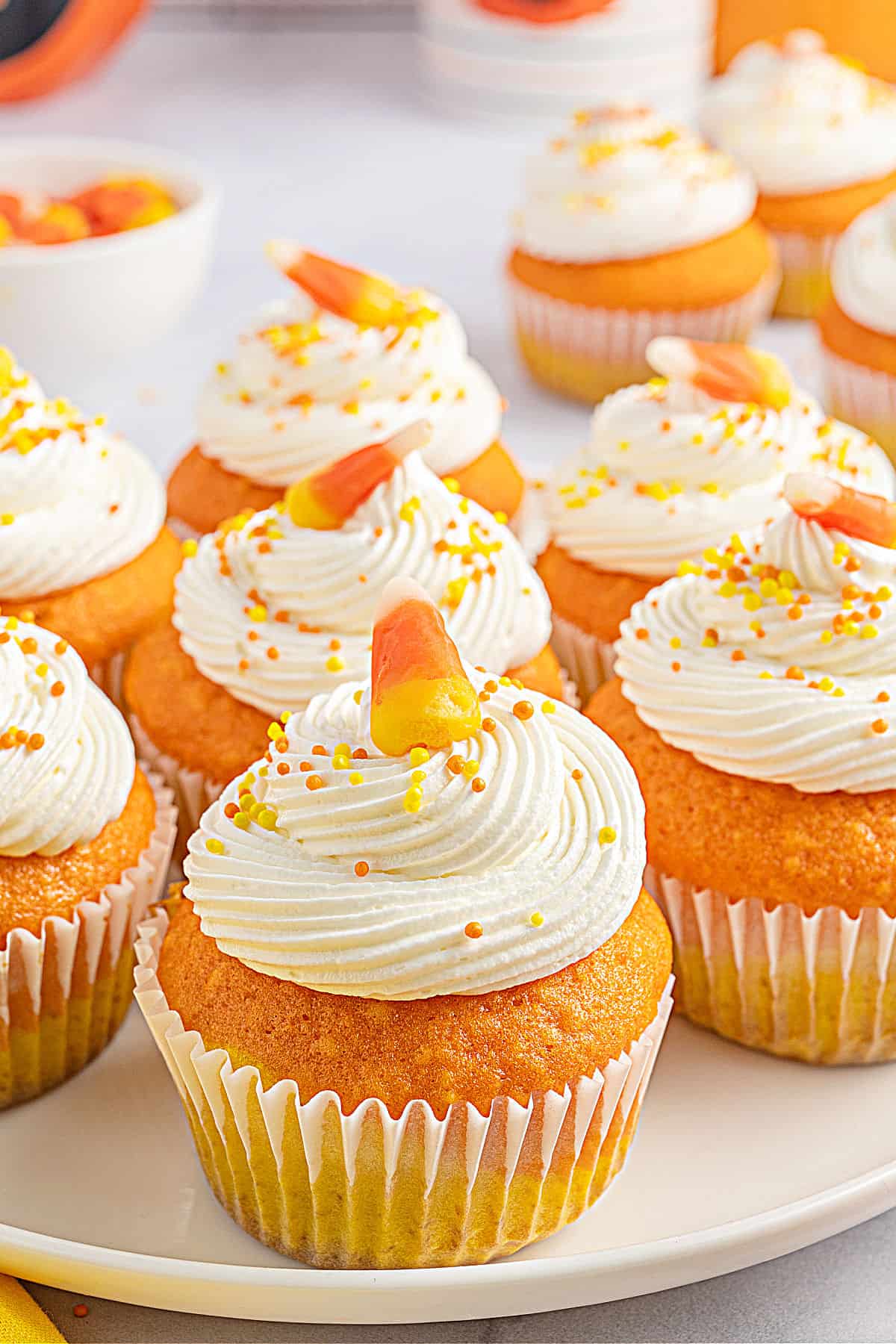 Tips and Tricks
The homemade cupcake batter is really simple to make using on-hand ingredients. However, you can also substitute a store-bought white cake mix if you want to make these super easy.
Don't overmix the batter once you add the flour and the food coloring. You want the cupcakes to be light and fluffy, not dense.
Don't overfill the cupcake liners. Cupcake tops should be relatively flat so that you can pipe the frosting evenly on top. The liners should be no more than ⅔ full.
For the frosting: Always start with softened butter. I usually take my butter out when I start baking the cupcakes. That way, the butter is softened and ready to use by the time the cupcakes are baked and cooled.
Use a piping bag to pipe the marshmallow frosting evenly onto the cupcakes. But always wait until the cupcakes are completely cool to frost them or the frosting will turn into a runny mess.
More frosting options: top with our vanilla buttercream or sour cream frosting for equally delicious frosting options!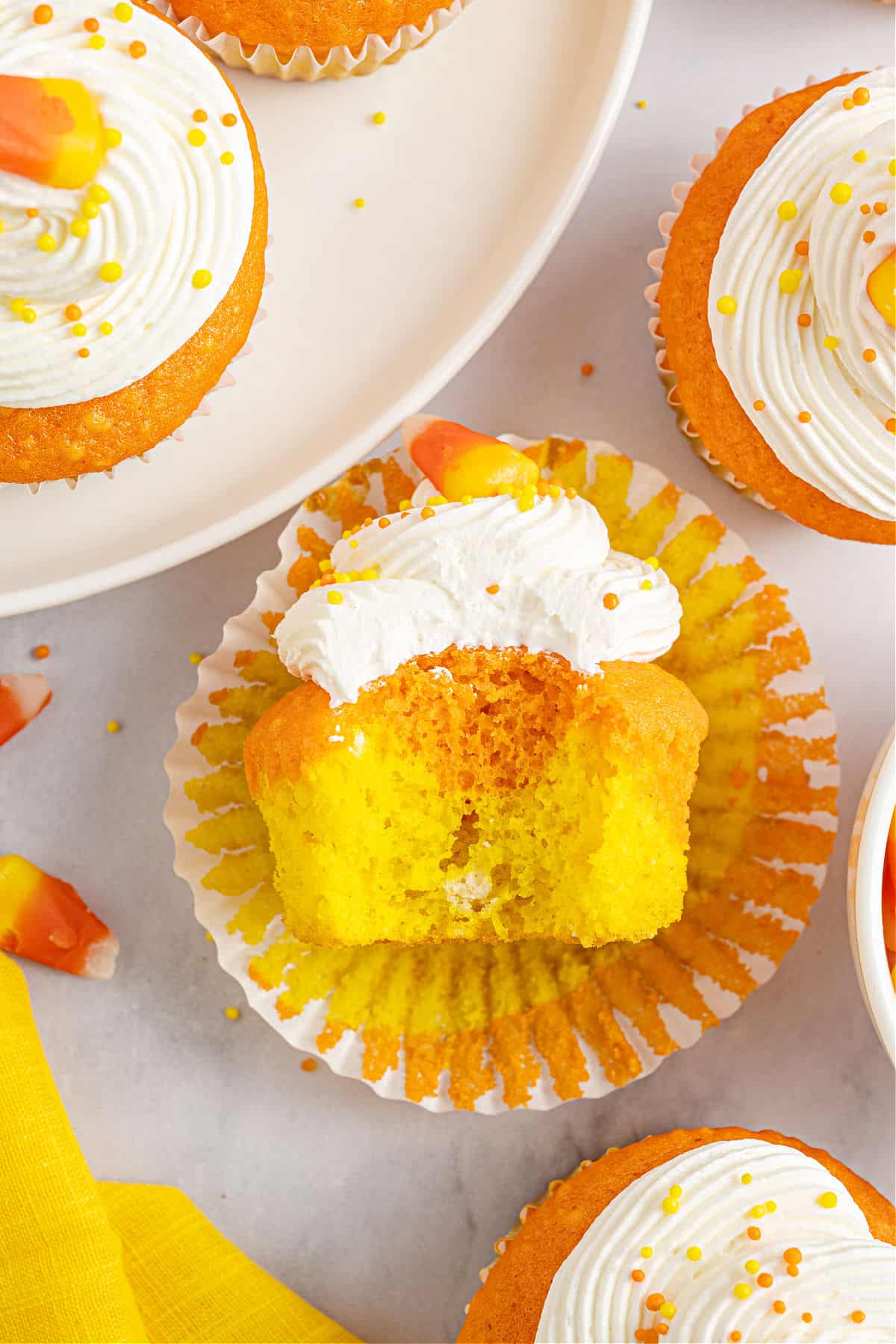 Recipe FAQs
Can I use a store-bought cake mix for this recipe?
Yes. Instead of making the homemade cupcake batter, you can use a white cake mix. You'll still need to divide it into two to color half yellow and the other half orange.
What frosting should I use for candy corn cupcakes?
The marshmallow frosting in the recipe below really makes these cupcakes tasty and special. However, you could also use a traditional vanilla frosting.
Can I make Candy Corn Cupcakes in advance?
Yes, you can make these cupcakes in advance. They will store in an airtight container for up to 5 days.
Can I freeze cupcakes?
Yes, cupcakes can be frozen before adding the frosting. Store them in freezer bags and keep frozen for up to 2 months. Let the frozen cupcakes thaw then add the frosting fresh before serving.
More Halloween Treats