Nothing beats homemade Applesauce and it's surprisingly quick and easy to make! Make it smooth or chunky, spiced or sweet — you've got all the control when making it yourself!
Is Applesauce Just Apple Puree?
They are prepared in the same way, but the finishing touches are what differentiate the two. A puree is always smooth while applesauce can have a variety of textures.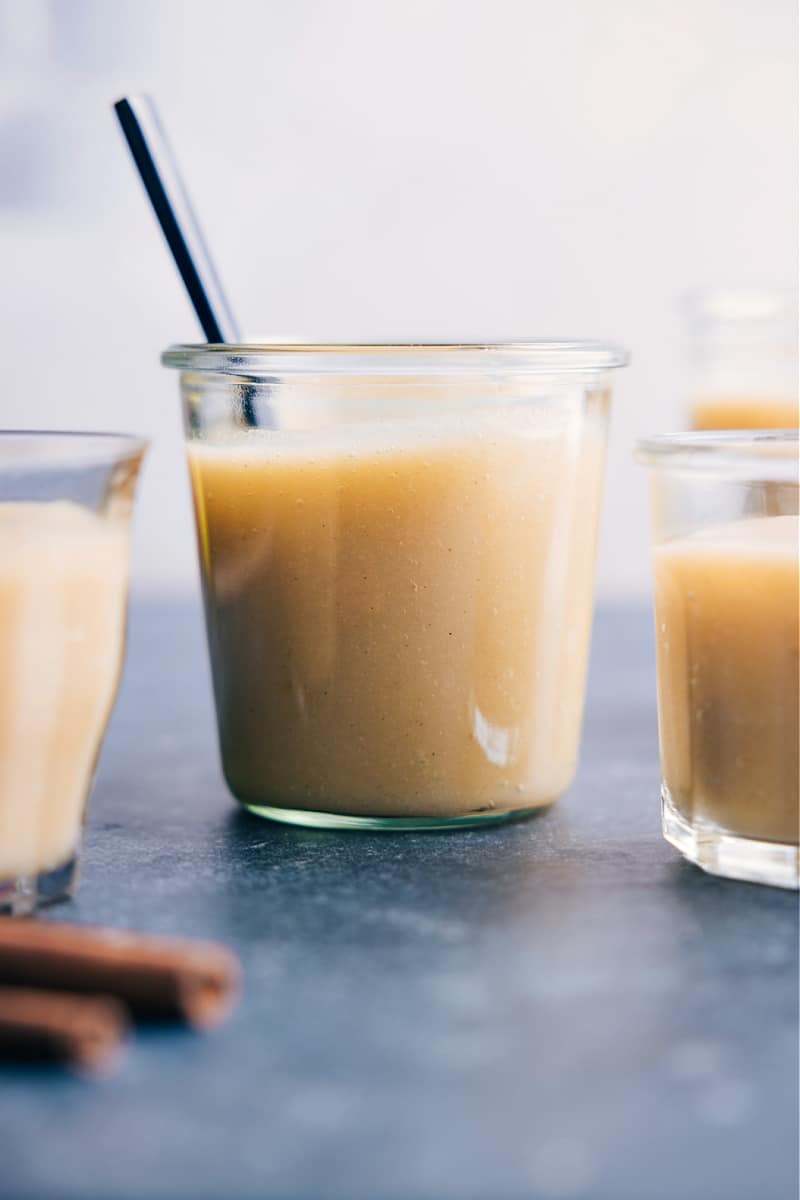 Make It Yourself!
Why make your own applesauce when it's easily accessible at most grocery stores?
First and foremost — nothing and I mean nothing compares to the flavor of homemade!
When you make it yourself you can have the peace of mind knowing exactly what's in it — no chemicals, colors or preservatives.
You have control over how thick or thin, sweet or spiced, smooth or chunky you want to make it.
If you've got an apple tree, making your own is much more economical!
It stores well and freezes beautifully!
And if you're looking for a healthy applesauce recipe that's easy — it truly doesn't get more simple than this!
Applesauce FAQs
1Which apples are best for applesauce?
We like a combination best for a more nuanced flavor. Our ultimate favorite combination is Granny Smith and Fuji or Gala.
2How can I make applesauce taste better?
Start with good, sweet apples
Add extra sweetener (more maple syrup or sugar)
Add a teeny bit more salt to help flavors come alive
3Is applesauce good for you?
It contains a good amount of your daily fiber (see next question!) and is a good source of antioxidants called phytochemicals which help reduce the risk of heart disease, cancer, and diabetes.
4Is applesauce high in fiber?
1 cup provides about 2.7 grams of fiber. It's a great source of soluble fiber which is the fiber that helps maintain healthy cholesterol and blood sugar levels.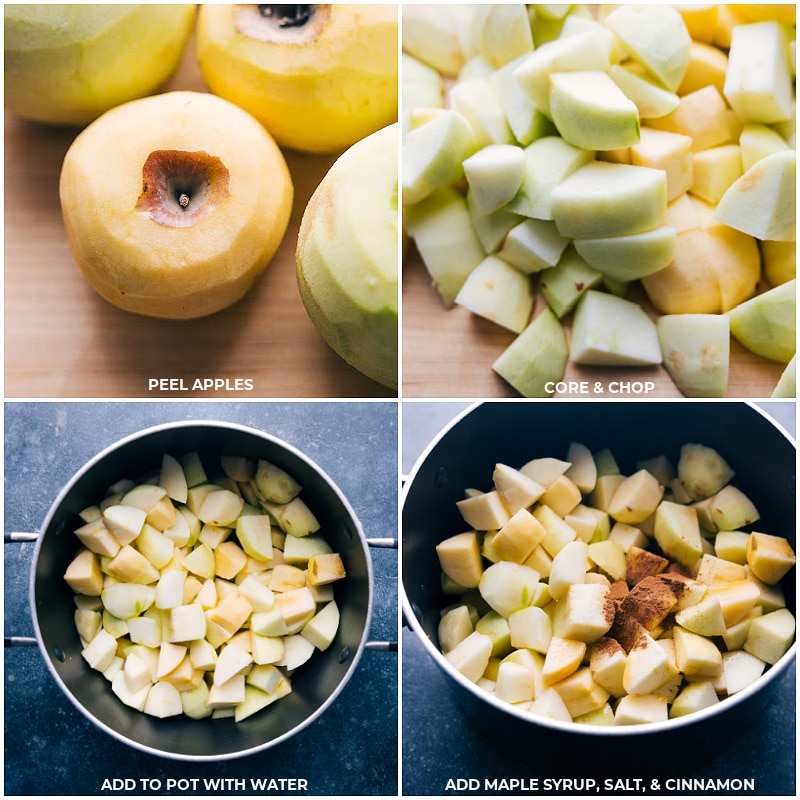 What Is Applesauce Made Of?
Apples. Our favorite combination is Granny Smith with Fuji or Gala. Obviously, the fresher and sweeter the apples, the better the sauce will be! (See "quick tip" below.)
Water. We also tested this recipe by replacing water with apple juice but found it too sweet.
Maple syrup (or sugar). We like to keep this applesauce naturally sweetened so maple syrup is the perfect addition. It nicely sweetens without an overpowering flavor (which honey often adds). Pure maple syrup is the sap from a maple tree that has been boiled down to a thicker consistency. It's just one ingredient — derived from nature! White or brown sugar can be used in place of the sugar if you prefer.

Want an unsweetened applesauce recipe? Simply leave out any sugar; just make sure to get good ripe apples!

Flavor enhancers. Salt, vanilla, and cinnamon all add flavor complexities that take this recipe from good to wow!
QUICK TIP
Fresh apples have a firm feel with bright skin and a pleasant fruity smell. They don't have areas of discoloration, bruises, or soft spots. They should taste crispy, juicy, and sweet.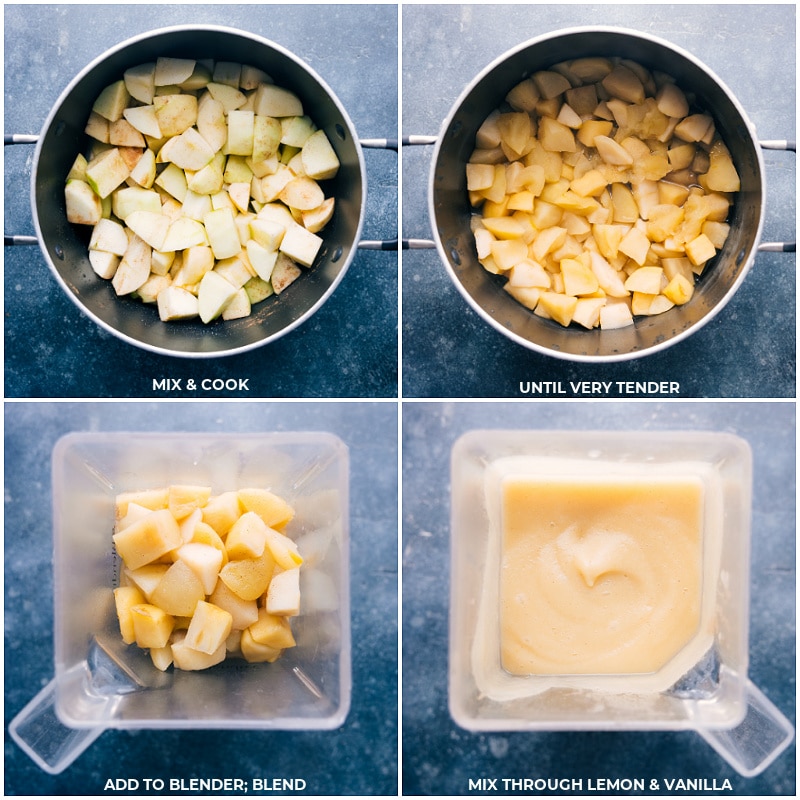 How Do You Eat Applesauce?
Eat it at is! We love enjoying this Applesauce all week right out of the fridge!
Mix into plain or vanilla yogurt and top with cereal or nuts, fresh fruit, etc.
Enjoy with cheese. Growing up, my mom made cheese toasts (bread with sharp Cheddar cheese; broiled until melted) and then we'd top the toasts with Applesauce. Sounds weird, I know, but don't knock it til you try it. (It's delicious!) 
What Can You Use Applesauce For?
Nothing beats adding this homemade Applesauce recipe into a baked good! Here are our favorite recipes to add it into: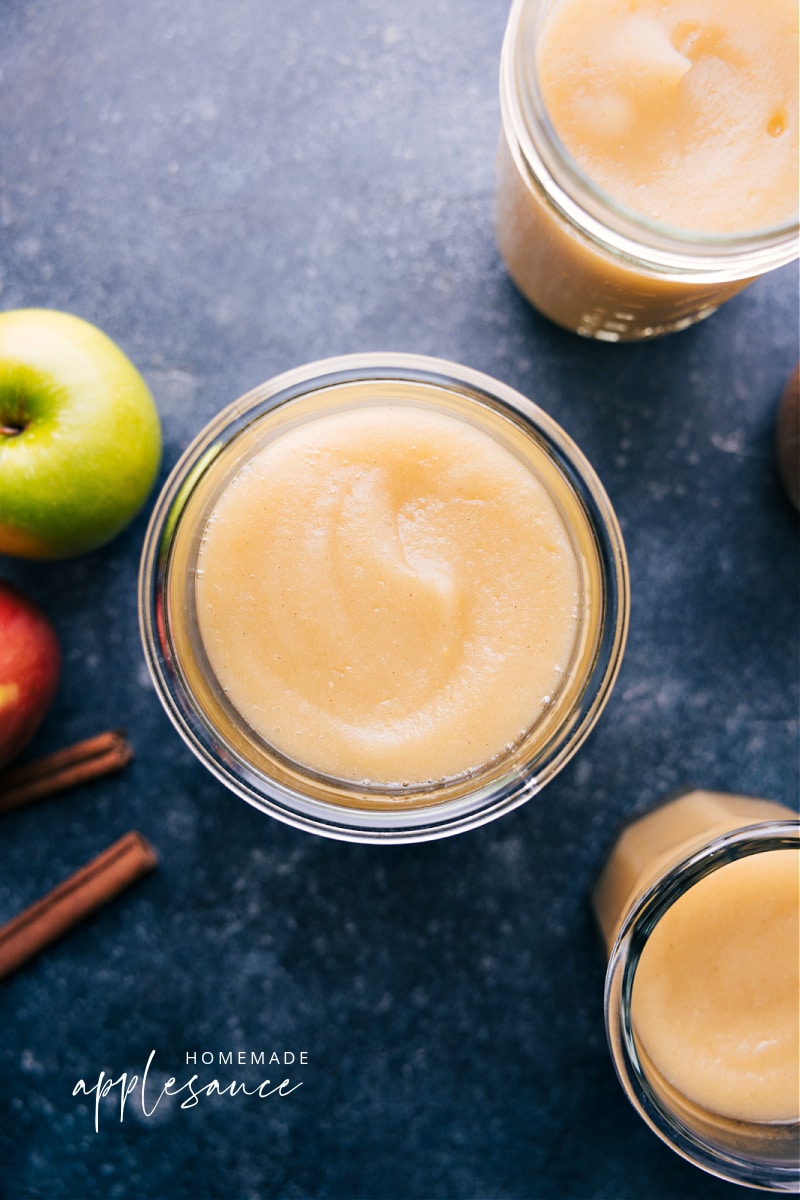 STORAGE
How Long Does Homemade Applesauce Last?
It will last about 7-10 days in an air-tight container in the fridge. You can make it last longer by canning or freezing.
(Here's a guide to canning applesauce.)
Can You Freeze Homemade Applesauce?
Yes, it freezes beautifully! After preparing it, let it fully cool to room temperature. While it's cooling, label zip-top bags with the date. Divide applesauce into the bags (we do this in 2-cup increments). Squeeze out any air and then lay the bags flat, pressing them to be even. (They take up less space in the freezer this way!) Freeze flat and once they're frozen you can stand the bags up and keep them for 6-9 months. When ready to thaw, take a bag from the freezer and place it in the fridge overnight.
Use Leftover Apples In One Of These Recipes:
Applesauce
Nothing beats homemade Applesauce and it's surprisingly quick and easy to make! Make it smooth or chunky, spiced or sweet — you've got all the control when making it yourself!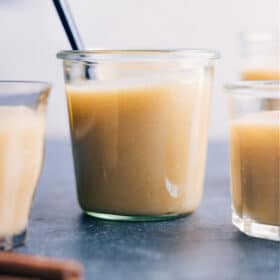 Applesauce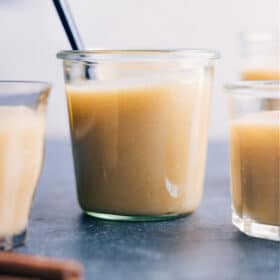 Nothing beats homemade Applesauce and it's surprisingly quick and easy to make! Make it smooth or chunky, spiced or sweet — you've got all the control when making it yourself!
Ingredients
4

pounds

apples

peeled, cored, and chopped(~8-11 medium; we use half Granny Smith and half Fuji or Gala)

1

cup

water

2

tablespoons

pure maple syrup

(or 1/4 cup sugar)

1/2

teaspoon

fine sea salt

1

tablespoon

fresh lemon juice

Optional: 1 teaspoon vanilla extract, 1/4 teaspoon cinnamon
Instructions
PREP: Peel, core, and then coarsely chop apples into 2-inch chunks. You should get about 9-1/2 cups of apple chunks.

COOK: In a large pot, add the prepped apples, 1 cup water, 1/2 tsp salt, 2 tbsp maple syrup, and 1/4 tsp cinnamon (if using). Heat over medium-high heat, bringing the mixture to a simmer. Once simmering, reduce the heat to medium-low and cover the pot with a lid. Cook, stirring occasionally, until apples are very tender, about 18-20 minutes.

COOL AND BLEND: Remove the pot from the heat and let cool for about 10 minutes. Then transfer everything from the pot into a blender (don't fill more than halfway; blend in batches if needed). Carefully (Note 1) blend until completely smooth. For a chunky applesauce recipe, use a potato masher to mash to desired consistency.

FINISH: Stir in 1 tbsp lemon juice and optional 1 tsp vanilla. Mix. Taste and adjust adding more maple syrup if sweeter applesauce is desired or more cinnamon for additional spice.

ENJOY: Let cool to room temperature before transferring to an airtight container and storing in the fridge until chilled through, about 1 hour.

Leftover applesauce will keep well in the refrigerator for about 1 week, or 6-9 months in the freezer.
Recipe Notes
Note 1: Blending: Don't fill the blender more than halfway at a time. Remember that heat expands, so increase the speed slowly and watch to keep the mixture from exploding out or over. Remove the lid carefully as it will likely release a burst of steam. If your blender doesn't have a hot/soup setting, you can compensate by replacing the blender lid with a folded towel and holding it in place with your hands. This will help reduce steam pressure.
Nutrition Facts
Serving: 1serving | Calories: 131kcal | Carbohydrates: 34.8g | Protein: 0.6g | Fat: 0.4g | Sodium: 149.4mg | Fiber: 5.4g | Sugar: 26.6g
We do our best to provide accurate nutritional analysis for our recipes. Our nutritional data is calculated using a third-party algorithm and may vary, based on individual cooking styles, measurements, and ingredient sizes. Please use this information for comparison purposes and consult a health professional for nutrition guidance as needed.