Prosciutto appetizers are always a guaranteed crowd-pleaser. Everyone loves its buttery, salty flavor. Here are 20+ amazingly delicious prosciutto appetizer recipes to try this holiday season.
Is there anything better than prosciutto?
Short answer?
No.
This salt-cured thinly sliced ham from Italy is naturally salty, sweet and completely irresistible!
But what are the best appetizers to make with prosciutto?
There are so many options! Especially since prosciutto can pair with sweet dishes (have you tried prosciutto wrapped melon?) and savory dishes (think prosciutto wrapped prawns).
So let's get started.
Here are some of the absolute best appetizer recipes using prosciutto.
📋 The BEST Prosciutto Appetizers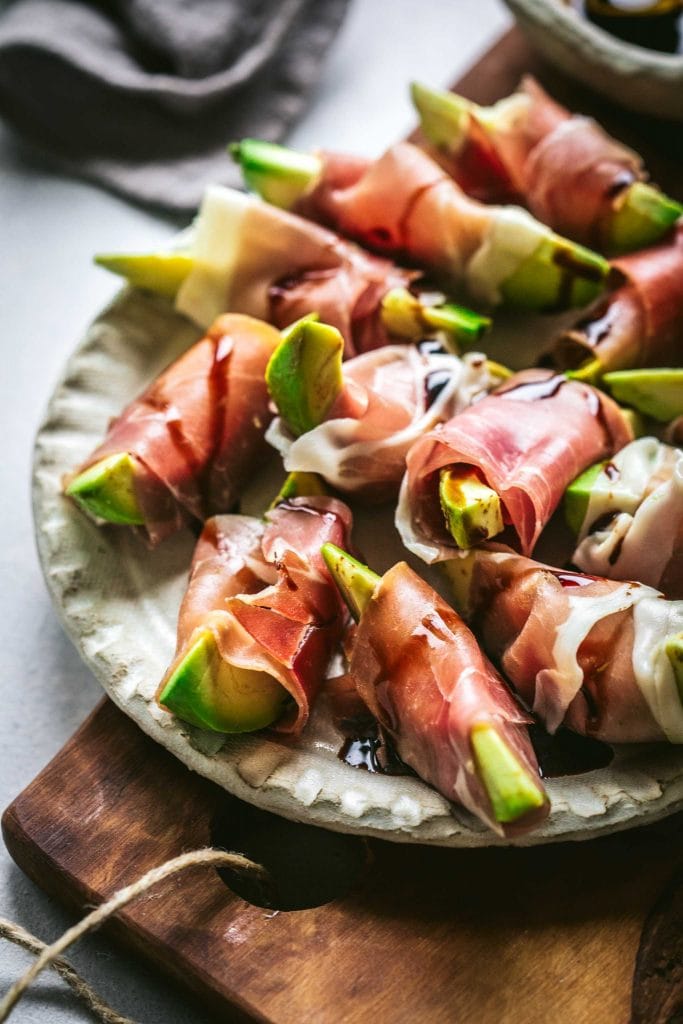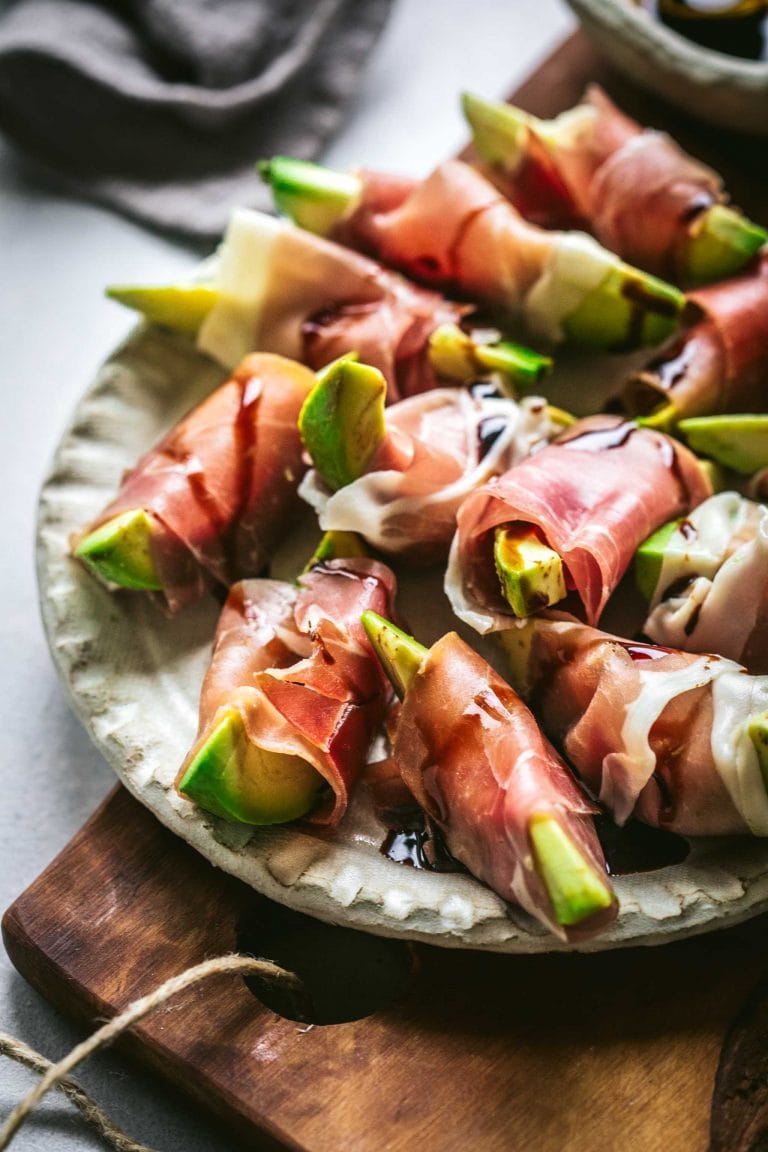 Prosciutto Wrapped Avocado Bites are the perfect party appetizer. They're an easy to make, no-bake finger food and come together in under 10 minutes!
Get the RECIPE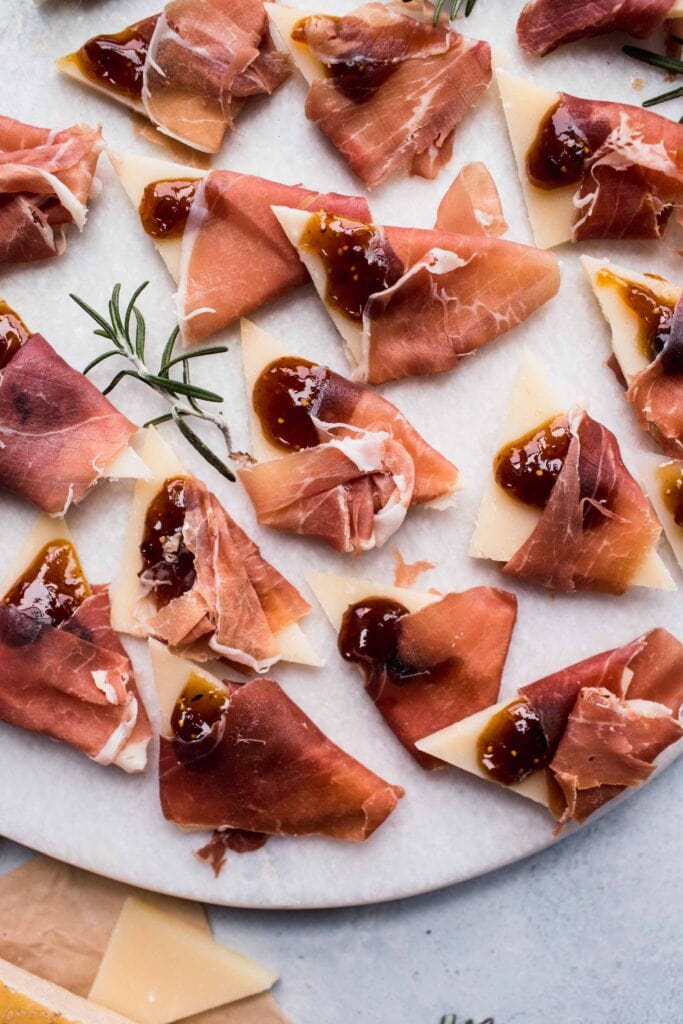 These bites of Prosciutto Wrapped Grana Padano with Fig Preserves are the perfect party snack. This easy to make, no-bake finger food comes together in under 10-minutes.
Get the RECIPE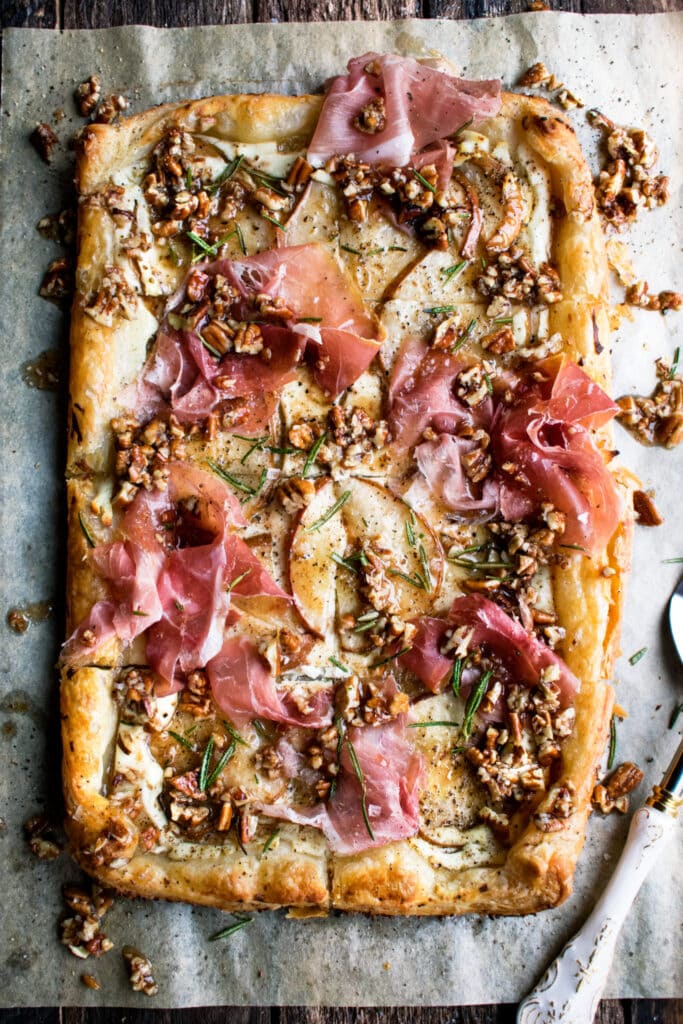 A Christmas appetizer worth swooning over – pear & prosciutto ricotta tart with a rosemary honey butter sauce and pecans. The Prosciutto di Parma is the absolute star, pairing so well with the buttery pastry and sweet pears. I can't think of a better combination of flavors and textures to start off a holiday meal on the very tastiest note!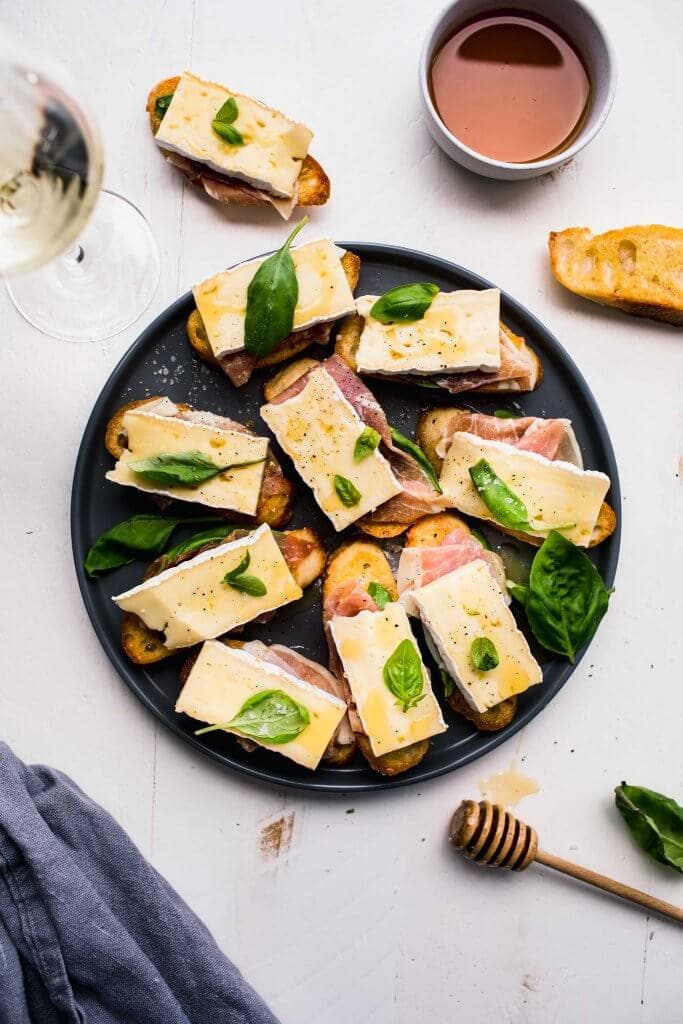 These Prosciutto, Brie & Honey Crostini make the perfect party appetizer that pairs with a variety of wines.
Get the RECIPE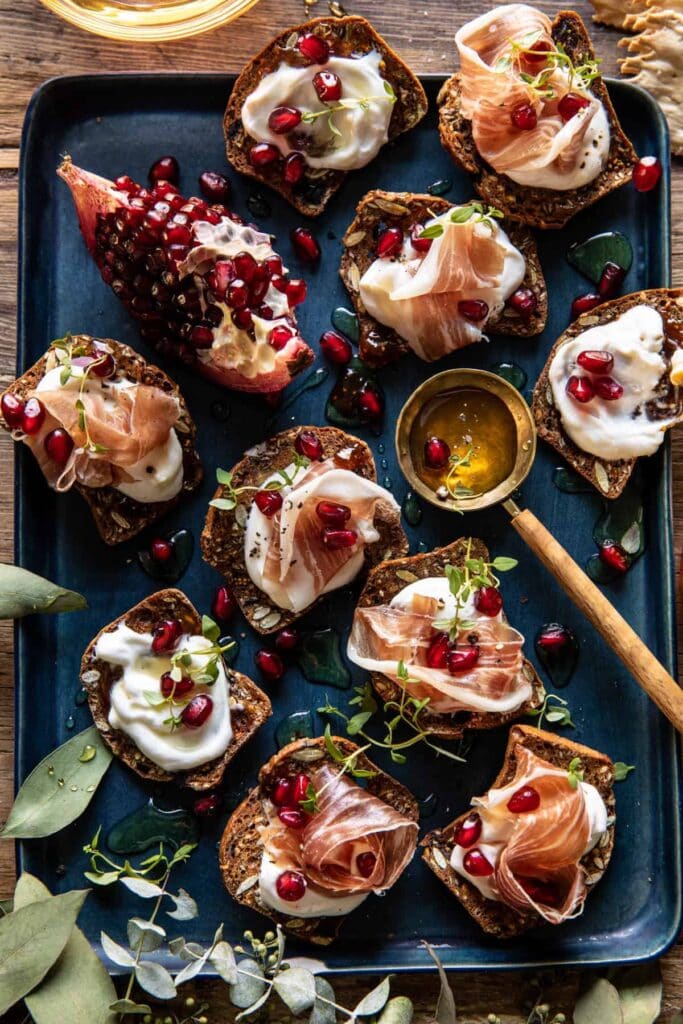 These easy Honey Whipped Ricotta and Prosciutto Crackers are everyone's favorite party bites. Pick up your preferred crackers and layer them with creamy ricotta, salty prosciutto, pomegranate arils, and sweet honey to create the perfect appetizer for all your upcoming holiday nights. 
You'll be obsessed with this pear and prosciutto crostini with gorgonzola! It has so many flavors going on and is a great balance with sweet, tangy and salty. Literally, so easy to make and so special. It includes crusty garlicky sourdough bread, lathered on a creamy gorgonzola spread and topped with pears wrapped with prosciutto.
If you're looking for a delicious, crowd-pleasing & easy Thanksgiving appetizer, these Roasted Butternut Squash, Prosciutto and Goat Cheese Crisps are for you. Find the recipe below!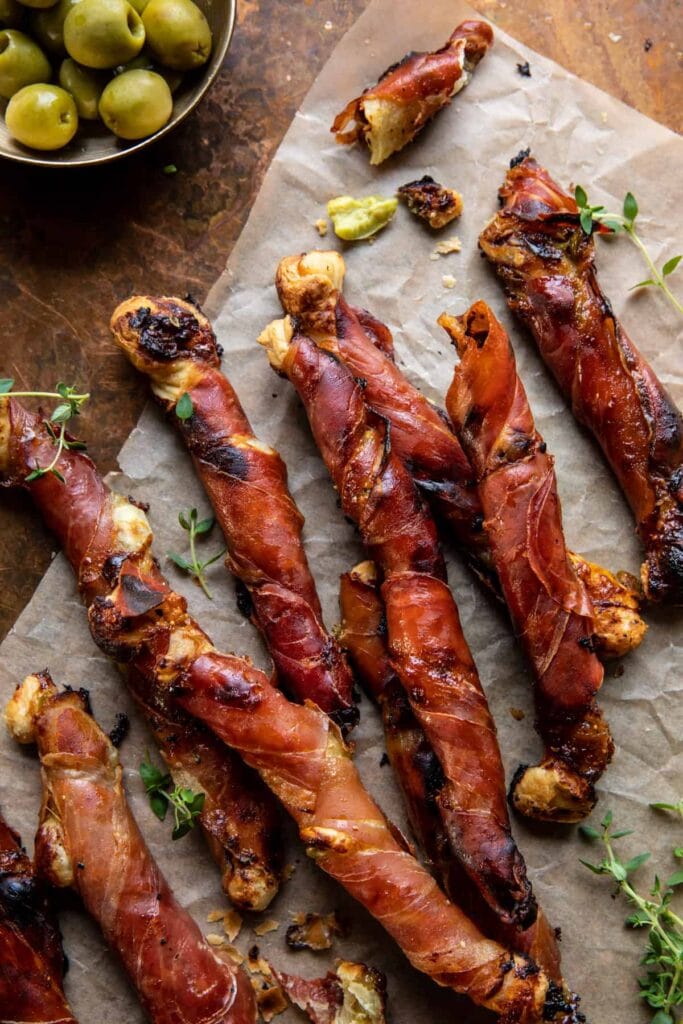 Crispy Prosciutto and Cheese Pastry Twist…the holiday appetizer that everyone asks for…year after year. These twists are quick, easy, and everyone loves them. Flaky puff pastry twisted up with cheese and olives, then wrapped in salty prosciutto, and baked.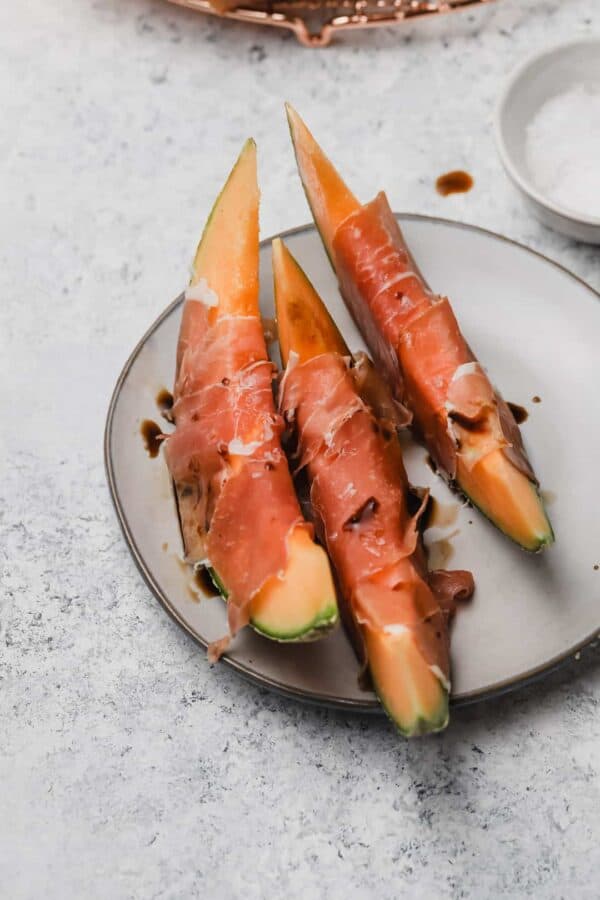 For a sweet and salty appetizer that is both refreshing and light, look no further than prosciutto and melon! Luxurious and silky smooth paper thin pieces of Prosciutto are wrapped lovingly around juicy, ripe cantaloupe. Drizzle with balsamic, then sprinkle with flaky sea salt.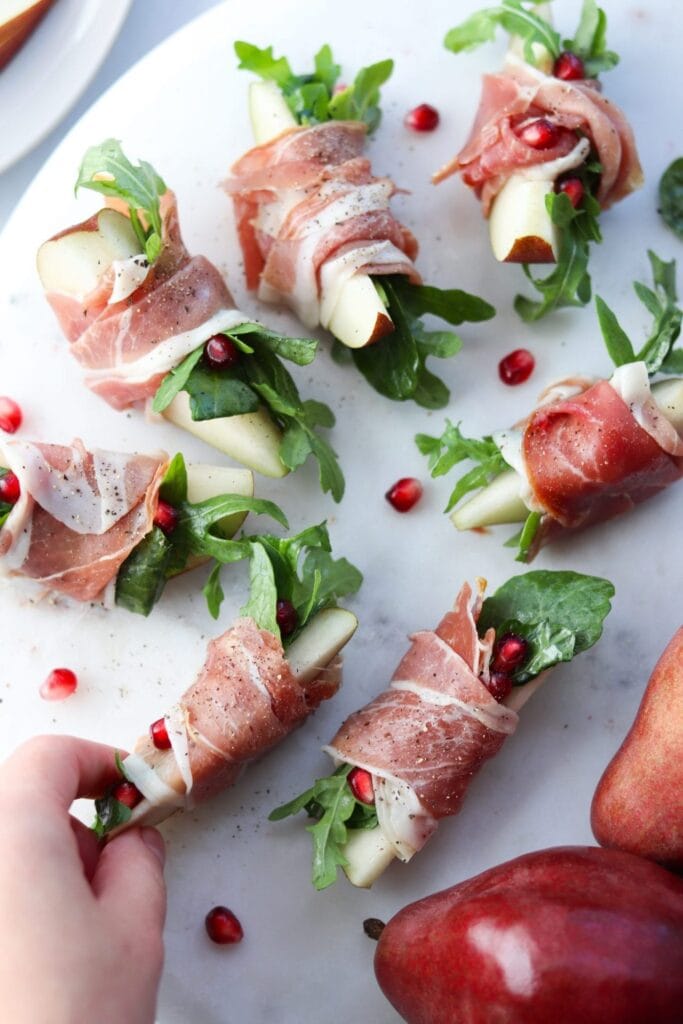 This is the perfect no-cook appetizer for your next holiday party or get-together! Prosciutto Pears with Arugula Salad are deliciously sweet AND savory.
Crispy Prosciutto is easy to make in the oven or air fryer. Perfectly crunchy and even better than bacon, enjoy it as a snack on its own or topping on salads, pasta, pizza, soups, veggies, and more.
Get the RECIPE
These Prosciutto Wrapped Mozzarella balls are easy, quick low-carb appetizers for the holiday season. You will love the fresh mozzarella balls wrapped with salty dry Italian ham, basil, and juicy tomatoes.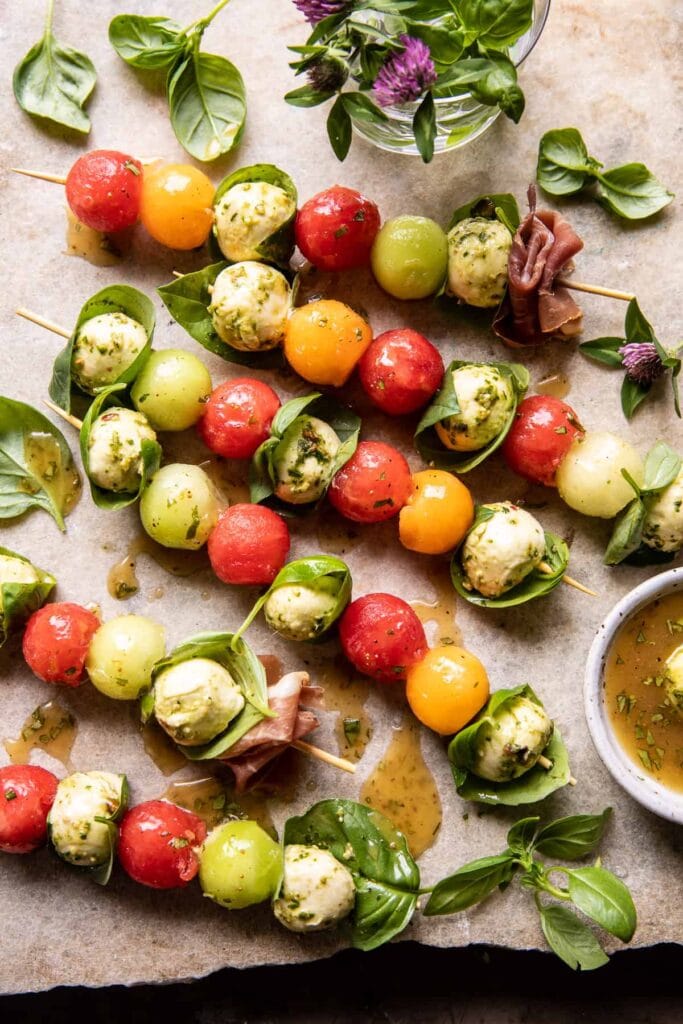 Marinated Mozzarella Melon Skewers…the fun, colorful, and delicious summer appetizer that we're all looking for right now. Sweet-juicy summer melon, garden basil, and pesto marinated balls of mozzarella cheese are all layered together to create a fresh summer appetizer that's pretty and so delicious. Finish these quick and simple melon skewers with a drizzle of balsamic fig vinaigrette.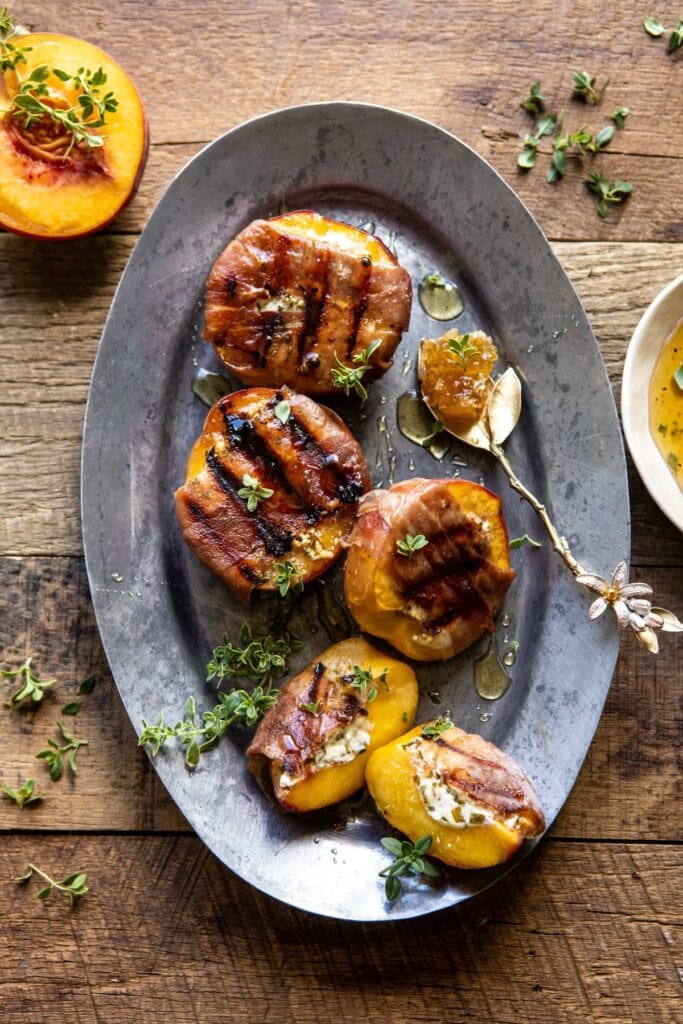 These Prosciutto Goat Cheese Stuffed Peaches with Thyme Honey are the perfect no-cook summer appetizer that everyone will LOVE. Market fresh peaches stuffed with creamy lemon basil goat cheese, wrapped in salty prosciutto, then grilled. The peaches caramelize, the goat cheese gets melty, and the prosciutto turns crisp. Then each peach is finished with a sweet drizzle of thyme honey. 
🛒 Picking your Prosciutto
Prosciutto di parma is my prosciutto of choice. It's made in Parma, Italy, from special pigs bred under strict quality controls.
When shopping for sliced prosciutto, check the label for the gold crown. This symbol guarantees you're buying Italian-bred pork cured 100% naturally, meaning there are no additives, hormones, gluten, or coloring agents. Look for it near the deli counter with the specialty meats and cheeses.
Of course, you can make these prosciutto appetizers with other types, but know that the texture and tastes will vary. Jamón from Spain, American prosciutto, and prosciutto cured in different regions of Italy are also good options.
🕕 How to Make Ahead and Store
Many of these ground prosciutto appetizer recipes can be made ahead of time and stored in the refrigerator for a few days or even in the freezer. Simply check the individual recipes for full storing instructions and details on how to make ahead.
Did you Make Any of These Prosciutto Appetizers?
Please leave a comment and rating below, if you loved this round up of appetizer
recipes using prosciutto. Also, be sure to snap a picture of your finished dish and share it with me on Instagram using the hashtag #platingsandpairings and tagging me @platingsandpairings.
HUNGRY FOR MORE? For more great Platings & Pairings recipes, be sure to follow me on Pinterest, TikTok, Facebook, YouTube and Twitter.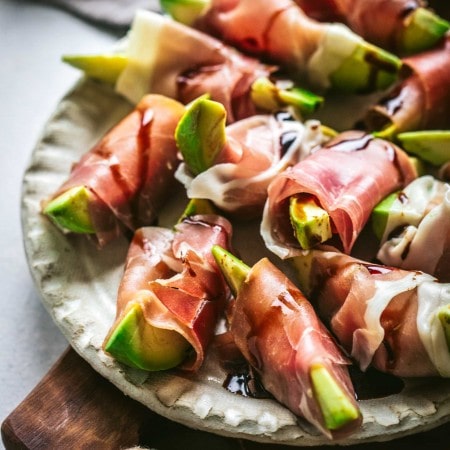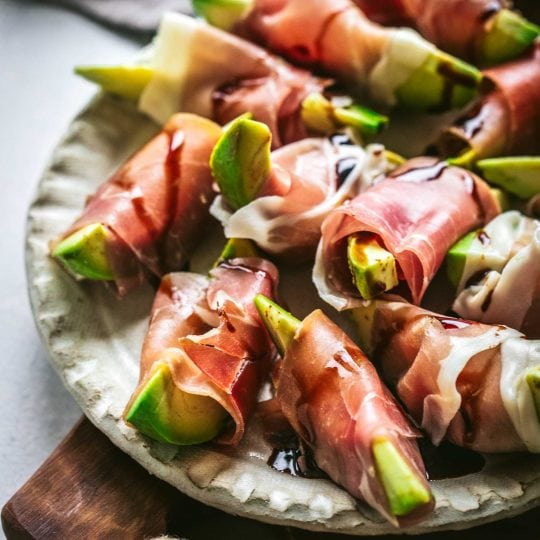 Calories: 227kcal | Carbohydrates: 8g | Protein: 4g | Fat: 21g | Saturated Fat: 4g | Cholesterol: 10mg | Sodium: 112mg | Potassium: 519mg | Fiber: 6g | Vitamin A: 145IU | Vitamin C: 10.1mg | Calcium: 12mg | Iron: 0.6mg